Civil War: Relativists on Rights and Wrongs
The Civil War is one of the most discussed topics in American history. The factors, reasons, motivations, and outcome have been talked about and debated from the dinner table to the classroom. It appears that the only definitive conclusion is that it is so multifaceted.
This week's That's History examines some of the differing viewpoints about the war and the evidence supporting them. Zimmerman argues that history is not objective and factors such as background, culture, and personal beliefs influence how history is presented both in schools and to the general public.
The October 2011 issue of PMHB features articles relating to the Civil War. Additionally, the Historical Society of Pennsylvania collections contain an extensive amount of Civil War material including letters, manuscripts, and photographs. Please visit the library at 1300 Locust Street or search our collections online.
Image of four men (identities unknown) in uniform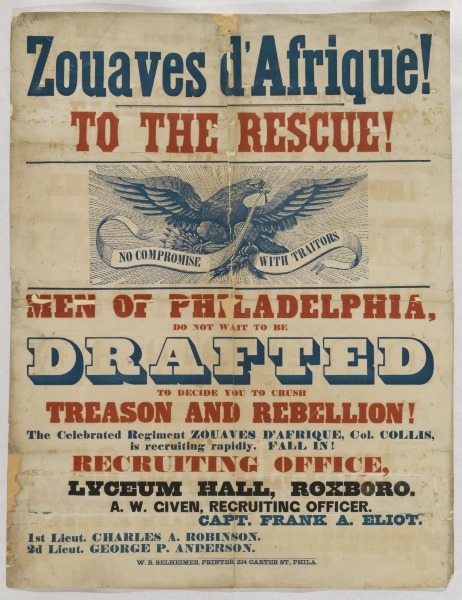 Recruitment poster for a Zouave regiment in Philadelphia.
About the Author
That's History
That's History was a biweekly radio segment co-produced by the Historical Society of Pennsylvania and WHYY featuring historian Jonathan Zimmerman that aired from 2011 to 2012. That's History took an event, issue or person in the news, and looked back into history for echoes, parallels, roots and lessons.