The Historical Society of Pennsylvania held its first meeting in 1824 in the South Sixth Street parlor of Thomas Wharton, one of its founders. The Society, which was formed for the purpose of elucidating the history of the state of Pennsylvania, wandered from one place to the next for 60 years, always in search of a permanent home. After its initial meeting, the Society moved to a borrowed room in Carpenter's Court and soon after to a rented room upstairs at the American Philosophical Society. In 1844, the Society relocated several blocks away to a building on South Sixth Street owned by the Pennsylvania Life Insurance Company. In 1846, the Society leased a room on the third floor of the Athenaeum's new building on Washington Square.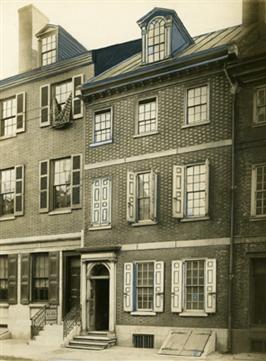 Above: Thomas I. Wharton's home, Society Print Collection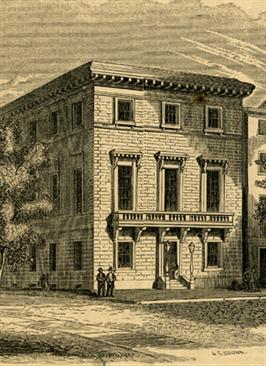 Right: The Athenaeum building, Society Print Collection
Wharton lamented the Society's inability to find a permanent and appropriate home. He noted that, although the Society was a valuable institution, it had no endowment, no capital funds, and its supporters were of moderate means and unable to raise funds necessary to purchase a large, prominent building. In 1848, Society members resolved that "it is highly expedient that the Historical Society of Pennsylvania should avail itself from time to time of every opportunity to procure the possession of a building commensurate with its growing importance and necessities."
In 1855, the Society created a Building Fund to further this goal. However, the fund was not a top priority for Society members, and it was slow to grow. By January 1867, the fund had collected only $4,000 (about $60,000 in today's dollars). In 1869, the effort gained steam when the Society became interested in property on the east side of 16th and Locust Streets, the site of a former school house. The Society agreed to purchase the lot for $7,500 and raised the necessary funds. The title papers were prepared, but the sale never went through.
Soon after, another building, located on the grounds of the Pennsylvania Hospital on Spruce Street, caught the eye of Society members. It was known as the "Picture Building," where the hospital had exhibited Benjamin West's painting Christ Healing the Sick in the Temple. The structure had been designed in the Gothic style by Charles A. Busby in 1816. The Historical Society agreed to a 10-year lease and moved there in 1872.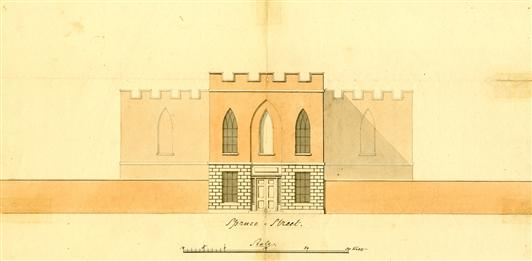 Above: The Picture House elevation from Spruce Street, Graphics Collection
The Society prospered in its new, more prominent location. However, with better visibility came an influx of gifts to the Society's collection. Seven years into the 10-year lease, the Society had outgrown the Picture Building and needed a larger space to store its growing number of documents, manuscripts, and artifacts.