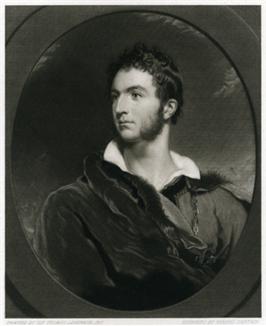 Above: John Hare Powel, 1810, Sartain Papers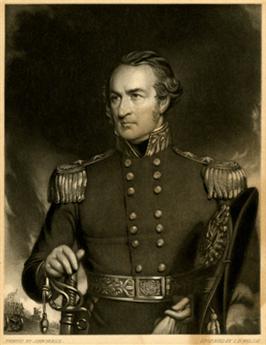 Right: Maj. Gen. Robert Patterson, T. B. Welch, Society Portrait Collection
General Robert Patterson purchased the mansion at 13th and Locust Streets from John Hare Powel, who would become the founder of the Pennsylvania Agricultural Society. Powel intended the mansion to be his second "city" home; he already had a home across the Schuylkill River, aptly titled Poweltown. The mansion was designed by architect William Strickland, who was noted for his use of the Greek Revival Style. In 1836, as the mansion was nearing completion, Powell sold it and left for Europe to get ahead of a credit squeeze when the English ended their support for American currency.  
Patterson, a self-made merchant and general of the militia, purchased the unfinished home. A military man for most of his life, Patterson was also known for his commercial pursuits in manufacturing and his public-speaking presence in politics. He spent much of his time in the mansion between his tours of duty in the Mexican American War and the Civil War, and he entertained many notable guests. 
The mansion itself was described as a three-story stone structure in the modified Greek revival style of architecture, and its interior was spacious and homelike. The house included three beautiful mantelpieces, which were taken from other residences; one was from the Bonaparte residence of Bordentown, New Jersey. The grounds of the building were beautiful and lush, including greenhouses, fruit trees, gardens, and statuary.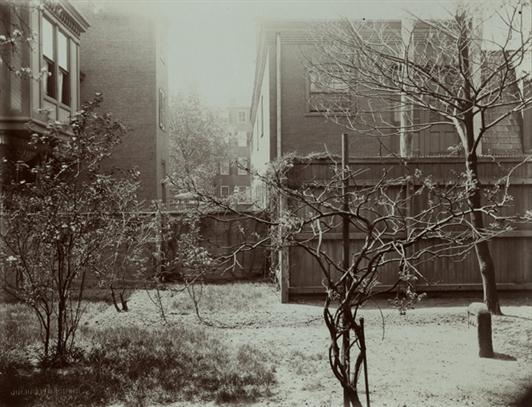 Above: The Gardens of the Patterson Mansion, Julius F. Sachse, 1904, Society Photo Collection
After Patterson's death, the Historical Society of Pennsylvania purchased the mansion and used it as the repository for their items. Eventually the grounds of the mansion were altered to accommodate an assembly hall and a fireproof vault. At the turn of the century, the Society launched a capital building project to demolish the mansion and make way for a completely new structure.
While most traces of the mansion are gone, some of the original foundations were carried over into the new structure. Also, the Patterson family donated the mansion's mantelpieces, which are on display throughout the building. Two are on the first floor in the reading and reference rooms. Other interior features, like the grand staircase, also harken to the features of the original mansion.