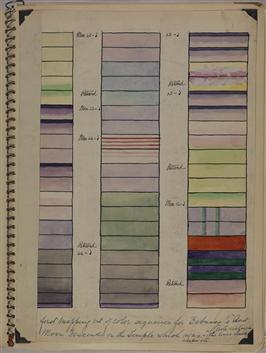 Five artists recently examined an archival collection at the Historical Society of Pennsylvania and interpreted that collection through music. The result—a "musical finding aid." Their original compositions are posted on the Historical Society's website (click here to listen), and the artists will present their work at a free event on January 27.
The collection chosen for this innovative project was the Mary Elizabeth Hallock Greenewalt collection. Greenewalt was an eccentric inventor and musician who lived in Philadelphia in the early 1900s. Greenewalt developed an art form that she called "nourathar," which uses an organ to display colored light scored to music using her own custom notation system. In order to fulfill her musical pursuits, Greenewalt entered the engineering world and was awarded several patents. In the 1930s, she spent much of her time in court, suing others for patent infringement. The Historical Society of Pennsylvania holds extensive records on Greenewalt's life. "This was the perfect collection for such a project," says Matt Shoemaker, director of digital collections & systems at the Historical Society. "Greenewalt was a pioneer in the arts with her interests in music, light, and color." 
Shoemaker and HSP staff invited staff invited artists to create musical interpretations of different sections of the Greenewalt collection's traditional finding aid, a written description of an archival collection. The artists are: Andrea Clearfield, Willhem Echevarria, Ted Houghtaling, Max Lawrence, and Maurice Wright. The project was funded by The Pew Center for Arts and Heritage, through the Heritage Philadelphia Program, and the Pennsylvania Humanities Council, the Federal-State Partner of the National Endowment for the Humanities.
The composers will discuss their work at a free event at 6 p.m. Thursday, January 27, at HSP. At the event, the public will hear the artists' original work and view highlights of the Mary Elizabeth Hallock Greenewalt collection.