Women's history at small repositories
Since it's Women's History Month, I thought I would highlight some of the collections relating to women's history that Celia and I have surveyed since beginning Phase II of the Small Repositories project [1]. In an earlier blog post [2], Celia mentioned a few women's history-related collections that were surveyed during the project's pilot phase.
Women have figured prominently in several family papers that Celia and I have surveyed including the Alice H. Ambler family papers, 1836-1979 (bulk 1865-1925) [3]located at the Plymouth Meeting Historical Society [4].
The Amblers were a prominent Quaker family, and this collection, largely correspondence, documents three generations of Ambler women: its creator Alice H. Ambler (1889-1981); her mother, Annie F. Webster Ambler; and her grandmother, Eliza Moore Ambler. Alice H. Ambler was an independent, modern woman. Receiving a Master's degree from Columbia University during the mid-1920s, she held several occupations, including teacher and store owner. Alice's mother, Annie F. W. Ambler, worked to support her family by taking in boarders after her husband died at an early age.
[5]
Alice H. Ambler's driver's license
Another collection that includes a significant amount of documentation on the women of a particular family is the Headley family papers, circa 1788-1981, at Historic Fallsington [6]. The Headley family was a prominent and socially-active family from Fallsington, Bucks County. The collection largely documents the family of Charles Moon Headley and Elizabeth Schurz Headley, including their daughters Alice Headley Woodruff (1894-1989) and Eleanor Christina Headley (b. 1897).
[7]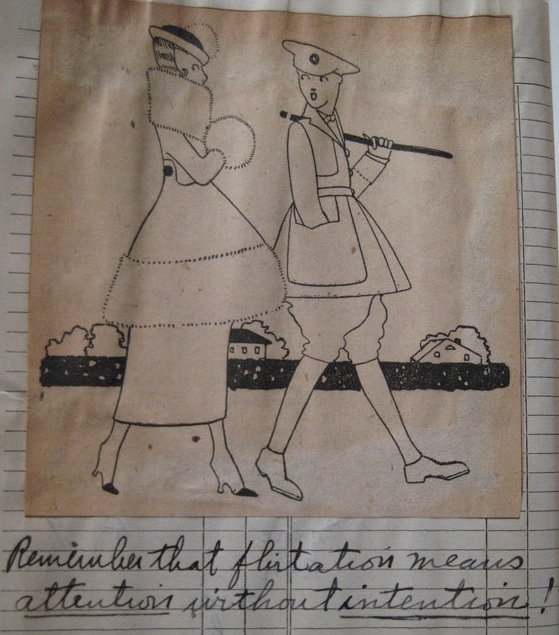 [8]
Of note is Eleanor Headley's diary, 1918. Besides writing about her personal life, Eleanor frequently documents and references World War I events.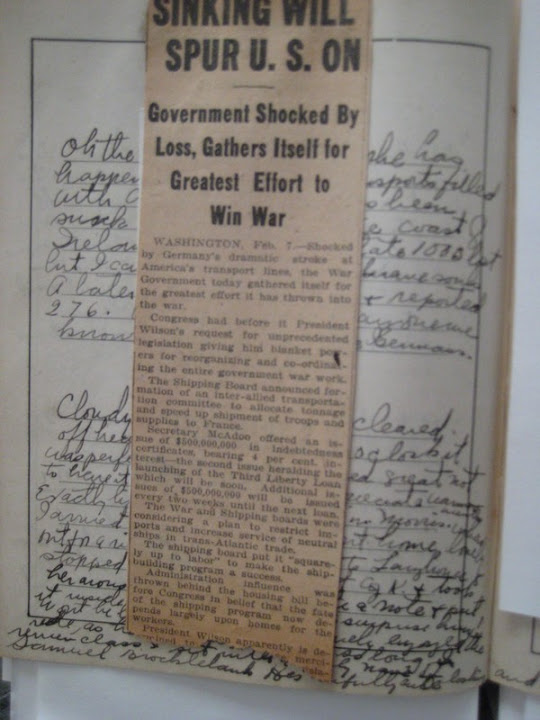 [9]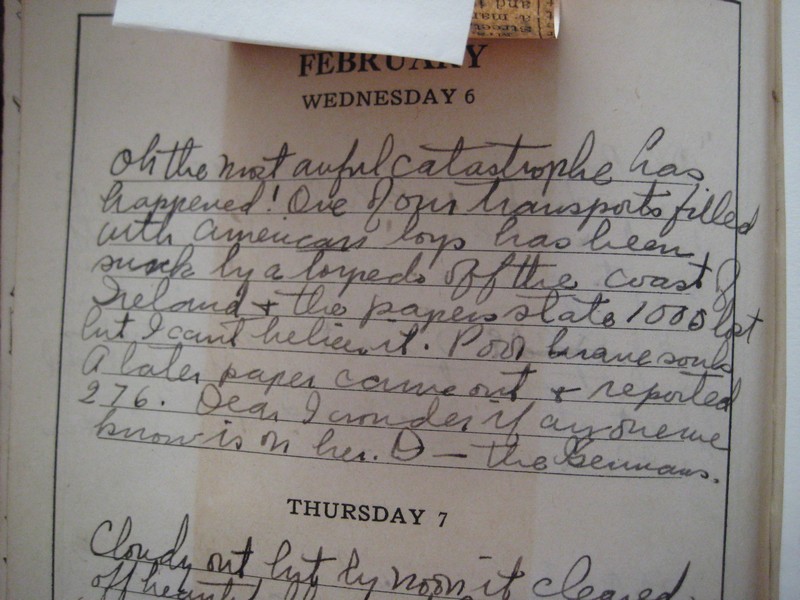 [10]
The above clipping and diary entry document the sinking of the SS Tuscania (1914) that was torpedoed off the coast of Ireland in 1918. It was the first ship carrying American troops to Europe to be torpedoed and sunk during the war.
Celia and I have also come across the records of several women's organizations, particularly literary and social clubs that had their beginnings around the turn of the century.
During the mid to late-19th century, women, particularly those in the middle and upper classes, began to enjoy an increased degree of freedom from housework and had more free time to pursue social endeavors. Thus, those who could afford it began to form their own social clubs much in the same way men had for decades.  Moreover, the growth of the women's movement made "women (primarily those with wealth and means) recognize the need for more organizations that promoted and protected their interests." Women began to form clubs that focused on educational, cultural, and civic improvement. (New Century Trust records finding aid)
The women's clubs that Celia and I surveyed seem to have quickly evolved from purely literary and social clubs to organizations that were more civic and service-oriented. Two examples include the Travel Club of Bristol records, 1901-1994, located at the Margaret R. Grundy Memorial Library [11] and the Newtown New Century Club records, 1895-1980, at Newtown Historic Association [12]. 
Mrs. Emlen Martin organized the Travel Club of Bristol with sixteen charter members in 1901. Initially, members gathered at each other's homes to discuss their travels and to study other cultures. However, the Club quickly became much more civic-minded "realizing the need for a service club for women and the valuable service they could be to the community." The club became involved in a number of charitable programs, including volunteering at Lower Bucks Hospital and the Red Cross. ("History of the Travel Club of Bristol" brochure)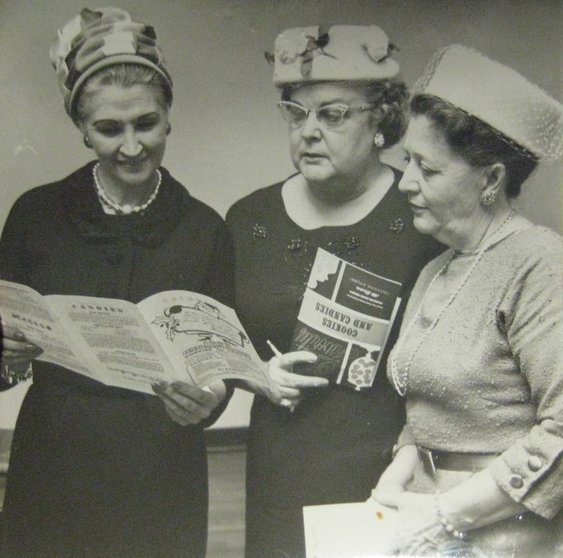 [13]
The Club was admitted to the Pennsylvania Federation of Women's Clubs in 1906, the General Federation of Women's Clubs in 1925, and was incorporated in 1936 as the "Travel Club of Bristol."
The collection includes various records of the organization, including scrapbooks, minute books, ledgers, printed annual reports, correspondence, financial papers, ephemera, membership and attendance records, photographs, and ephemera. The minute books form nearly a complete set, 1901-1980; and there is a large amount of financial records, 1924-1991. Also included in the collection are Junior Travel Club scrapbooks dating from the 1930s to the 1970s.
Organized in November 1895 and federated the following year, the Newtown New Century Club was a literary club that began with over 30 members. (The Club modeled itself off of the New Century Club of Wilmington, Delaware.) At meetings, members presented papers and literary works. Like the Bristol Travel Club, the New Century Club also became involved in civic affairs and community service.
The collection documents over 80 years of the Club's history through minute books (including minutes from its founding in 1895), treasurer's books, financial and legal papers, officer lists, scrapbooks, correspondence, and programs and ephemera.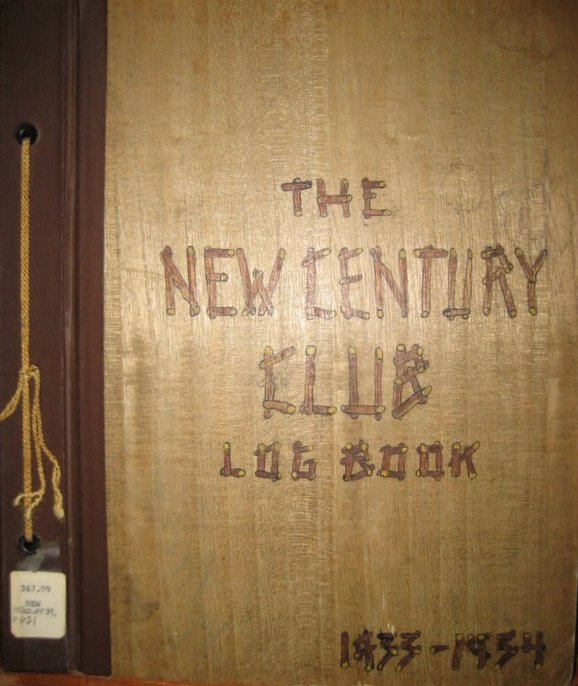 [14]
Besides literary and social clubs, Celia and I have also come across records for sororal organizations that had formed as auxiliaries to fraternal organizations. For example, the Lansdale Historical Society [15] holds records of the local chapter of the Daughters of America. 
The Daughters of America, still believed to be in existence today, is a secret, nativist and mutual benefit society dating from the late 19th century. It was founded in 1891 as an auxiliary of the Junior Order of United American Mechanics, though it did not receive recognition from its male counterpart until 1926. The first charter of the Daughters of America was issued in Allegheny County, Pennsylvania as the "The National Council Daughters of America." By 1930, it reported having over 160,000 members. The organization's numbers were reduced to about 19,000 in 26 states by 1978. The society, which was open only to white women of "good moral character," promoted extreme patriotism, the public school system, and the reading of the Bible in schools.
The Lansdale chapter of the Daughters of America, Mary Lincoln Council No. 168, opened in 1934. The collection, dating from 1934 to 1973, consists of several minute books and officers' roll books.
Most recently, Celia and I surveyed the collection of a very interesting women's organization that was located in New Hope, Pa.: the New Hope Public Health Nursing Association [16].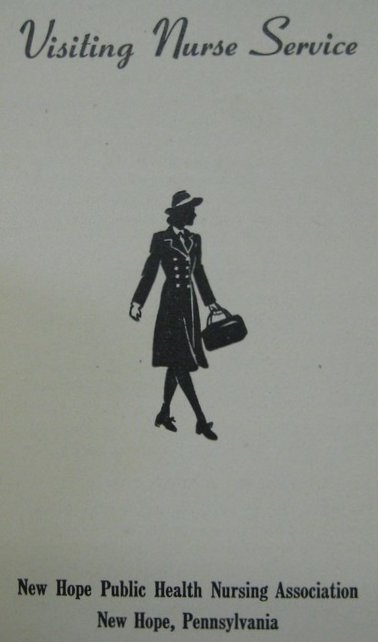 [17]
Originally named the American Red Cross Public Health Association of New Hope, the organization was established in 1920. At the time, it was the only public nursing agency in the community and covered an area of a four-mile radius. Services provided included: general nursing, communicable disease protection and prevention, maternity care, infant supervision, and loan of medical supplies. A nominal fee for care was waived in cases of financial hardship.
Two final collections that I'd like to highlight are the James M. Shimer Kaiser-Fleetwings papers, 1942-1958, and the Henry A. Liese Fleetwings papers, circa 1934-1981 [18], located at the Margaret R. Grundy Memorial Library [11]. In documenting the history of the Fleetwings Corporation, an aircraft and aircraft components manufacturing company located in Bristol, Pa. from 1934 to 1962, these collections document women's significant involvement in industry during World War II. They also document women's involvement in sports and other extra-curricular activities during that time period.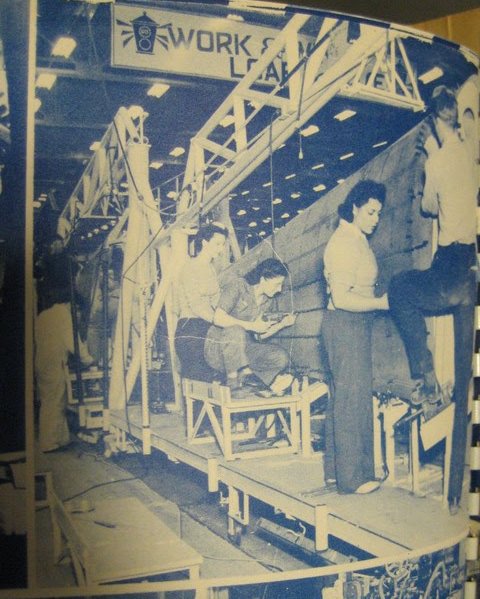 [19]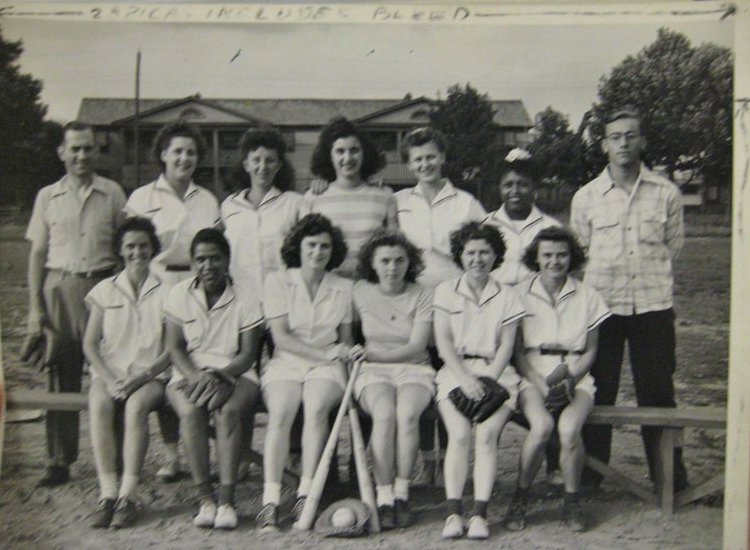 [20]
Fleetwings "Sparrows"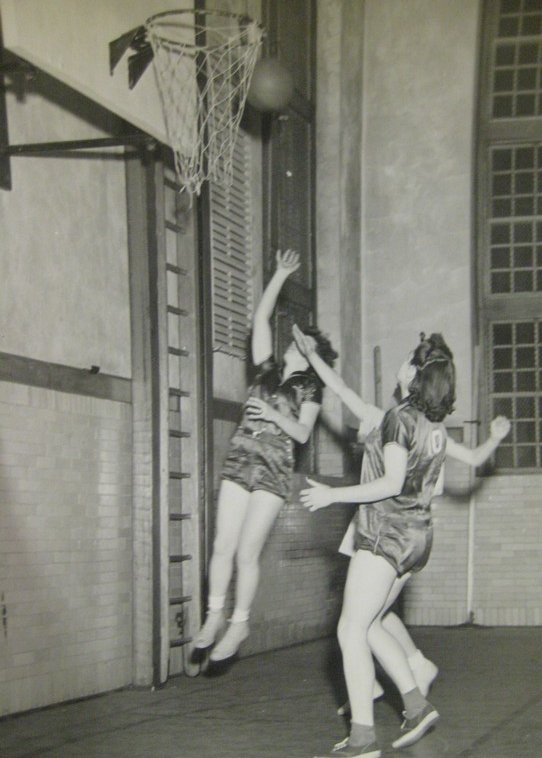 [21]
Fleetwings "Sparrows"
Many of the collections that we have surveyed for the Small Repositories project document the multiple experiences of Philadelphia-area women from roughly the late 18th century to the present; though, it should be noted that those documented are mostly middle and upper-class white women.
Researchers interested in women's history, including women's everyday life experiences in the private sphere as well as their increased participation and presence in the public sphere, will benefit from delving into these collections. 
Reference:
Majewicz, Cary. Finding aid to New Century Trust records, circa 1854-2004, Collection 3097 [22]. The Historical Society of Pennsylvania. February 2008. Accessed March 1, 2013.