Drinking Games at the Woodford Mansion
Drinking alcohol in Colonial America was a popular past time with just about everyone. The Colonists thought alcohol could cure the sick, aid in digestion, and strengthen the weak. In England water was often polluted and caused illness, so the British replaced water with beer, wine, and other alcoholic beverages. The Colonists took their cue from the British and avoided fresh water, even though they did not have a problem with polluted water. They didn't need much of an incentive to partake in the libations. Whether starting the day with a pick-me-up or ending it with a night cap, the Colonists knew how to party.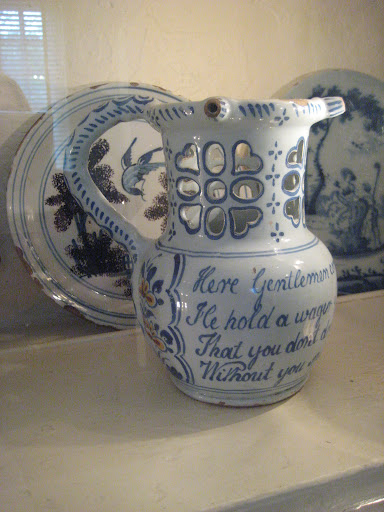 To make the drinking even more fun they had their versions of drinking games. Two examples were puzzle jugs and fuddling cups. A puzzle jug is a trick jug which, if drunk from incorrectly, causes its contents to spill into your lap. You had to figure out a way to get the alcohol from the jug to your mouth without tipping the jug. I won't give away how they work, just in case you happen to come across one someday. Another game was played with a "fuddling cup," which was made of three or more cups joined together internally with holes and tubes. With many explanations online about how fuddling cups work, figuring out how to play the game is part of the puzzle.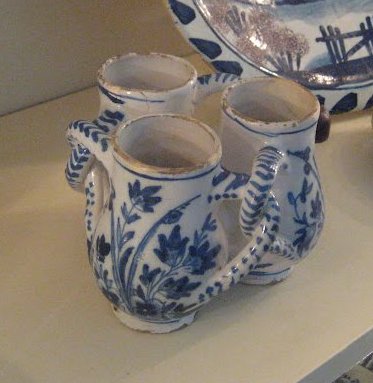 This April we had the opportunity to see examples of both of these drinking games at the Woodford Mansion in Fairmount Park. One of the most beautifully-preserved Colonial homes in Philadelphia, the Woodford Mansion contains much more than just drinking games. If you ask nicely, they may even be willing to tell you the secret solutions...
You can find descriptions of the collections at Woodford Mansion on the
PACSCL finding aid
[1]
website.