The Bucolic Home of "The Blob" in Chester Springs
Many artists often seek bucolic and natural landscapes for inspiration. For this reason, the Philadelphia Academy of the Fine Arts (PAFA)-- whose main campus is located in the center of Philadelphia-- decided to open a rural campus at Yellow Springs out in Chester Springs, Chester County, Pa. The Academy, which inhabited the village from 1916 to 1952, was one of many organizations that occupied Yellow Springs throughout the village's storied history that spans 300 years. (Archaeological evidence suggests that the area's history is much longer as the iron rich "yellow" spring water likely was first used by Native Americans thousands of years ago.)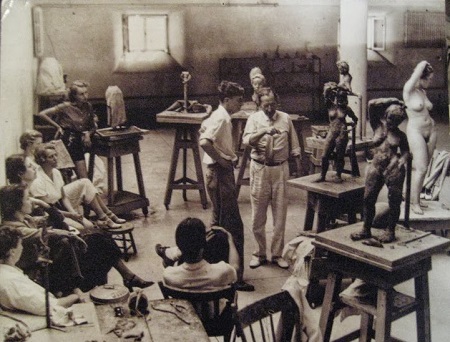 PAFA sculpting class with live nude, circa 1950
A fashionable spa village that became popular during the 18th century, Yellow Springs served as the site of the first military hospital in North America. During the American Revolution, George Washington commissioned a hospital to be built in the village; Washington himself visited on numerous occasions. Following the war, the village returned to a spa town until the latter part of the 19th century when it served as the home of the Chester Springs Soldiers' Orphan School for children of Civil War soldiers from 1868 to 1912. Once PAFA left the site in 1952, Yellow Springs served as the headquarters, from 1952 to 1974, of Good News Productions (Valley Forge Films), a film studio that created over 400 films including the sci-fi original The Blob.

The village is currently the home of the nonprofit organization Historic Yellow Springs, Inc., which since 1974 has preserved many of the site's original structures and is dedicated to educating visitors about Yellow Springs' unique past.
Fortunately, the organization maintains a sizeable archival collection [1] on the Moore Archives at Historic Yellow Springs with various materials that document the different eras of the site's history. Most of the materials that document the village's early period, including the time it served as a spa village and as the site of the Continental Army hospital, are secondary source and include academic articles, copies of primary documents, published works, and genealogy research. There are also some original documents such as photographs and deeds.
The materials that document the site from the Civil War on are mostly original with some secondary-source items mixed in. Primary-source materials relating to the Chester Springs Soldiers' Orphans School and Literary Institute include many photographs, ledgers, annual reports, and correspondence about class reunions.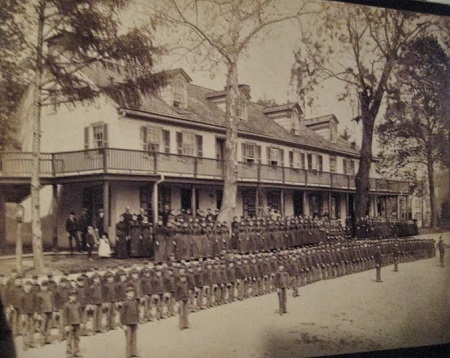 Orphan boys and staff, circa 1885
Pennsylvania Academy of the Fine Arts Country School records include correspondence, financial records, student records, scrapbooks, materials relating to the physical plant and student supplies, and class catalogs. There are a large number of negatives and photographs, including some depicting student works.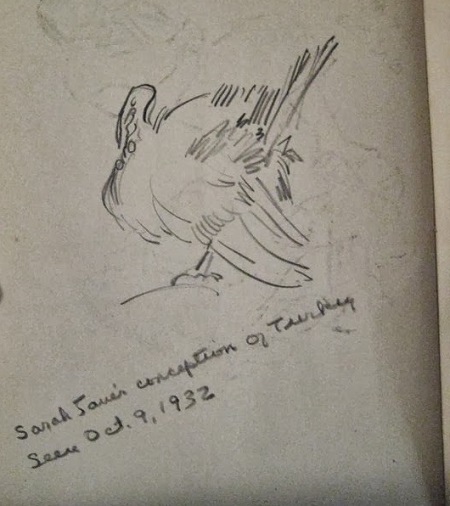 Sarah Janir's conception of a turkey, 1932
Materials relating to Good News Productions, Inc. include photographs, photograph albums, and negatives, scrapbooks, as well as a small amount of correspondence and production-related documents.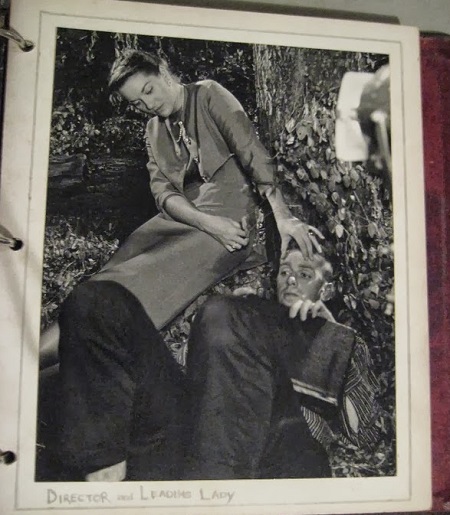 Seen in this photograph are Irvin Shortess "Shorty" Yeaworth, Jr., director, and Lee Meriwether, co-star of the sci-fi film "4D Man," produced by Good News Productions, 1959
Historic Yellow Springs' institutional records are also included, as are the records of Chester Springs Studio, a nationally-renowned studio for the visual arts (particularly painting and ceramics) founded in 1978; it merged with Historic Yellow Springs in 2007. Records relating to the studio include board minutes, financial records, membership information, photographs, marketing and advertising, and exhibition files. There is also a large quantity of artists' files, which include resumes, applications, and photographs/slides of artist's work.
Plan your visit to bucolic Yellow Springs today, but beware that the blob may be lurking nearby!
See all finding aids for Moore Archives at Historic Yellow Springs [2]