The 2014 Founder's Award dinner took place on May 1, 2014, at The Ritz-Carlton in Philadelphia. The Historical Society of Pennsylvania honored presidential historian Michael Beschloss with its prestigious Founder's Award. Board members Majid Alseyegh and Robert Rittenhouse recieved HSP's Heritage Award.

Beschloss is an award-winning historian, best-selling author, and frequent commentator on both NBC and PBS. He co-authored with Caroline Kennedy the New York Times best seller Jacqueline Kennedy: Historic Conversations on Life with John F. Kennedy (2011). He is currently working on a history of American presidents in wartime from James Madison to George W. Bush, which will be published by Crown in 2015. Newsweek has called Beschloss "the nation's leading Presidential historian."

The event took place at The Ritz-Carlton at 6 p.m. with a cocktail reception followed by dinner, an awards ceremony, and a live auction. The funds raised at this annual event go directly toward supporting HSP's mission of inspiring individuals and organizations to create a better future through historical understanding. J. Rudy Lewis chaired the event.
For more information, please contact Bethany Chisholm at 215-732-6200 ext. 243 or bchisholm@hsp.org.
White House Sponsor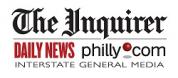 Dwight D. Eisenhower Sponsor
Mr. and Mrs. Collin F. McNeil
Franklin D. Roosevelt Sponsor
Aeryn & Bruce Fenton
Mr. & Mrs. Eric W. Noll

Harry S. Truman Sponsor
Mr. & Mrs. Philip Price Jr.
John F. Kennedy Sponsor
BDB Company
Ms. Lori Cohen
Mr. and Mrs. Henry Lafayette Collins III
Mr. B. Robert DeMento
Halloran Philanthropies
Howard & Maxine Lewis
Mr. J. Rudy Lewis
Nathan & Karen Raab
Dr. Page Talbott & Mr. James E. Gould
Lyndon B. Johnson Sponsor
Mr. and Mrs. Majid Alsayegh
Mrs. Linda Anderson
Mrs. Deborah Dilworth Bishop
Ms. Teresa Brodheim
Ms. Sandra L. Cadwalader
Alice L. George
Ms. Shanta Ghosh
Mrs. Samuel M.V. Hamilton
The Hamilton Family Foundation
Mr. and Mrs. Raymond E. Ix Jr.
Mr. and Mrs. Robert E. Keith
Mr. Edmund Klimek
Mr. and Mrs. Howard H. Lewis Jr.
Charles E. & Mary MacGregor Mather
The National Constitution Center
Mr. Timothy R. Schantz
Dr. and Mrs. William Tasman
Van Note-Harvey Associates, P. C.
Andrew Jackson Sponsor
Ms. Elizabeth H. Gemmill
Hannah L. Henderson
Mr. Ralph L. Kendricks
Fran and Leon L. Levy
Museum of the American Revolution
Mrs. Janneke Neilson
Oliver Fire Protection & Security
Mr. Kevin Passerini