Speaking from across the Delaware River in Camden, Walt Whitman described baseball as "America's game," with "the snap, go, fling, of the American atmosphere." As the 2016 season gets underway, consider Shibe Park, onetime home to Philadelphia's Athletics and Phillies, demolished 40 years ago this year.

Named after Athletics majority owner Ben Shibe, the stadium was bounded by what are now West Lehigh Avenue and North 20th, West Somerset, and North 21st Streets.
Aerial view of Shibe Park, later known as Connie Mack stadium, onetime home to Philadelphia's Athletics and Phillies. From the Philadelphia Record Photograph Morgue [V07].
Unlike the then-popular wooden and brick "bowls," Shibe Park boasted a skeleton of steel and concrete — baseball's first. An eyesore it was not, however. Opening in 1909, fans were greeted by the stadium's façade of friezes, terra cotta sculptures (of Shibe and manager Connie Mack, of course), and arched windows supported by colonnade.
For nearly three decades after the stadium's opening, those living in the neighborhood — especially near right field — enjoyed an excellent view from their rooftops. This changed in 1935. Amid a Great Depression ticket slump, management added a 22-foot wall. Incensed fans quickly labeled the corrugated metal extension "Connie Mack's Spite Wall," though the project had been Shibe's idea.

For a time starting in 1938, the American League Athletics shared the stadium with the National League Phillies.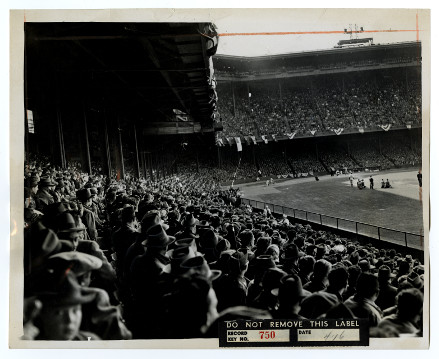 The Yankees and Athletics face off on Opening Day 1946 in Shibe Park.From the Philadelphia Record Photograph Morgue [V07].
"YOWEE! That anticipated postwar sports bump isn't in the offing — it's here," ran the Philadelphia Record's coverage of Opening Day, 1946. The throng of more than 37,000 fans set a record for the Athletics, despite being swept by the Yankees 5-0. Less than a year later, 41,660 fans packed into the stadium to witness Jackie Robinson's Philadelphia debut, making it the largest crowd in the Phillies' tenure at Shibe Park.
Renamed Connie Mack Stadium before the 1953 season, the Phillies continued to play in Shibe Park after the Athletics' departure, before themselves moving to South Philadelphia's Veterans Stadium. A wrecking ball batted cleanup in 1976.
This article originally appeared in the April 10, 2016 Currents section of the Philadelphia Inquirer as part of HSP's weekly series, Memory Stream.