Federal Census Records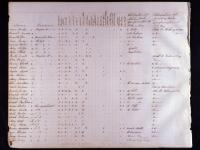 The Federal Population Census enumeration, taken every ten years since 1790, can provide some of the most rewarding information for genealogical and historical research. The collections of the Historical Society of Pennsylvania include the 1790-1900 Federal Census returns for the Commonwealth of Pennsylvania (with the exception of 1890, as explained below), as well as those for a number of additional states. HSP's collections also contain a number of special census records compiled over the years such as the Special Census of Indians, taken in 1880 (MFilm E 98 .C3 P7 1994).
The information gathered in each successive U.S. Census becomes progressively more detailed. This 2008 National Archives publication details what information was recorded in each census schedule through 2000. For example, the 1790-1840 schedules note only heads of households, with other family members and boarders tallied simply by age groups, sex and race. By 1850, census returns finally begin to record individuals in a given household by name, age, occupation, value of real estate, and place of birth. Beginning in 1880, census data includes the relationship of household dwellers to the head of household, as well as the birthplace of the parents of each resident.
Unfortunately, most of the 1890 Pennsylvania Federal census schedules were destroyed by fire; the only census record of value for that year is a special enumeration of Civil War Veterans and Widows.
Perhaps the single most informative census schedule ever taken was that for 1900. In addition to names and occupations, these returns give the birth month and year for each individual, the number of years a couple has been married, number of children born to the couple (both living and deceased), as well as years of immigration and naturalization.
Federal census records are kept confidential for seventy-two (72) years from the time they were compiled. Accordingly, the 1950 census records will become available in 2022.
HSP holds census indexes and films for Pennsylvania from 1790-1900 (and the entire country for 1850). Materials available for additional states vary widely. Search our online catalog for "census records," and also refer to various census-related volumes in the Greenfield Center and Reference Collection. Please note that often, HSP's collections contain various census indexes but not the corresponding records on microfilm. For a complete set of Federal Census Records (1790-1940), visit the National Archives at Philadelphia, located at 9th & Chestnut Streets, Philadelphia, PA 19107.
Many census records are now available online. HSP offers visitors to our library free access to AncestryInstitution.com; FamilySearch.org is free for all users. See an HSP Reference Librarian for further assistance using these resources in the library.
Census Indexes
Federal Census Indexes have been published for most states up to at least 1860. Later years of the Pennsylvania Census indexes are often broken down by regions and large cities (e.g.- East, West, Pittsburgh and Philadelphia). The indexes for Pennsylvania census records are available in book format from 1790 to 1870.
"SOUNDEX"
The 1880 and 1900 census records are indexed by a special system known as "Soundex." Under this system, surnames are assigned a code number (see below). The entries are then arranged on microfilm numerically by code number and alphabetically by given name. It is important to note that the 1880 Soundex index includes entries for only those households with children ten years old or younger. The 1900 Soundex index includes entries for all known heads of households as well as individuals with different surnames living in the same dwelling.
Please use the following key to locate surname code numbers:
Soundex Coding Guide
b,p,f,v
c,s,k,g,j,q,x,z
d,t
l
m,n
r
The letters a, e, I, o, u, y, h and w are not coded; neither is the first letter of the surname.
Every Soundex code must be a 3-digit number. For names with less than 3-digits, 0s are added. Conversely, surnames which exceed 3-digits, stop at three [e.g.-Lee: L000 (not L0); and Ebelson: E142 (not E1425)]. Also, when two identical letters appear together in a surname (e.g.-Kelly), the letter is counted only once [e.g.- K400].
Examples:
| | | |
| --- | --- | --- |
| Name | Letters Coded | Code Number |
| O'Brien | b,r,n | O165 |
| Allricht | l,r,c | A462 |
| Zita | t | Z300 |
For further details and instructions regarding the Soundex system, please refer to The Soundex Reference Guide located in both the Greenfield Center (CENSUS CS 49 .S64 1990) and at the Reference Desk. If you need additional assistance, please see an HSP Reference Librarian.
Of course, many census records are now available online. HSP offers visitors to our library free access to AncestryInstitution.com; FamilySearch.org is free for all users. See an HSP Reference Librarian for further assistance using these resources in the library.
Further Reading
Clarke, Jane Adams. "Research Tip: Some Census Substitutes for Philadelphia (City and County)," Penn In Hand: vol 10 no. 4 (Summer 1989). (RDESK F 148 .G3)
Dilts, G. David. "Censuses and Tax Lists," Printed Sources: A Guide to Published Genealogical Records. (RDESK Z 5311 .P75 1998)
Lainhart, Ann S. State Census Records. (CENSUS Z 5313 .U5 L37 1992)
Stock, Walter and Nesheena Pickron. An Urban Finding Aid for the 1880 Federal Population Census of Philadelphia. (CENSUS UPA F 157 .P56 S76 1993)
Thorndale, William and William Dollarhide. Map Guide to the Federal Censuses, 1790-1920.
(CENSUS G 1201 .F7 T5 1987)
Woodroofe, Helen. A Genealogist's Guide to Pennsylvania Records. Pennsylvania Genealogical Magazine, 1995, (search by individual county for available census records). (RDESK F 148 .W66 1994)
Updated 6/27/13.