As the nation reflects on the meaning of freedom and liberty this Fourth of July weekend, consider an unsung heroine of women's independence: the bicycle.
Taking a broad definition of race and bicycle, Philadelphia women participated in one of the earliest competitions in North America featuring a two-wheeled, human-powered machine.
In 1819, artist Charles Willson Peale witnessed his daughters Sybilla and Elizabeth informally racing "downhill like the very devil" on his velocipede, an iron juggernaut and the first two-wheeler in the city.
However, it was not until several later innovations and inventions - chain-drive transmissions, pneumatic tires, relative affordability, and safety - that the United States witnessed its first bike boom, beginning in the 1890s. Many consider a social revolution to have followed.

Photograph of women, in costume, with a bicycle (right) and a penny-farthing (left) c. 1936, Philadelphia Record photograph morgue (Collection V07)
Bicycles provided nearly everyone - professionals, laborers, men, women - with a democratic means of travel, recreation, and sport.
For women in particular, the "wheel" became an engine of emancipation.
"The bicycle has done more to emancipate women than anything else in the world," pronounced Susan B. Anthony. "I stand and rejoice every time I see a woman on a wheel. It gives a woman a feeling of freedom and self-reliance."
Consider the issue of dress. In the 1890s, custom confined many women to corsets, long gowns, and other voluminous garments. These modes of dress were as unfit for wheelwomen in the 19th century as they are today.
However, for "New Woman" cyclists, this was far more than a sartorial or safety issue: This was a matter of sovereignty. If women could not determine something as personal as their own clothes, how could they demand public rights, such as getting the vote?
Soon city streets were filled with female cyclists clad in divided skirts, knickerbockers, and bloomers. While this may seem perfectly reasonable to modern observers - one cannot ride a bike if one's dress is snared in the sprocket - these "belles of the boulevard" hiked up nothing less than a national controversy.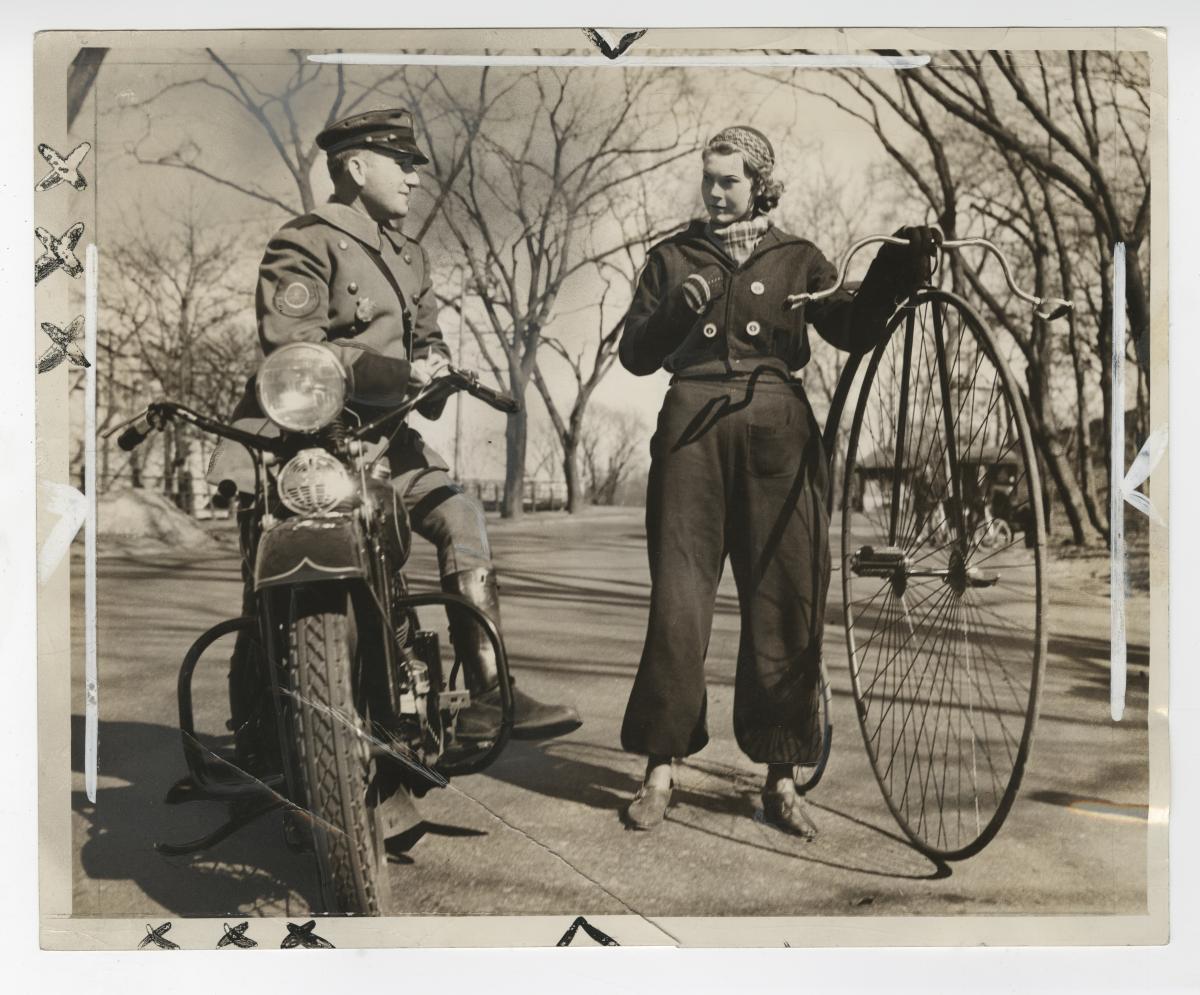 From the original 1937 photograph caption: "Harriet Weakly getting a ticket for speeding while practicing for Bicycle Parade and Sportman's show." Philadelphia Record photograph morgue (Collection V07)
"We do not bother our heads about their cycling clothes, and why should they meddle with what we want to wear?" Elizabeth Cady Stanton demanded of men in 1895. "We ask nothing more of them than did the devils in Scripture - 'Let us alone!' "
While the popularity of bloomers and knickerbockers subsided in tandem with the bicycle craze, the machine's influence continued to shorten skirts and loosen corsets.
"Thoughtful people . . . believe that the bicycle will accomplish more for women's sensible dress than all the reform movements that have ever been waged," said the Demorest's Family Magazine that same year.
"The most enduring monuments to the bicycle," observed historian Robert A. Smith, "are visible ankles and calves, and uncorseted figures."
"Today, we take for granted that female cyclists are able to compete in races, and that they are free to wear whatever they choose," remarked Sarah Duda, a staffer for the Aug. 6 Farm to Fork Fondo bicycle ride in Lancaster, which features the Colavita-Bianchi professional women's team. "But this was no small victory for women. Imagine trying to pedal in a hoop skirt."
---
This article originally appeared in the July 3, 2016 Currents section of the Philadelphia Inquirer as part of HSP's weekly series, Memory Stream.