George F. Parry's Civil War Diaries: June 1865
Hello again, and thank for returning for more transcriptions from the George F. Parry Civil War diaries (George F. Parry family volumes, Collection 3694 [1]). If you're just joining us, in 2012 HSP acquired the diaries of Bucks County resident and Civil War veterinary surgeon George F. Parry. In that collection are three diaries he kept during the Civil War dating from 1863 to 1865, when he served with the 7th Pennsylvania Cavalry. In celebration of Parry's work and the 150th anniversary of the Civil War, I'm providing monthly posts on Fondly, PA [2] of transcripts of entries from his diaries.
To see other posts in the series, check out the links over on the right-hand side of this page.  Clicking on the diary images will take you to our Digital Library [3] where you can examine the volumes page by page, along with other digitized items from the Parry collection.
*****
This was a rather quiet month for Parry, and he frequently noted as such in his diary entries. With the capture of Jefferson David last month, the war was all but over. Parry remained with his regiment in camp outside of Macon, Georgia. And it was a month of downtime that he spent the visiting with folks and traveling the countryside.
---
Notes about the transcriptions: I've kept the pattern of Parry's writings as close as formatting here will allow, including his line breaks and spacing. My own additional or clarifying notes will be in brackets [ ]. Any grammatical hiccups that aren't noted as such are Parry's own.
---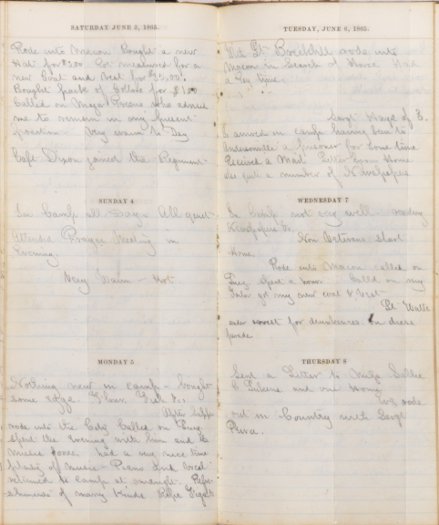 [4]
*****

Thursday, June 1
Examined by a Board of Examiners
for position in regular Army.
                                      Rode into
Macon[,] called on Dan'l Losey and
found him much better.  Visited
Cemetery not much.  Called on
Carlton Davis.
                                    This day is set
apart for fasting and Prayer
on account of death of Abraham
Lincoln[,] Pres. Of U. S.
*****

Friday, June 2
Quiet in Camp. My servant Charley
under arrest and being punished
severely.
Warm day.
                                Received a
Appointment as 1st Lieut in the 137
United States Colored Troop with
Orders to report at once.
                                               did not
report = my position as Veterinary Surgeon
much better.
*****

Monday, June 5
Nothin new in camp -- bought
some eggs, Flour, Fish, &c.
                                    After Supper
rode into the city[.] Called on Lucy(?).
Spent the evening with him and the
Misses Jones.   had a very nice time[,]
plenty of music – Piano and vocal[.]
returned to camp at midnight.   Refre-
shments of many kinds. R____ Figs, &c.
*****

Wednesday, June 14
In camp all Day[,] no news
all quiet.  Mail Arrived, no
letters for me.
                        Some words with
Dr. McKay about his company['s]
Horses.
*****
Monday, June 19
Mothing new to Day[,] all
quiet in camp.
                    Lt. Frazier in
Camp.    Lucy took dinner with
me.
Thunder Storm after dinner.
Well and in good Health[.]

*****
Friday June, 23
Wrote a Letter to Miss
Julia V. Taylor.
                          Very nice Day[.]
living at the top of the
heap.  Peaches, Pages(?), Mellons[sic]
Berries &c in abundance.
*****
Thursday, June 29
Dull in Camp.  Some reading
matter on hand.
                       Officers being exam-
ined.   [illegible] left for Andersonville
and Americus.
                        Montana left for
Eufalia [Eufaula].
                        Walked out in the
evening and visited mellon[sic]
pach[sic].
*****
[4]