A Horse Of Course! at the GAR Museum
You may have heard of the famous talking television horse, Mr. Ed, but have you ever heard of the war veteran horse named Old Baldy? 
During our repository visits we often find stories about much loved animals, such as Lil' Ugly at Glen Foerd. So when we first found the preserved front hoof of Old Baldy at the Old York Road Historical Society our curiosity was piqued. After doing a bit of digging around online we discovered that Old Baldy was the brave war steed of General George G. Meade.
Old Baldy was with Meade through many of his battles during the Civil War and he survived multiple injuries. Meade cared very much for this horse and whenever Old Baldy was injured allowed him time to convalesce before he returned him to battle. Once the war ended Meade retired Old Baldy to the farm of John J. Davis in Abington, PA where he could spend the remainder of his life in comfort. After outliving Meade and reaching the ripe old age of 30, Old Baldy's health was fading and it was decided that it would be kinder to euthanize him then to allow his continued suffering. He was put to rest on December 18, 1882. But Old Baldy's rest was not to last very long! Very soon after he was buried two Union Army vets, Albert C. Johnston and H.W.B. Harvey, decided to dig up Old Baldy to collect some souvenirs. They removed his head and at least one front hoof that we know of which they had taxidermied.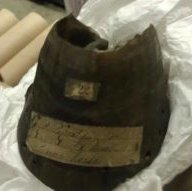 The head of Old Baldy is now on display at the Grand Army of the Republic Museum and Library . The practice of taxidermy has been popular for many centuries and may seem a bit grotesque, but when you see Old Baldy for yourself you can easily imagine his brave countenance carrying Meade to victory not so long ago. Having found Old Baldy now at two different repositories makes us wonder if there are parts of him anywhere else. Have any of our faithful readers ever seen or heard of Old Baldy at any other repositories? 
The GAR museum's exhibit contains many items attributed to Meade and Old Baldy. This project has allowed us the opportunity to learn about and see these great exhibits first hand and to help bring them to others who may have missed them otherwise. The GAR and other small museums and historical societies in our area hold a multitude of important archival materials as well as museum objects. We hope that you have the opportunity to stop in and see them for yourselves.
You can find descriptions of the collections at the GAR Museum on the PACSCL finding aid website.