Anna Russell Jones: A Life Full of "Firsts"
Several months ago, we surveyed at the African American Museum in Philadelphia (AAMP), which was founded in 1976 during the bicentennial celebration of the United States. AAMP is dedicated to preserving and sharing the stories and experiences of African Americans throughout history, and does so through a variety of exhibits and programs offered at the Museum.  In addition to its object collection, AAMP has a substantial amount of archival materials that document famous individuals, including singer Pearl Bailey, pianist Natalie Hinderas, and Philadelphia politician Joseph E. Coleman, as well as less well-known African American performers, athletes, educators, physicians, artists, and other citizens.
During our survey of the archival collections, we came across the papers of Anna Russell Jones (1902-1995). After only a few minutes of browsing through this collection, it was clear that Ms. Jones had led an interesting life. She was a talented artist who initially worked as a wallpaper and carpet designer, but later went on to work as a graphic artist, licensed practical nurse, and civil service illustrator. This past summer, Celia Caust-Ellenbogen and I were able to process her papers, learning even more about this fascinating woman whose life was full of "firsts."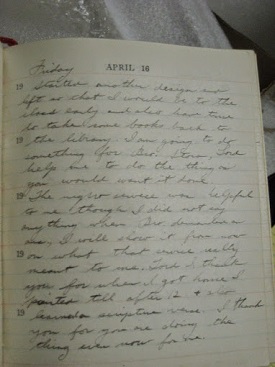 A page from Anna Russell Jones' diary, 1937
Anna Rachel (Rae) Malinda Russell, the youngest of three children, was born in Jersey City, New Jersey in 1902, to John C. Russell and Anna M. Evans. When Anna was just nine years old, her father passed away and Anna's mother eventually settled the family in Philadelphia, Pennsylvania, where Anna graduated from William Penn High School for Girls in 1920. She was the first African American woman to receive a four-year scholarship from the Philadelphia Board of Education that allowed her to attend the Philadelphia School of Design for Women (now Moore College of Art & Design), pursuing her pronounced artistic abilities.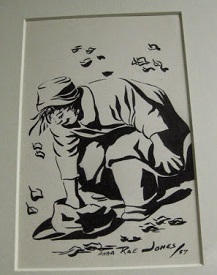 Sketch by Anna Russell Jones, 1957
Anna majored in textile design and in 1925 became the first African American graduate of the Philadelphia School of Design for Women. After working as a carpet and wallpaper designer in a Philadelphia studio for four years, Anna decided to establish her own studio. She sold her wallpaper and carpet designs to firms in Philadelphia, New York, and Canada, a difficult and rare accomplishment for an African American woman in the 1930s.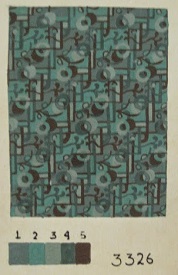 Carpet design by Anna Russell Jones
Not long after the United States entered World War II, Anna was accepted into the United States Army as part of the Women's Army Auxiliary Corps (WAAC, later known as the Women's Army Corps), becoming the first African American woman from Philadelphia to join the Armed Forces during World War II. She was stationed at Fort Huachuca, Arizona, and worked as a graphic artist for the army, designing maps, posters, booklets and various other things for military publications. During her service she received the WAAC Service Medal, the American Campaign Medal, the World War II Victory Medal, and the Good Conduct Medal.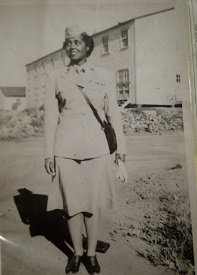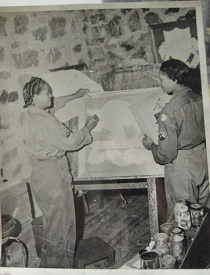 Anna in her uniform (left), 1944 and Anna in the "Paint Shop" at Fort Huachuca, Arizona (right), 1943
After the war ended, Anna returned to Moore College of Art and Design and completed post-graduate work in textiles. She also pursued various other educational opportunities at this time, including the study of medical illustration at Howard University College of Medicine (Washington, D.C.). In the 1950s, Anna worked at Hahnemann University Hospital in Philadelphia as a licensed practical nurse and later on became employed as a graphic artist and illustrator in the civil service. Additionally, she continued to paint, sketch, draw, and do freelance artistic work in her spare time.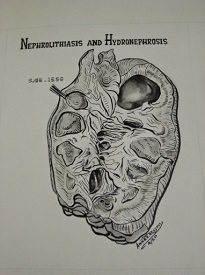 Drawing of a kidney by Anna Russell Jones, 1950
In 1952, Anna married William Albert Marsh Jones Jr. Anna and Albert spent thirty-four years together, until his passing in 1986, the same year in which Anna was awarded the Honor of Excellence Award from the Afro-American Historical and Cultural Museum (now the African American Museum in Philadelphia). The following year she received an Honorary Degree, Doctor of Fine Arts, from Moore College of Art. Anna died in Philadelphia in 1995.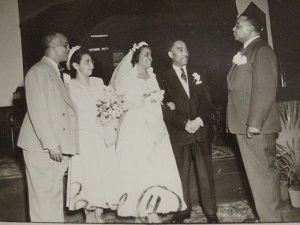 Anna and Albert's wedding, 1952
The Anna Russell Jones papers, 1892-1989, measure approximately 17 linear feet and document several aspects of Anna's life, particularly her time in the military, her career as carpet and wallpaper designer and civil service illustrator, her art education, and job searches. Other areas of Jones' personal life, such as her interest in African American history and civil rights, and the lives of various family members are also covered.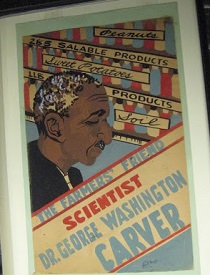 Educational poster designed and painted by Anna Russell Jones
The largest portion of the collection consists of artwork created by Anna Russell Jones and includes carpet designs; medical illustrations; government and military illustrations; and several posters, many of which are of prominent figures in African American history, designed and created by Anna as an educational series. There are also some greeting cards, religious artwork, sketches, and other artwork by Jones, as well as a small amount of art reference materials in this grouping. Other materials such as a correspondence, photographs, scrapbooks, personnel records, objects, and printed materials are also present in the collection.
See all finding aids for African American Museum in Philadelphia