Christian Sanderson, History Collecting Enthusiast!
History buff, school teacher, musician, radio commentator, collector- Christian Carmack Sanderson (1882-1966) donned all of these hats and more! Born in Port Providence, Pennsylvania (Upper Providence Township, Montgomery County), Sanderson lived in and around that area until he went to West Chester Normal School (now West Chester University) in the fall of 1898. He began his teaching career in September 1901 and taught at a number of schools in Montgomery, Chester, and Delaware Counties as well as Oak Grove School in Elsmere, Delaware, where he ended his teaching career as a principal in 1929.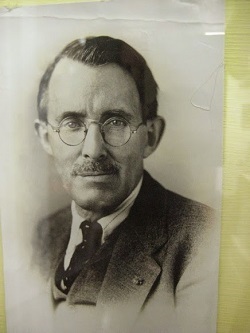 Christian Carmack Sanderson (1882-1966)
In addition to teaching, Sanderson enjoyed a variety of other occupations and interests throughout his life. In the early 1920s, he began hosting a radio show, and in the 1930s he formed a musical group called the Pocopson Valley Boys. Sanderson was also very interested in American history. Both of his grandfathers had been soldiers in the Civil War and as a result, Sanderson developed an interest in American history at an early age and felt deeply patriotic throughout his entire life. He often gave history lectures in classrooms, on the radio, at conferences, and elsewhere. The lectures ranged in subject from general American history topics to more localized history topics relating to the Delaware Valley region. Sanderson was instrumental in reinvigorating public interest in the Battle of Brandywine, which took place near Chadds Ford, Delaware County, Pennsylvania in 1777 during the American Revolutionary War.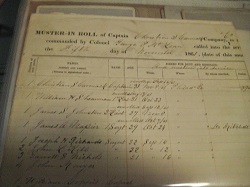 Muster roll for Captain Christian Carmack (1830-1899), Sanderson's maternal grandfather
Though he loved learning and educating people about history, Sanderson's most ardent passion may have been collecting history. From an early age, Sanderson was a collector, often saving things that were significant to him in his adolescence. As he got older, he not only accumulated materials relating to his childhood, his teaching career, his musical interests, and other aspects of his own life, but also collected items relevant to his family's history, American history (including materials from wars and presidential inaugurations- every one of which he attended from Teddy Roosevelt's in 1905 to Lyndon Johnson's in 1965), the lives of his friends, and many other subjects in which he was interested.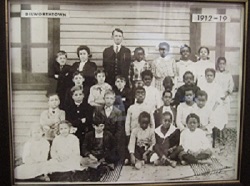 Christian Sanderson and his pupils at Dilworthtown School
Sanderson amassed an enormous amount of material over his lifetime, but began showing his collected items off to the public in 1906. He loved sharing history and his collection. No matter where he was living, from 1906 onward, Sanderson had his own personal "museum" of objects on display for people to view.
In 1937, Sanderson and his mother, Hanna Carmack Sanderson (1856-1943), decided to move to Chadds Ford, Pennsylvania. Sanderson loved the area and had previously taught at a school there. He was also very good friends with local resident and renowned American illustrator N. C. Wyeth who lived there with his family, many members of which also became well known in their own right.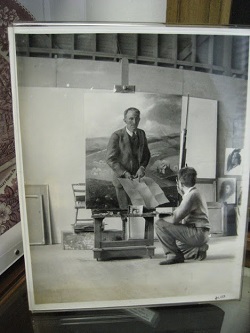 Andrew Wyeth painting a portrait of Christian Sanderson, 1937
Sanderson remained in the house he rented in Chadds Ford for the next 29 years until his death in 1966. In 1967, Sanderson's residence was converted into the Christian C. Sanderson Museum. The Museum houses Chris' personal papers and the papers of his family members, as well as the vast array of materials and objects collected by him during his lifetime. The museum's archival collection includes diaries, ephemera, notes, postcards, scrapbooks, slides and scripts from lectures given by Sanderson, photographs, financial records, and much more.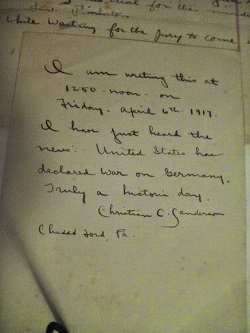 A note Sanderson wrote to observe the day and time the United States entered World War I
Highlights in the archival collection include materials relating to American history, especially the Revolutionary War, the Civil War, and World War I, in particular a number of letters written from Civil War veterans to Sanderson recounting their experiences during the war; records such as performance logs, member listings, and recordings from the Pocopson Valley Boys, the musical group formed by Sanderson in the 1930s that performed and recorded square dancing music featuring Sanderson on the fiddle; scrapbooks and scripts from Sanderson's time as a radio show host, 1923-1966; school materials from and relating to West Chester Normal School, where Sanderson was a student, and the various schools at which he was a teacher; and the personal papers of Sanderson and his family members.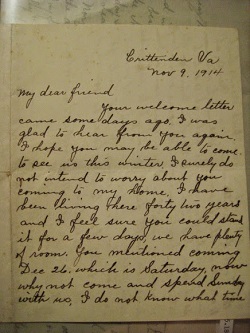 Letter written to Sanderson by a Civil War veteran
In addition to the materials above, the Sanderson Museum has about 40 artworks created by members of the Wyeth family, antique toys, cannonballs from various battlefields, a large number of autographs from famous people, several string instruments (including a zither), a thirteen star American flag, and many other objects spread out between eight rooms. Whether you are interested in experiencing history through the eyes of Christian Sanderson, or you are curious about the man himself, take a trip to the Sanderson Museum, or maybe a couple of trips- you likely won't be able to see everything there in one visit!