Riffing on Philly Jazz History
In pursuit of the HCI-PSAR project goal of making better known and more accessible the often "hidden" archival collections of the Philadelphia region's many small historical institutions, we occasionally come across exceptionally important yet unknown or under-utilized collections. To a certain extent, all of the collections we survey in the HCI-PSAR project are of historic value, but every now and then we find ones that are truly extraordinary. Such was the case this summer when we surveyed the records of the Philadelphia Clef Club of Jazz and the Performing Arts. The Clef Club was the city's preeminent African American musical institution from 1935 to 1971, a time period that coincided with the golden age of Philly jazz. With such illustrious members as Dizzy Gillespie, John Coltrane, Benny Golson, the Heath Brothers, Jimmy Smith, Grover Washington, and others, the Clef Club's archives are an invaluable historical resource documenting Philadelphia's world-famous jazz tradition. Unfortunately, these important materials have been unavailable to researchers in recent years. Don Gardner, Managing Director of the Clef Club, is aware of the importance of the institution's archives and is working toward getting them organized and accessible.
The Clef Club is an outgrowth of Philadelphia's black musicians' union, Local No. 274. Its history is a history of not only great musicians and an important institution, but of the broader struggle of African Americans for racial equality and equal opportunity. In the early twentieth century the American Federation of Musicians, the national musicians' union, was one of the most segregated labor unions in the nation. This segregation existed on the local level as well. In Philadelphia, as in most other major cities, the white musicians' union, Local No. 77, barred African Americans from membership.  In 1935 a group of the city's black musicians formed their own union local, Local No. 274. More than 700 musicians joined Local 274 over the years, contributing to and benefiting from the organization.
Ironically, advances in civil rights led ultimately to the demise of Local No. 274. As the American Federation of Musicians moved to desegregate in the 1960s, black locals throughout the nation began to disband and merge with their white counterparts. Members of Philadelphia's Local 274 resisted this course of action, however, believing that their interests would not be well served in a merger with Local No. 77 and that they would lose the assets they had built up, including their union hall on South Broad Street. Local 274 held out for some time, eventually becoming the last independent African American musicians' local in the nation before disbanding in 1971.
In 1966, five years prior to disbanding, members of Local 274 created the Clef Club as a social arm of the union. Realizing that a merger with the white union was inevitable, they transferred all assets of Local 274 to the Clef Club. The Clef Club remained a social organization until 1978 when it expanded its mission to include jazz performance, jazz instruction, and the preservation of Philadelphia's rich jazz history. In 1995 the Clef Club moved to its current location at Broad and Fitzwater Streets on Philadelphia's Avenue of the Arts. The building - "The House That Jazz Built" - houses classrooms, a performance space, recording facilities, and executive offices. Now known as The Philadelphia Clef Club of Jazz and Performing Arts, the Clef Club is a unique artist-founded and artist-run cultural organization that provides lessons, concerts, cultural events and services to musicians and is committed to the promotion and preservation of jazz music.
The Clef Club's archives are comprised of records of both Local 274 and the Clef Club, totaling some 34 linear feet of materials dating from 1925-1974. Included are meeting minutes, administrative and financial records, membership/artists' files, correspondence, and a small amount of photos and ephemera. Here is a small sampling of some of the important documents in the collection:
Detail from Saxophonist John Coltrane's contract with Peps Lounge, a well-known Philadelphia jazz club, for an engagement from March 21 to 26, 1966. According to the contract, Coltrane is to play nightly from 9:00 PM to 3:00 AM, with matinee performances Monday and Saturday from 4:00 to 7:00 PM. His compensation for the engagement is $2,750.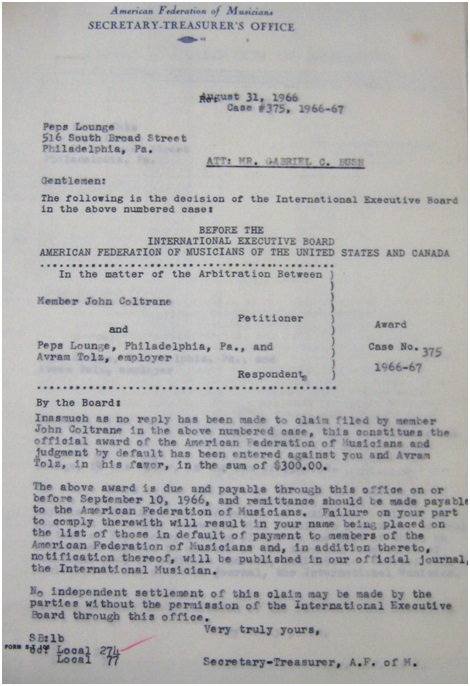 Later in 1966 the American Federation of Musicians took action against Peps Lounge for non-payment of $300 owed to John Coltrane for the above March engagement. In this August 31, 1966 letter the AFM notifies Peps of its $300 judgment against the club on behalf of Coltrane.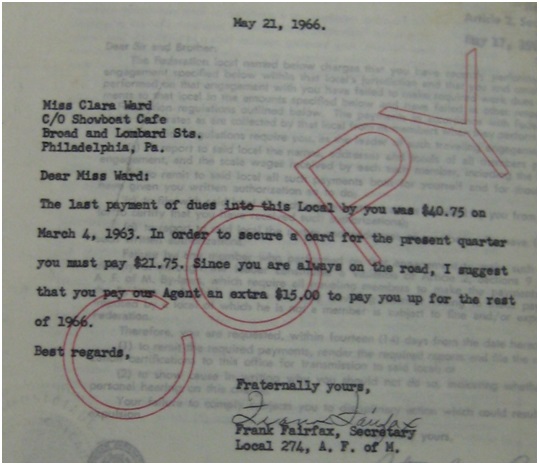 Clara Ward was a world famous gospel singer and recording artist in the mid twentieth century. A Philadelphia native, she was a member of Local No. 274. In this 1966 letter, the Secretary of Local No. 274 informs Miss Ward of the amount due on her union dues and suggests that, since she was "always on the road," she pay a portion of her dues in advance.
See all finding aids for Philadelphia Clef Club of Jazz and Performing Arts