The Land Above the Valley
The area now known as Uwchlan Township, Chester County, Pennsylvania was once occupied by the Leni-Lenape (Delaware) and Iroquoian-speaking Susquehanuck peoples, and many of the footpaths they created are still in use today as roads that crisscross through the Township. Welsh Quakers were the main European group to settle in Uwchlan, requesting their own meeting in 1712. In fact, the township's name, which used to be spelled on some public records in the original Welsh form of "Ywchlan," means "the land above the valley." In case you're curious about how to pronounce it, local residents say "Yewk'lin."
Like many townships in the area, Uwchlan was primarily a rural farming community until World War II, when post-war suburbanization resulted in rapid development. As a result, residents wished to find ways to preserve the memory of Uwchlan's past. In 1975 the Uwchlan Township Historical Commission was created and became responsible for collecting materials that document the Township's history and helping to protect many of the historic buildings and sites in Uwchlan, including the Lionville Historic District.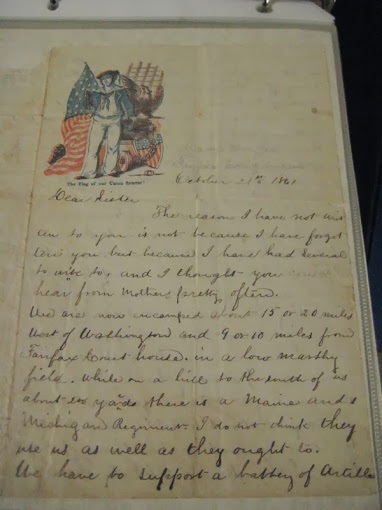 One of the Downing brothers' letters to Sarah, October 1861
The Lionville Historic District, a crossroads community within Uwchlan Township, is registered as a national historic district with 39 contributing historic buildings. Lionville was once the home to a branch of the Downing family, a surname with deep roots going back to the early eighteenth century in Chester County. Brothers William H. Downing (1842-1864) and Joseph B. Downing (1843-1917) were born in Lionville, just shy of twenty years before the American Civil War. In 1861, shortly before Joseph turned 18, he joined the 49th Regiment Pennsylvania Volunteers. Joseph's older brother, William, had to wait until 1862 to join due to a contract he had signed to become a miller's apprentice. During 1862, the brothers fought in the Peninsular Campaign in Virginia and the Battle of Antietam in Maryland, in which William was wounded. In 1863, the Regiment was involved in the Battles of Fredericksburg and Gettysburg, and in 1864 William was killed at the Battle of Spotsylvania Court House, Virginia. Joseph survived the war and lived until 1917, when he passed away in Philadelphia.
Throughout their experiences as soldiers, both Joseph and William wrote letters to their sister, Sarah Downing, in Lionville. In the early 1990s, a dozen of these letters dating from October 1861-June 1863 were discovered in a dresser drawer of Uwchlan Township residents, one of whom is descended from another sister, Deborah Downing Trimble, of Joseph and William Downing. Sarah Downing passed away in September of 1863, which would explain why the letters stop just before then. The letters are held at the Uwchlan Township Historical Commission, some of whose members published the letters in a book called Dear Sister, released in 2004. The book also includes two early twentieth century letters from Joseph Downing and a third sister, Phebe, biographies of the two brothers, and information on the 49th Regiment and the Downing family.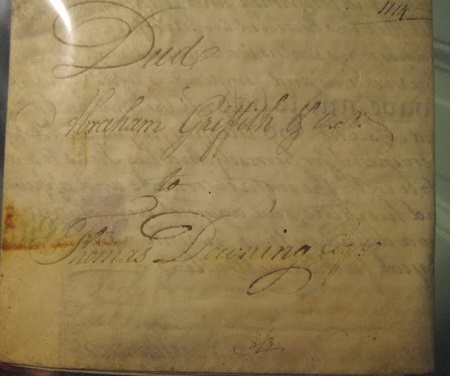 A deed from the Uwchlan Township Historical Commission's collections
Letters written in a time of turmoil and uncertainty always remind us of what is really important in life. If you wish to be reminded, stop by the Uwchlan Township Historical Commission and view the letters in person. While you're there, check out other interesting items in the collections. In addition to the Downing brothers' letters, the Historical Commission has several small collections of papers relating to other people of Uwchlan including the Carter family and Ernest Cornwall, a prominent cattle dealer in Uwchlan. Other materials that are available for research include photographs, glass plate negatives, a large number of deeds (1742-1907), various maps, business records, municipal records, and an extensive subject file collection with materials about people, institutions, buildings, and other topics relating to Uwchlan Township and nearby local history.
See all finding aids for Uwchlan Township Historical Commission