Experiences of a Digital Intern Working with the Kennedy Watercolor Collection
Beginning my work on the David J. Kennedy collection as a distance intern has been a great opportunity to expand my knowledge and experience as well as to provide patrons of the HSP with greater ease in searching and browsing the collection. Though it was a little confusing at first, it did not take long for me to become comfortable with the system used to edit each entry. I have since been adding new metadata to each image, such as subject headings, the dimensions of the image, and other entities related to the image. Much to my surprise, this process has been relatively simple, and is actually quite enjoyable. While working as a distance intern is more challenging than working in the same physical building that the collection is housed in, I do not feel significantly hindered in being able to complete the work required for the project.  However, there are certain aspects of the project that have been an interesting challenge for me.
The most challenging task so far has been providing georeferences for each image - depicting on a modern-day map where the building or landscape in the image stood when Kennedy painted it. As a Chicago-native distance intern who has never even been to Philadelphia, this process has been much more difficult for me than it probably would have been for a local resident. I am completely unfamiliar with the main roads, land formations, and points of interest in modern Philadelphia, much less the nineteenth-century city that Kennedy called home. Fortunately, the Greater Philadelphia GeoHistory Network and the Philadelphia Architects and Buildings Project have been extremely helpful; these two websites contain a wealth of information and resources such as old maps, directories, and photographs that have helped me track down where many of the old buildings in Kennedy's painting once stood. Not only have I started to become more familiar with Philadelphia's current layout, but I have also learned of some of the street name changes that have occurred throughout the years.  For instance, while locating the georeference for Kennedy's painting of Welch's Circus, I found that Sansom Street was once named George Street.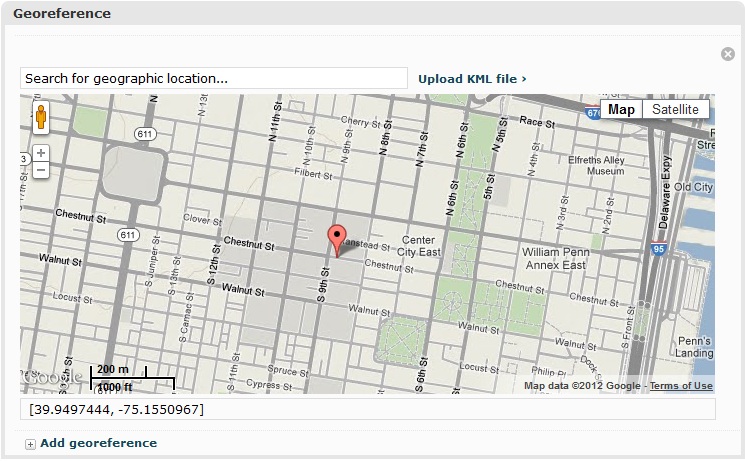 Georeference page for Welch's Circus; Kennedy writes that the circus had been on Chestnut below 9th street, and near George Street - now Sansom.
For someone who less than a month ago knew little about Philadelphia and its history, I have slowly been learning more about the city throughout this project. Seeing what buildings have remained standing since (or even before) Kennedy's time, such as the Betsy Ross House, has been very interesting, and I have even appreciated the small tidbits of history that Kennedy wrote in his inscriptions, including the birth of William Penn's son John in the Slate Roof House.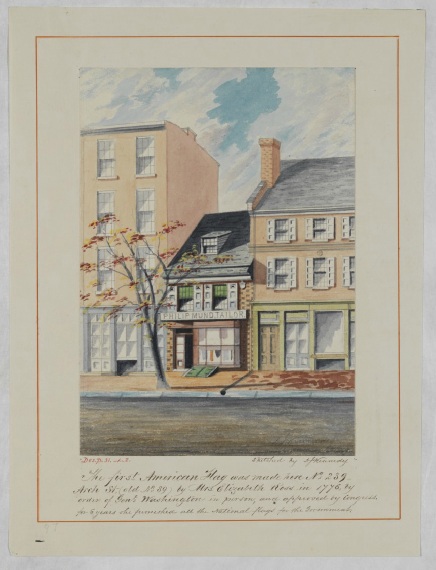 Betsy Ross House, still standing since the eighteenth century.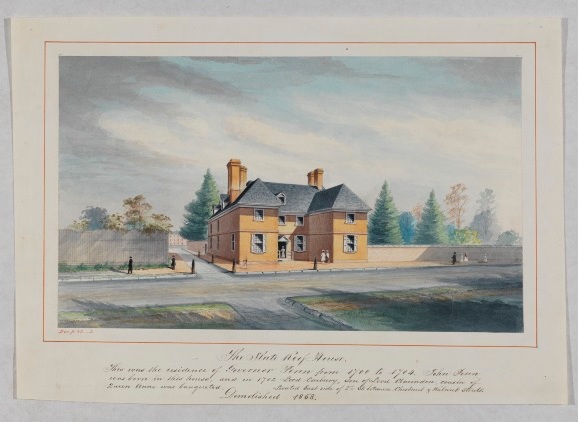 The Slate Roof House, where John Penn was born.
By the time my internship ends this coming May, I hope to have gained more knowledge about the city, as well as greater experience with the technology used to work with a digital collection. I also hope to have helped provide patrons of the HSP with greater ease in searching the Kennedy collection, and with more informational metadata that will help them understand more about the city and its history.