By Mary Tasillo and Ashley Harper, with exhibition photos by D'Arcy White.
Most of the fibers in HSP's collections are the paper fibers of our books and manuscripts. Every so often we encounter something in a collection that references fibers and textiles in another way – a pair of gloves, pattern samples from local family-owned textile mills, or perhaps a knitting pattern. In conjunction with the FiberPhiladelphia Biennial, a team of HSP staff combed the collection to showcase several facets of textiles in the collection.

The lobby features over thirty portraits from our cased photograph collection alongside images from Godey's Lady's Book, and demonstrates dating 19th century photographs based on women's fashion. Cases in our reference room include a look at identifying family heirlooms in the Allen Family Papers (Collection #3126), fiber arts and handcrafts as representations of ethnic identity including images from postcards in the collections, textile manufacturing history in Philadelphia with an emphasis on mills run by local families, and knitting in wartime.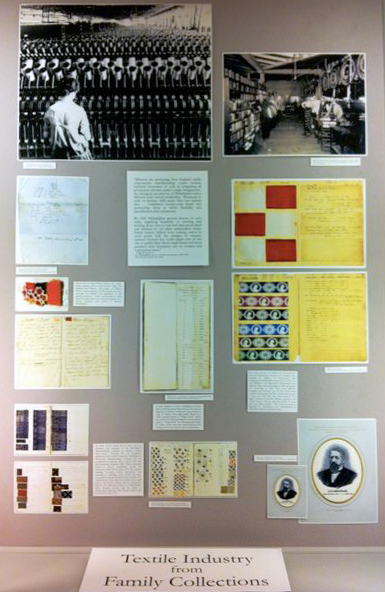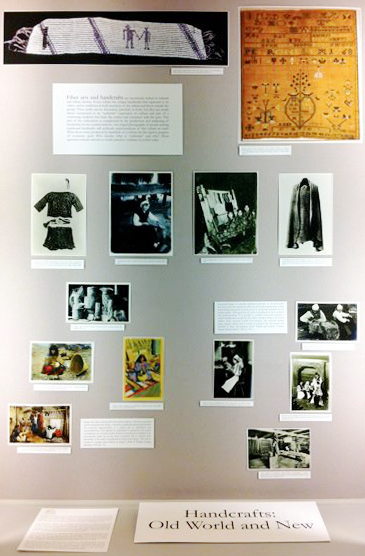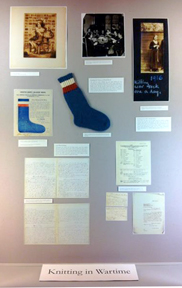 This exhibition has been a great way for staff to bring some of our smaller and over-looked collections to light. We take special care to research, catalogue and digitize nearly all our collections on display. This saves the originals from incurring light damage due to ambient lighting, as well as allowing patrons to see items enlarged for detail, which was stunning in its intricacy for some items such as this lace mit from the Allen Family Papers. Additionally, these pieces are available for people to view from their homes.
The team working on the exhibition was intrigued by the myriad patterns available to women in 19th century periodicals and pamphlets, as well as by the long daily lists of household items and wearables created by Elizabeth Drinker as recorded in her 18th century diaries. HSP staff members attempted to recreate a number of these items, which are also on display alongside images of the original patterns and diary pages – discovering the differences in pattern and materials terminology over time.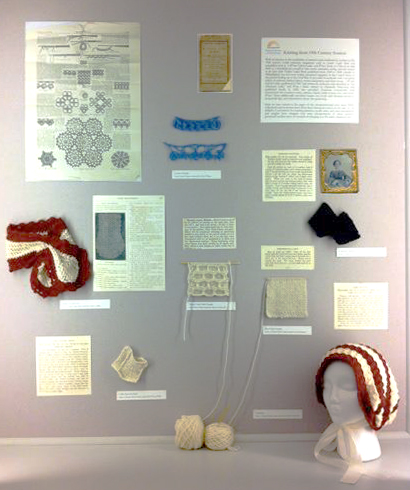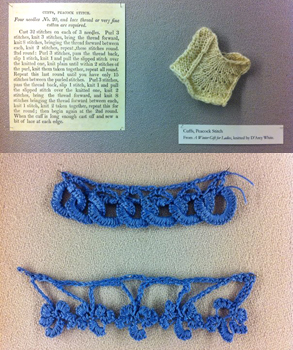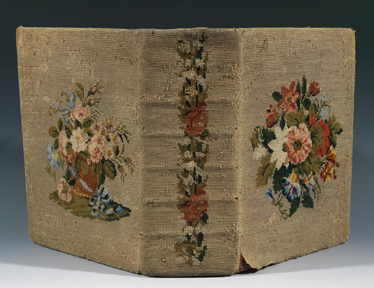 This example of the Bible with Needlepoint Cover, displayed along with other items mentioned in Elizabeth Drinker's Diary,  is a treasure in fragile condition which is slowly fading and decaying. The chance to digitize it for the exhibition means we can capture its vitality and expose one of the many great examples of elaborate bibles which we possess--a beautiful example of craft and often a genealogical record as well.
We at HSP are thrilled to be able to bring some insight into local fiber history along with great examples of this craft in the context of industry, the home, fashion, ethnic heritage, and war and conflict.