Grover Bergdoll: America's Most Wanted "Slacker"
In an era when millions "keep up" with the Kardashians, it's easy to see tabloid culture as a modern phenomenon, an ill effect of our 24-hour news cycle and social media that puts every tweet and Facebook update at our fingertips. But one need only look to the Lindbergh baby, Bonnie and Clyde, and countless others to see the nation's fascination with celebrity and scandal is nothing new. I was recently reminded of this truism while digitizing some materials from the Bergdoll family papers [MSS021], a collection that perfectly captures how the salacious story of one individual can take hold in the popular imagination and dominate the national psyche.
When I first started corresponding with a Bergdoll descendant about digitizing her family's papers, the name "Bergdoll" wasn't familiar to me. But as I soon realized, had I lived in Philadelphia at the turn of the twentieth century, the Bergdolls were inescapable. In the heady days before World War I, the sons and daughter of the prominent Philadelphia German family who operated Bergdoll and Sons Brewing Company dominated headlines in and around Philadelphia. From racing cars around Fairmount Park to building a roller coaster at their Brewerytown estate, the five children of Louis Bergdoll, Jr. and Emma Barth Bergdoll were constant fodder for the press and provided a rapt public with snapshots of the alluring lives of Philadelphia's privileged class.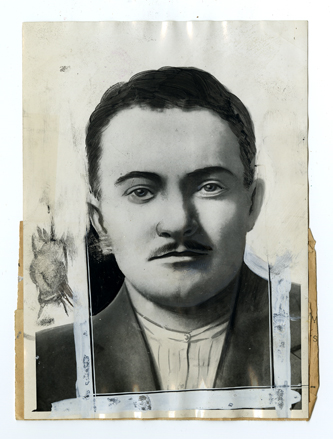 Of all the Bergdoll family's adventures and exploits, none attracted public fascination quite like those of the youngest son, Grover Cleveland Bergdoll. Known as "the playboy of the Eastern Seaboard," Grover was both an aviation and racing enthusiast whose numerous traffic violations raised a public outcry against issuing him a driver's license in 1912. But it wasn't until World War I that Grover's exploits attracted national attention and infamy when, after registering for military service, Grover and his brother Erwin failed to show up for physical examinations when they were drafted in 1917. Grover fled across the United States and, for the next two years, taunted authorities with postcards sent from each new hideout.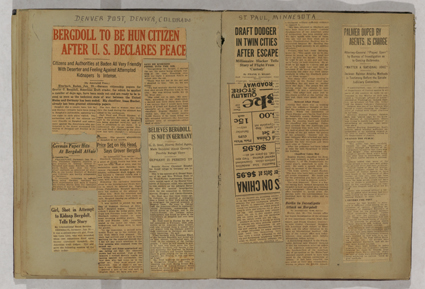 The case of the errant Grover Clevand Bergdoll captured the public imagination and inspired rumors about his German sympathies and offers to serve as an aviator for the Fatherland. The so-called "Philadelphia slacker" was finally apprehended in 1920 and sentenced to five years at Governors Island, but escaped imprisonment a short time later and fled to Germany. For the next two decades, Grover's exploits continued to provoke national ire and captivate the public consciousness to the extent that even President Warren Harding commented on the case and personally ordered the seizure of the Bergdoll family's assets. Throughout the 1920s and 30s, details of Grover's life in Germany dominated the headlines, as did the ongoing efforts of kidnapping vigilantes determined to return him to the U.S.  In 1939, on the eve of World War II, Grover finally came home to face trial and was eventually imprisoned at Leavenworth federal penitentiary until 1944.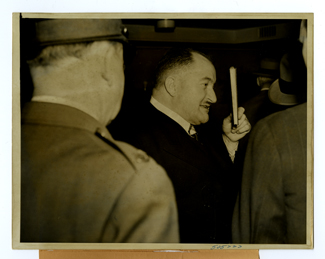 As interesting as Grover's tale is in its own right, the public fascination and anger with his draft evasion adds another intriguing layer to the story.  Whether due to his wealth, ancestry, showman's flair (or some combination of all three), Grover Cleveland Bergdoll struck a chord in such way that made him a national celebrity.  Looking through the Bergdoll family papers, this phenomenon is most evident in the family scrapbooks and clippings that make up the bulk of the collection and dutifully chronicle a sense of public rapture and outrage with many modern-day parallels.  Now available for view in our digital library, these scrapbooks and the mania to which they attest evoke Alger Hiss, O.J. Simpson, and countless others who became notorious by virtue of a love of gossip and scandal that endures, even if the medium has changed.