What kinds of records does a cemetery keep, anyway?
One of the projects currently underway in the HSP archives is the processing of the Woodlands Cemetery Company records, which document the growth of the historic cemetery from its founding in the 1840s through the 1980s. Although still an active cemetery, the WCC has donated some of its records to HSP to be processed, conserved, cleaned, and permanently housed here. All of this work is funded by a donation from Philip Price Jr., the most recent in a long line of Price family members to be heavily involved in running and preserving the cemetery.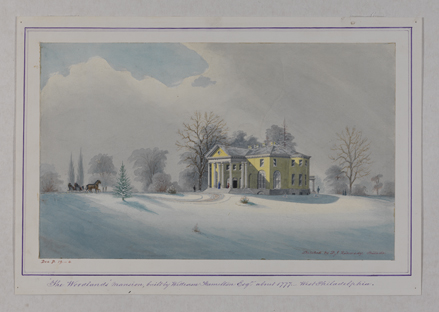 The cemetery sits on west bank of the Schuylkill River, the site of the estate purchased by famous Philadelphia lawyer Andrew Hamilton (c. 1676 – August 4, 1741), and later inherited by his grandson, William Hamilton (1745-1813). If you've ever been to HSP's reading room, you've probably looked at items from our collections under the benevolent eye of William and his favorite niece.  William renovated the Woodlands mansion and modeled it after Europe's most modern estates, making it one of the first fully-realized examples of Federal style. His estate also boasted a greenhouse and landscaping that attracted botanists from Europe and botany students from the University of Pennsylvania. In the 1840s, a group of prominent Philadelphia businessmen came together to purchase the estate, at that point fallen into neglect, and to create the Woodlands Cemetery.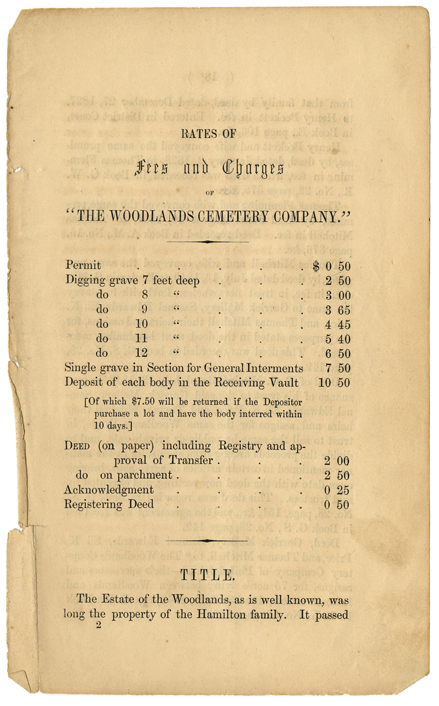 So, what exactly will you find in the papers of a cemetery? You'll find the expected: burial records, price lists, maps of the grounds, lists of lot owners, and letters from people about caring for relatives' graves. But as with nearly all archival collections, this one had a few surprises, like the personal papers of a few Price family members. Within the Price family papers I found a small box with the Imperial seal of Japan on the outside, which opened to reveal a silver cigarette case and a note. The note explains that this case was given to Eli Kirk Price Jr. (president of the Philadelphia Museum of Art, 1926-1933) by Prince Takamatsu of Japan, during a private dinner at the PMA in 1931. This part of the collection also includes a few boxes of material about Fairmont Park, especially its activities during the 1950s and 1960s, when Philip Price Sr. was a commissioner. There's actually so much material from the Price family that isn't related to the Woodlands Cemetery, that it's going to be turned into it's own collection: The Price Family papers.
The Woodlands records also include burial records from some of the more famous residents of Woodlands Cemetery, like Anthony Drexel Biddle Sr. (d.1948) and Thomas Eakins (d.1916). It also has records from those of slightly less fame, like author Timothy Shay Arthur (1809-1885), who wrote a very popular novel about the horrors of alcohol called Ten Nights in a Bar Room and What I Saw. (Although it was popular, this may be a book that hasn't aged well. The entirety of one review on Good Reads is, "Ugh.")
But even though the Woodlands collection contains records of famous men and women and documents some important aspects of Philadelphia's history, its strength is in how it documents the lives and deaths of Philadelphia's commoners. Burial records are the last traces that an individual leaves behind, so even these ordinary documents have some poignancy to them. You can tell who paid for a funeral and who made the arrangements. You can tell if they haggled over the price. You can see who the decedent wanted to be buried near. You see parents burying their babies and children burying their parents. In some cases, you can piece together a story, like with these two burial permits submitted three days apart.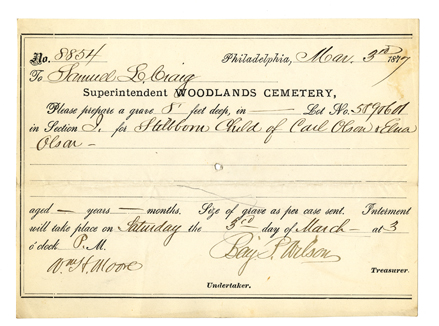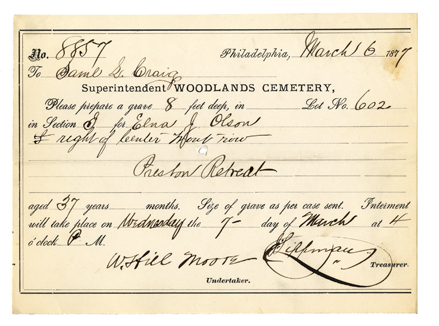 But I don't want to suggest that this collection is gloomy or depressing. It's invaluable for genealogists and West Philadelphia historians, for one thing. And for another, it's a testament to how a small group of determined citizens can rally together to preserve and support what was once only a dilapidated piece of land. And its evidence that at one time Philadelphia was home to a man named Frederick Giggles.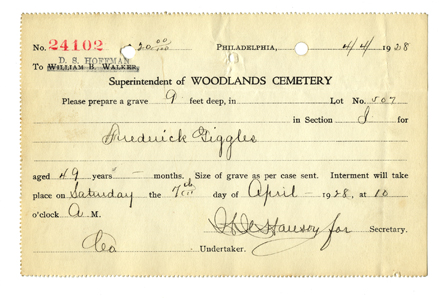 Oh, and his wife, Alice Giggles.