A Colonial Drawing for Halloween, or Isaac Norris and his Skeleton Will
Around the year 1678, Thomas Norris, a Quaker and merchant from London, emigrated to Jamaica to escape religious persecution. To add insult to injury, he was killed during the earthquake which sank the famed pirate city of Port Royal, on June 7th, 1692.  Thomas' son Isaac, who lived in Jamaica as a small child, was residing in Philadelphia at the time, acting as his father's business agent.
After his father's death, Isaac made Philadelphia his permanent home, where he became a successful merchant and politician and married Mary Lloyd. By 1718, he constructed Fairhill, a large mansion and estate in the Northern Liberties section of the city. Regrettably, the British burnt this building to the ground on October 4th, 1777, during the Battle of Germantown in the Revolutionary War.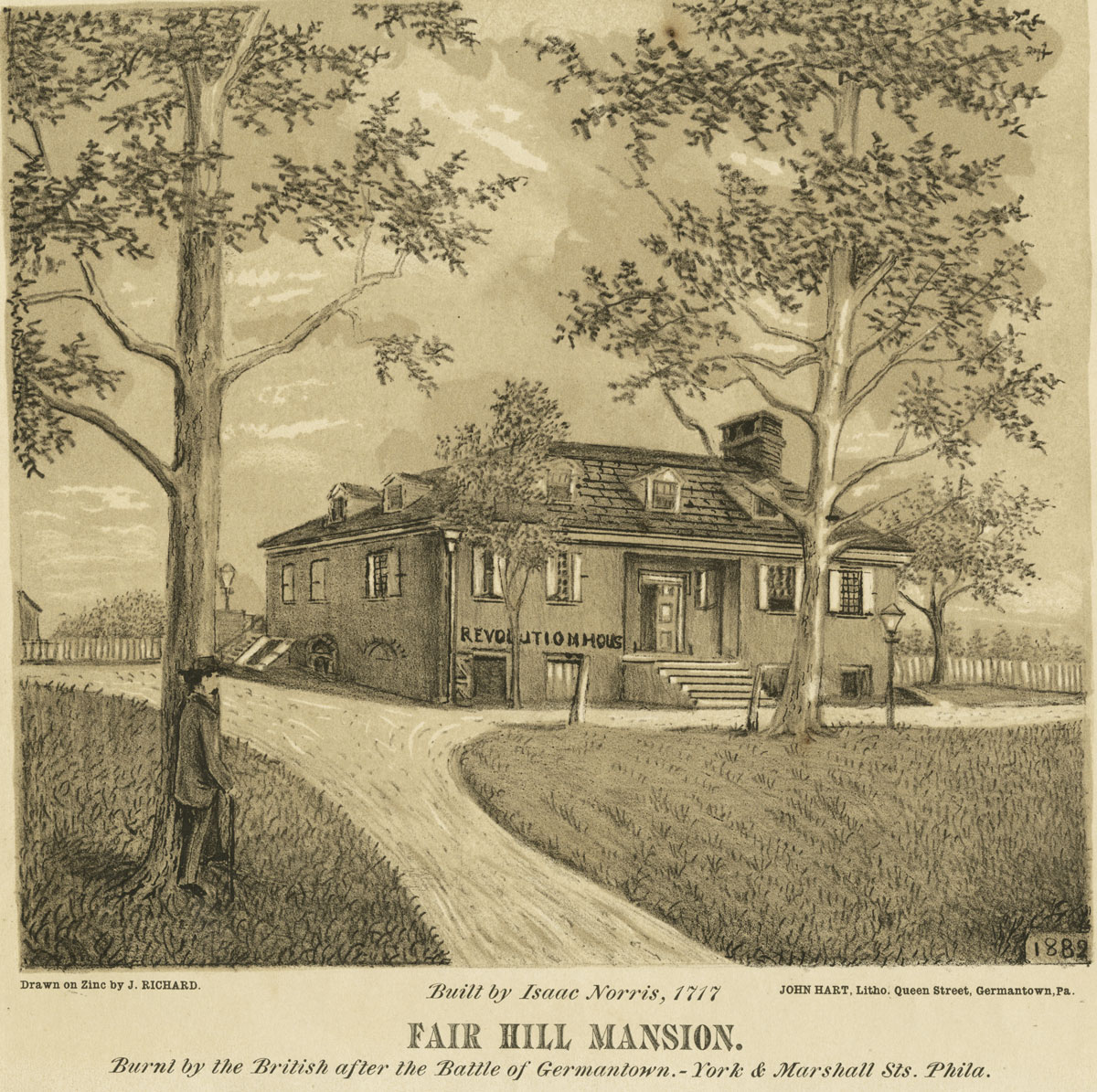 Norris was a friend of William Penn, and became a member of the Colonial Assembly, eventually serving as its Speaker on more than one occasion.  An active member of the Provincial Council, he later served also as a master of the High Court of Chancery, becoming Alderman of Philadelphia in 1708. A stint as Mayor of Philadelphia followed in 1724-25. He was unanimously appointed as the Chief Justice of the Supreme Court of the Province of Pennsylvania on April 7, 1731.
Though a Quaker, who normally frowned upon ostentation, he nevertheless liked to portray his family's coat-of-arms on his carriage or coach.  An accomplished scholar of languages, Norris died of apoplexy on June 4th, 1735, at the residence of James Logan. Previously he had written his will on January 17th, 1731, but like many others, lived longer than expected. 
Interestingly, his vellum will survives as part of the collections of The Historical Society of Pennsylvania. On its reverse side, a skeleton standing with his scythe or sickle on top of a coffin has been sketched in ink!  Mortuary symbolism was very popular in Norris' day, and a verse exists underneath the casket which states:  "He that perverts this will of mine xxxx  View well this Lot, 'twill soon be thine xxxx Plain words with obvious meaning need no school In Wills, the Intention is the Righteous Rule." 
Also on the back of the will is a boat-like dish with the inscription: "But blessed be He who Acts in this xxxx  As he would wish May be his xxxx  Let him with Joy the distant prospect view xxxx And may he then Sweet numbers be his Due."  The seal on the will states, "The Seal of the PA General Probate Court."  
Other symbols such  as the hour-glass, which often represents the Greek deity Chronos, or father-time, are also shown. The scythe is commonly the symbol of gathering-in those whose hour has come. When the skeleton is standing, it is generally considered to symbolize  death. An angel with a trumpet is also shown on the tombstone portrayed with a cut flower on the skeleton's arm, which shows that the deceased person was cut off prematurely in life.  Such cartouches are rare in American probate records, but reveal – once again – the rich and diverse primary sources that exist within the collections here at The Historical Society of Pennsylvania.