Protest in 1960s Pennsylvania: Book Reviews and Online Resources
The Fall 2018 issue of Pennslvania Legacies highlighted 1960s protest in the Keystone State. Want to learn more? Check out some recently published books and online resources exploring the turbulent Vietnam era—both in Pennsylvania and throughout the United States.
These reviews were published in the fall 2018 issue of Pennsylvania Legacies (vol. 18, no 2): Protest in 1960s Pennsylvania.
Book Reviews
by Nina Kegelman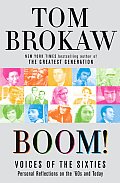 Boom! Voices of the Sixties
By Tom Brokaw
New York: Random House, 2007
In this comprehensive autobiographical volume, Tom Brokaw argues that the Sixties redefined established American institutions, creating intense ideological divisions between progressives and conservatives. Brokaw utilizes his experiences as both a clean-cut news anchor and a festival-going free spirit to inform his retelling of the turbulent decade. In part 1, Brokaw remembers the pivotal moments of the Sixties—the assassinations of MLK, JFK, and RFK, the 1968 Democratic National Convention, the controversy over the draft and the Vietnam War, the election of Richard Nixon—and the frequent urban riots, student protests, experimentation with drugs, and mass arrests. His position as a newscaster acquainted with figures like John Lewis, Jim Webb, and Gloria Steinem allows for stimulating descriptions of the coverage of the civil rights movement, the Vietnam War, and the women's liberation movement. Part 2 considers the "aftershocks" of the Sixties and how its "break-the-old-rules spirit" resulted in both progressive reforms and conservative reactions. Brokaw traces the current uneasy state of race relations, the Reagan revolution, the work of Hugo Chávez, the Iraq War, and women's increasing independence back to their Sixties ancestors. Following American cultural changes through the late 20th century and into the early 21st, Boom! is an important read for the socially conscious American looking to history for guidance. 
The People of This Generation: The Rise and Fall of the New Left in Philadelphia
By Paul Lyons
Philadelphia: University of Pennsylvania Press, 2003
Paul Lyons presents an innovative and well-researched case study of the radical student activists of the Sixties as they reconciled optimistic political goals with the realities of life in a fractured urban community. The self-identified "New Left" boldly welcomed the challenges of a tumultuous era while facing significant conservative backlash. Lyons explores student activism at eight prominent Pennsylvania universities. Quaker-influenced colleges Haverford, Swarthmore, and Bryn Mawr promoted tolerance, pacifism, and charity as middle-class white students organized community outreach programs in neighboring Chester. Meanwhile, Catholic students at La Salle, Villanova, and St. Joseph's universities were torn between maintaining conservative values and enacting progressive social justice. Lyons also considers the differences in the New Left's presence at the lower-class Temple University versus the more elite University of Pennsylvania. Some Penn students helped to create the Philadelphia Resistance, a peace organization that receives its own chapter. Finally, Lyons explores People for Human Rights, an organization that enabled white students interested in black liberation to become allies for their black colleagues. This inclusive approach to the study of campus activism and the New Left will resonate with Philadelphians, historians, activists, and students who continue to uphold the vision of radical democratization.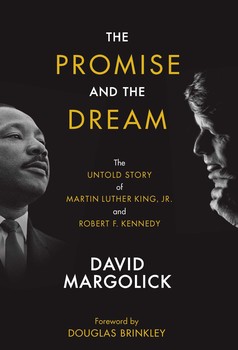 The Promise and the Dream: The Untold Story of Martin Luther King, Jr. and Robert F. Kennedy
By David Margolick
New York: Rosetta Books, 2018
Journalist David Margolick's first book examines the complicated relationship between two of the most prominent public figures of the late Sixties. Martin Luther King Jr. and Robert Kennedy, at first respectively "moral and official" leaders, ultimately inspired social consciousness in each other and their nation. Margolick compares the convergent backgrounds, personalities, and careers of MLK and RFK with nuanced insight on the vexing circumstances surrounding them: attacks on Freedom Riders, the Kennedy-approved FBI surveillance of MLK, a heated but enlightening meeting between black intellectuals and Kennedy, JFK's famous speech in support of civil rights, and Robert Kennedy's duty to civil rights after his brother's assassination. Margolick shows the effects both King and Kennedy had on one another, noting Kennedy's initial naiveté to racial inequality and evolution from a ruthless prosecutor to a humanitarian civil rights advocate. He also describes King's doubts about civil disobedience, fatalistic thinking, and decreasing popularity, which, along with RFK's "polite but provocative" critiques, caused a near transfer of influence. Juxtaposing Kennedy's hopeful campaign with the ominous aftermath of King's assassination, Margolick ultimately designates RFK and MLK as embodiments of American idealism. Rich with touching moments and insider observances, this is a captivating story of the moving, paradoxical, and transformative encounters at the heart of the civil rights movement.
A More Beautiful and Terrible History: The Uses and Misuses of Civil Rights History
By Jeanne Theoharis
Boston: Beacon Press, 2018
Jeanne Theoharis separates "the histories we get" from "the histories we need" in her critical analysis of the civil rights movement in US memory, confronting difficult truths to reveal how those in power manipulate historical narratives to best suit their own agendas. Although the civil rights movement was controversial in its own day, Theoharis argues, it has come to signify "evidence of racial progress" that redeems the nation of its racist history. Focusing on nine people and events that have been purposefully omitted or misconstrued, she traces the origins of the "fable" of the civil rights movement, reveals the long process of political organization to desegregate schools in the North, explains the danger of "polite racism," and examines how the media obstructed racial progress. Theoharis sheds light on the movement's broader goals of criminal justice reform and economic equality while presenting several lesser-known freedom fighters, many of whom were high school students and women. Her work exposes the irony of those who scold today's black activists while encouraging them to be like the mythologized versions of famous freedom fighters. This book a crucial wake-up call for Americans that explains "who we are and how we got here—and where we must go from here" when it comes to racial justice.
Leg@cies: Interesting Places to Explore on the Web

Civil Rights in a Northern City: Philadelphia
This Temple University Libraries site is an archive of digitized resources that emphasizes Philadelphia's leadership in the civil rights movement by highlighting important people, places, and events. The site has sections pertaining to key moments in the civil rights movement in Philadelphia such as the desegregation of Girard College and the Columbia Avenue riots, with interpretive essays, timelines, oral histories, comparisons of "then and now," and links to relevant archival materials.
Speaking and Protesting in America
The American Archive of Public Broadcasting's exhibit Speaking and Protesting in America focuses on the impact of the First Amendment in recent periods of conflict. Its "Protesting in the 1960s and 1970s" section emphasizes the media coverage of civil rights and women's liberation movements as well as student protests of the war in Vietnam. This page also provides educational articles, archival images and documents, and oral histories regarding peaceful protests, disruptive riots, and key events of the era, as well as links to related online exhibits.
Turning Points: 1967–1968
Turning Points, by La Salle's Connolly Library, combines resources from the library's Vietnam War Collection and La Salle University Archives. This website was initially a guide to a 2017–18 library exhibit that demonstrated how the politically and socially tumultuous period from 1967 through 1968 ended one American era and started another.
Operation Rapid American Withdrawal, 1970–2005: An Exhibition
In 2005, artist Jane Irish organized an event to commemorate Operation RAW, a provocative 1970 demonstration led by antiwar veterans. For the 35th anniversary of this event, she invited young ("soldier-aged") artists, Vietnam veterans, and artists from inside and outside the Philadelphia area to take part. The website for this event has information the project's featured artists and their work as well as primary source resources about the original Operation RAW and its organizers.
Nina Kegelman is an undergraduate student at Franklin & Marshall college. She completed the C. Dallas Hemphill Internship, sponsored by the McNeil Center for Early American Studies, by working in HSP's Programs and Services department during the summer of 2018.
These reviews were published in the fall 2018 issue of Pennsylvania Legacies (vol. 18, no 2): Protest in 1960s Pennsylvania. Learn more and subscribe.