Become a Friend of HSP!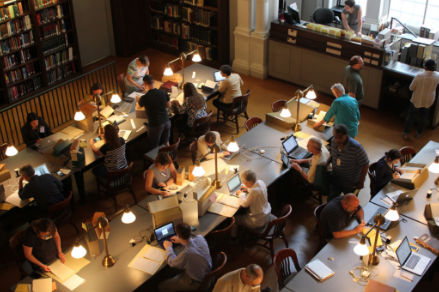 Friends of HSP receive many benefits, including access to HSP's nationally significant collection of more than 21 million records spanning over 350 years of history.
---
HSP Encounters is a digital resource comprised of an ever-growing number of genealogical and biographical databases. Historical essays incorporated in the system describe each database, as well as providing historical context for the records it contains. As of today, there are 11 databases available for research, and HSP staff continues to work to add more. Access to HSP Encounters is available to all on-site researchers. Remote access is a benefit for Friends of HSP.
To access HSP Encounters remotely, click here or visit pal.hsp.org. Please login with your HSP website/PAL (Patron Access Link) username and password and select HSP Encounters from the database list. 
---
Giving Levels
$100 Researcher
$250 Patron
$500 Supporter
$1,000 Contributor
Click here to learn more about benefits.
You may also choose to download our Friends of HSP form and fax to (215) 732-2680 or mail to: Historical Society of Pennsylvania, 1300 Locust Street, Philadelphia, PA 19107
Questions? Please e-mail friends@hsp.org or call 215-982-2414.
Already a Friend of HSP? Access our Encounters databases here.