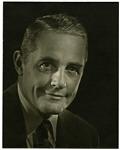 Richardson Dilworth was a charismatic politician, lawyer, and reformer who served as mayor of Philadelphia from 1956 to 1962. His life and legacy will be the subject of an exhibit at the Historical Society of Pennsylvania from March 15 through July 15.
The exhibit will feature many of Richardson Dilworth's papers, photographs, and ephemera, which are part of the collections of the Historical Society of Pennsylvania. The exhibit will also include framed photographs and documents on loan from Dilworth Paxson, LLP.  Visitors can view the exhibit on site at 1300 Locust Street in Philadelphia. An online version of the exhibit will be available at www.hsp.org.
A formal exhibit opening will be held at 6 p.m. Tuesday, March 15, at the Historical Society of Pennsylvania. This event will raise funds to preserve the legacy of Dilworth and his contemporaries through the creation of teacher workshops, an endowed research fellowship, and the publication of an edition of HSP's history magazine, Pennsylvania Legacies, on politics and reform.
Richardson Dilworth's vision for the city shaped much of what we recognize about Philadelphia today: Independence Mall, Society Hill, SEPTA, and the public park system. With the support of political ally and personal friend Joseph Clark, he attacked municipal corruption, supported civil rights, fought segregation in private schools, rallied for public housing, and restored much of the city's history as part of an urban renewal program that would bring the City of Brotherly Love back to life. 
Media is invited to attend the exhibit opening. Please RSVP to Lauri Cielo, Director of Programs and Communications, at lcielo@hsp.org or 215-732-6200 ext. 233.
The Historical Society of Pennsylvania thanks the generous sponsors who made the exhibit opening possible:
Naming Sponsor: Dilworth Paxson, LLP
Lead Sponsor: The Annenberg Foundation
Participating Sponsors: LarsonAllen, LLP, and The Raynier Institute and Foundation