Visitors Can See a Copy of the Emancipation Proclamation, Diaries of Civil War Soldiers, and Confederate Currency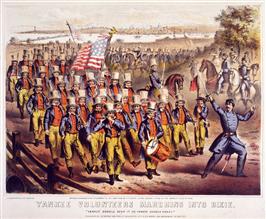 The Historical Society of Pennsylvania will commemorate the beginning of the Civil War on Tuesday, April 12, with a special one-day display of the highlights of its extensive Civil War collection. It was on April 12, 1861—150 years ago—when the first shots were fired on Fort Sumter in South Carolina, heralding the start of a four-year conflict.
Many of the stories of the Civil War—captured in letters, diaries, and newspaper accounts—are here at the Historical Society of Pennsylvania (HSP). The library at 1300 Locust Street holds one of the largest and most impressive collections of Civil War­­-era documents.
On April 12, to mark the 150th anniversary of the start of the Civil War, visitors to HSP will be able to view dozens of original items, including:
·         A copy of the Emancipation Proclamation signed by Abraham Lincoln in 1864
·         Letters written to and from Confederate and Union generals, including General George Meade, General Ulysses S. Grant, and General Stonewall Jackson
·         Watercolors painted by William McIlvanie Jr. depicting life in military encampments
·         A poster recruiting African American troops to Camp William Penn
·         Several diaries written by soldiers and civilians
·         Examples of Confederate currency
·         Issues of Fourney's War Press, a newspaper published in Philadelphia that contains engravings, news from war correspondents, and casualty reports
During the special one-day exhibit, called "The Start of the Civil War" visitors are invited to view these extraordinary documents. Visitors can also interact with Civil War reenactors, who will be stationed at the Historical Society throughout the day. 
The documents will be on display from 11 a.m. to 5 p.m. at the Historical Society of Pennsylvania at 1300 Locust Street in Philadelphia. Reservations are not necessary. There is no fee; however, visitors are encouraged to make a donation. All proceeds will go toward the care and conservation of the 21 million historic documents held at the Historical Society of Pennsylvania.
In addition to the on-site display, many documents will be digitized and available on HSP's website at www.hsp.org beginning in mid-April.
This is just one of several Civil War-related events happening at the Historical Society of Pennsylvania and throughout the city marking the sesquicentennial of the Civil War. On May 18, the Historical Society will host a free genealogy event called "Share Your Story," where attendees will get a chance to share their own research, photographs, and stories of Civil War-era ancestors. To register for this free event, visit HSP's calendar at www.hsp.org.
To learn more about what is happening during the Civil War Sesquicentennial, visit www.civilwarphilly.net.
Media are welcome to attend the one-day exhibit. For high-quality images suitable for publication or for more information about "The Start of the Civil War," please contact Lauri Cielo, director of programs and communications, at 215-732-6200 ext. 233 or lcielo@hsp.org.