Auction will raise funds for the Historical Society of Pennsylvania
Now is your chance to own a unique piece of Phillies history. A one-of-a-kind autographed copy of the Philadelphia Inquirer celebrating the team's 2008 World Series victory will be auctioned on the online auction website eBay. The auction begins October 15 and will conclude at 5 p.m. October 25. Proceeds from the auction will benefit the Historical Society of Pennsylvania.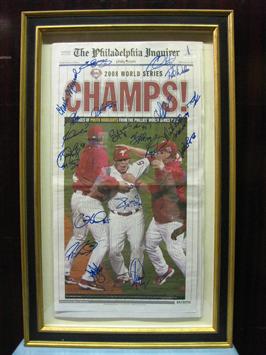 This copy is the only signed "mock" cover page—one of only three printed by the Inquirer in anticipation of the team's Game 5 victory on Wednesday, October 29, 2008. The edition was printed with a larger-than-usual masthead and was dated for the following day, October 30. The cover page reads "CHAMPS!" and features a photograph of catcher Carlos Ruiz celebrating with teammates Pat Burrell and Geoff Jenkins. The newspaper was seen on television, held by shortshop Jimmy Rollins and manager Charlie Manuel, just moments after the team clinched victory against the Tampa Bay Rays.
This special-edition Inquirer page is signed in blue ink by 21 of the 2008 World Champion Phillies players and coaches, including: Charlie Manuel, Jimmy Rollins, Ryan Howard, Chase Utley, Cole Hamels, Jayson Werth, Brad Lidge, Shane Victorino, Carlos Ruiz, Jamie Moyer, Joe Blanton, and others. See complete list on reverse. It has been professionally matted (archival quality) and framed in a black and gold frame. It comes with a certificate of authenticity issued by the Historical Society of Pennsylvania.
The auction is a fundraiser for the Historical Society of Pennsylvania (HSP), one of the oldest historical societies in the country and caretaker for many of the nation's founding documents. HSP holds more than 21 million items at its library at 1300 Locust Street in Philadelphia, including the printer's proof of the Declaration of Independence and the handwritten draft of the U.S. Constitution. HSP is also a leading repository for ethnic and immigrant history and genealogy resources. Proceeds from the auction will support the care and conservation of these nationally significant documents.
To view more information about the newspaper and to see images, visit the Historical Society of Pennsylvania's website at www.hsp.org.
The autographed newspaper includes the following signatures:
17 - Mick Billmeyer
56 - Joe Blanton
55 - Clay Condrey
19 - Greg Dobbs
30 - Rich Dubee
32 - Chad Durbin
35 - Cole Hamels
43 - J.A. Happ
6 - Ryan Howard
7 - Pedro Feliz
54 - Brad Lidge
63 - Ryan Madson
41 - Charlie Manuel
50 - Jamie Moyer
11- Jimmy Rollins
16 - J.C. Romero
51 - Carlos Ruiz
25 - Milt Thompson
26 - Chase Utley
8 - Shane Victorino
28 - Jayson Werth