The Historical Society of Pennsylvania is pleased to announce that it will honor Pulitzer-Prize winning author and historian David McCullough with its prestigious Founder's Award. The annual dinner and awards ceremony will be held on Thursday, May 17, 2012, at the National Museum of American Jewish History.
Mr. McCullough has been widely acclaimed as a "master of the art of narrative history" and "a matchless writer." He is twice winner of the Pulitzer Prize, twice winner of the National Book Award, and has received the Presidential Medal of Freedom, the nation's highest civilian award. Mr. McCullough's most recent book, The Greater Journey: Americans in Paris, is a No. 1 New York Times best seller.
"Mr. McCullough has demonstrated the importance and power of narrative history ever since the release of his first book, The Johnstown Flood, in 1968," said Kim Sajet, president and CEO of the Historical Society of Pennsylvania. "We are proud to honor Mr. McCullough for his work as a lecturer, author, and historian and a champion of the historical record."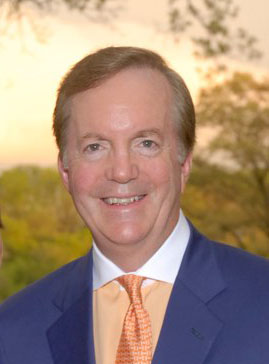 The Historical Society of Pennsylvania (HSP) will present Mr. McCullough with the Founder's Award at its annual gala. The Historical Society will also honor long-serving HSP board member and past chairman Collin F. McNeil with the Heritage Award. Click here for more information about tickets and event sponsorship.
The title of this year's event is "Philadelphie à Paris: Une fête historique." The theme is inspired by Mr. McCullough's new book The Greater Journey: Americans in Paris, which tells the story of America's longstanding love affair with Paris. The book describes dozens of historical figures who traveled east to study and live in Paris, such as James Fenimore Cooper and his friend Samuel Morse—an accomplished portrait artist. Many Philadelphians such as Mary Cassatt, Emily Sartain, Dr. Thomas Evans, and Thomas Eakins also made the long journey across the Atlantic. The Founder's Award Dinner will be a celebration of the French influence in America and especially our Philadelphia ties to Paris.
The funds raised at this annual event go directly toward supporting HSP's mission of inspiring individuals and organizations to create a better future through historical understanding. The event will take place at the National Museum of American Jewish History beginning at 6 p.m. with a cocktail reception followed by dinner and an award ceremony.
Dorothy Mather Ix is this year's event chair. Deborah Dilworth Bishop and Alice Lea Tasman are honorary co-chairs, and Mark Aronchick, Thomas Moran, and Nathan Raab are corporate chairs.
The Founder's Award was established in 2000 as part of the Historical Society of Pennsylvania's 175th anniversary celebration to applaud individuals and organizations that champion history's uses and enhance its value to the public. Past recipients include Ken Burns, Andrea Mitchell, Vartan Gregorian, Ed Bradley, Jim Lehrer, James Billington, Robert W. Bogle, William T. Coleman Jr., John C. and Chara C. Haas, and Cokie Roberts. Last year the Founder's Award was presented to Susan Eisenhower.
Media is invited to attend the event. To reserve your seat, please contact the Society's Director of Programs and Communications, Lauri Cielo, at 215-732-6200 ext. 233 or lcielo@hsp.org.
About the Honorees
David McCullough's most recent book, The Greater Journey: Americans in Paris, the number one New York Times best seller, has been called "dazzling," "an epic of ideas … history to be savored."  His previous work, 1776, has been acclaimed "a classic," while John Adams, published in 2001, remains one of the most praised and widely read American biographies of all time. More than three million copies are in print and it is presently in its 82nd printing. 
In the words of the citation accompanying his honorary degree from Yale, "As an historian, he paints with words, giving us pictures of the American people that live, breathe, and above all, confront the fundamental issues of courage, achievement, and moral character."
Mr. McCullough's other books include The Johnstown Flood, The Great Bridge, The Path between the Seas, Mornings on Horseback, Brave Companions, andTruman.  His work has been published in ten languages and, in all, more than 9,500,000 copies are in print.  As may be said of few writers, none of his books has ever been out of print.
David McCullough is as well twice winner of the prestigious Francis Parkman Prize, and for his work overall he has been honored by the National Book Foundation Distinguished Contribution to American Letters Award and the National Humanities Medal.  He has been elected to the American Academy of Arts and Sciences, as well as the American Academy of Arts and Letters and has received forty seven honorary degrees.
In a crowded, productive career, he has been an editor, essayist, teacher, lecturer, and familiar presence on public television -- as host of Smithsonian World, The American Experience, and narrator of numerous documentaries including Ken Burns's The Civil War.  His is also the narrator's voice in the movie Seabiscuit.
John Adams, the seven-part mini-series on HBO, produced by Tom Hanks and starring Paul Giamatti and Laura Linney, was one of the most acclaimed and talked about television events of recent years. 
A gifted speaker, Mr. McCullough has lectured in all parts of the country and abroad, as well as at the White House.  He is also one of the few private citizens to speak before a joint session of Congress.
Born in Pittsburgh in 1933, Mr. McCullough was educated there and at Yale, where he was graduated with honors in English literature.  He is an avid reader, traveler, and has enjoyed a lifelong interest in art and architecture.  He is as well a devoted painter.  Mr. McCullough and his wife Rosalee Barnes McCullough have five children and eighteen grandchildren.
Collin F. McNeil has had a prolific and varied career as a writer and journalist, business executive, and motion picture producer. Currently working on a novel set during World War I, McNeil authored his first book, Bright Hunting Morn, published by the Derrydale Press in 2008.  The book is an extensive history of the Radnor Hunt, America's oldest continuously active foxhunting organization, on the occasion of its 125th anniversary. Prior to embarking on his writing career, McNeil, for nine years, was the Chairman of the Board of Councilors of the Historical Society of Pennsylvania. As a feature of his tenure, he presided over the transformation of the institution from one serving just researchers to a vibrant forward thinking member of the historical and cultural community of the Philadelphia area. During his time as Board Chair, the Historical Society merged with the Balch Institute for Ethnic Studies, put in place an online card catalogue, and installed additional modern storage and HVAC systems. The resultant institution is one of the nation's leading repositories of American history. Other directorships include: the Barra Foundation, the Quaker City Foundation, the Radnor Hounds Foundation, and the Radnor Hunt, where he is Joint Master of the Radnor Hounds.
The Philadelphia native was president of the PENJERDEL Council and the PENJERDEL Regional Foundation for 15 years. He joined the business groups in 1993 and led its pursuit of improving the economy and quality of life of the Philadelphia area. PENJERDEL's regional leadership was credited with helping promote the construction of the new Eagles and Phillies stadia, championing the connection of I-95 and the PA Turnpike, eliminating the costly and inequitable Employer Trip Reduction program, preserving the Philadelphia Navy yard as a regional economic asset for more than an extra decade, and spearheading the construction of the "Blue Route" (1-476). 
Prior to joining PENJERDEL, McNeil had a successful career in the media and entertainment industry. His endeavors were focused on the financing and development of international film and television projects. Notable among his accomplishments was the 1989 film Cousins, starring Ted Danson and Isabella Rossellini.
McNeil also has had substantial experience in the broadcasting industry, as an executive and producer of news programs, and as a writer, reporter, and anchorman. His broadcasting career included a stint as a member of the Action News staff of WPVI-TV6 in Philadelphia from 1979 to 1984 where he won several awards for excellence.
As a graduate of Lafayette College in Easton, Pennsylvania, McNeil earned a BA in English Literature. He also spent two years at the School of Communications at Temple University in Philadelphia, where he studied in both the graduate and undergraduate curricula. McNeil is a graduate of Germantown Academy in Ft. Washington, Pennsylvania.
His farm in Chester Springs, Pennsylvania, is also home to his wife Nia, three children, and a menagerie of horses, ponies, goats, cats, and a frisky Jack Russell, a Welsh Corgi, and imposing Neapolitan Mastiff, and a wire-haired Norfolk Terrier.