In the following decades, the Historical Society of Pennsylvania continued to change to better serve its patrons. In the 1940s, the library was rearranged, a portion of the Council room was converted into a microfilm reading room, air conditioning was installed in the vaults, and the first-floor vault was renovated into a rare-book room, among other improvements. In the 1950s, the aging building required a new roof, plumbing and heating system.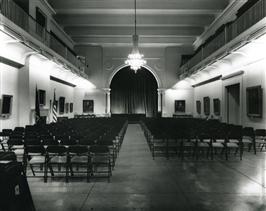 Above: Assembly Hall (ca.1970) before construction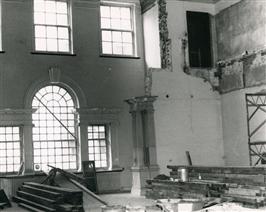 Right: Assembly Hall (1975) during construction. The balconies were torn down and an upper level was placed in this room.
In 1972, HSP Director Nicholas Biddle Wainwright proposed a large-scale building renovation, to prepare the Society for the nation's Bicentennial. Plans called for the construction of a two-story addition over the courtyard and the creation of an additional room on the upper level of the Assembly Hall. The Society undertook another round of renovations in the late 1990s, employing the architectural firm of Venturi, Scott Brown and Associates. During this project, the Society restored the Assembly Hall to its original look and decided to use the remaining ground-floor space for its card catalogs, microfilm reading room, and closed compact storage.
The Historical Society of Pennsylvania recently drafted a new Strategic Plan, with a mission to inspire individuals and organizations to create a better future through historical understanding. As part of the plan, the Society intends to upgrade its collection storage, offices, and programming spaces. The Society also recognizes the need to go beyond its physical walls to reach its members and patrons who live outside the Philadelphia area. In the years to come, the Society will serve millions of new visitors through its PhilaPlace Web site, the Digital Center for Americana, the development of online digital history projects, a new Web site, e-publications, and other distance-learning initiatives.
Above: Historical Society of Pennsylvania today
The Historical Society of Pennsylvania is proud of its history and thankful to its leaders and members for their insight and contributions. We look forward to a bright future with a renewed dedication to preserve, protect, and share our treasures for the next 100 years.