The area surrounding the Historical Society of Pennsylvania has undergone tremendous change. When John Hare Powel purchased the plot of land in the 1830s, Locust Street was considered on the edge of the city, while the wealthier and wider streets of Walnut and Chestnut closer to Independence Hall were considered the city's downtown area.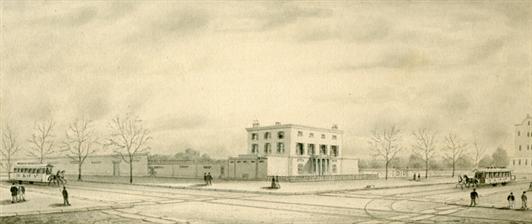 Above: Patterson mansion at 13th and Locust Streets, B.R. Evams, Graphics Collection
As the working-class neighborhoods on the Delaware River became crowded, Philadelphia residents began to migrate westward in large numbers. The elite spread westward along Market, Chestnut, and Walnut Streets, eventually crossing Broad Street in the late 1830s into the Rittenhouse Square district. The working class pushed in and around the area of Powel's mansion and east of Broad. Maps from this time show the trappings of working-class professions and neighborhoods, including stables, liveries, coal yards, and wagon works.
During the period of the Civil War, several marble or sandstone buildings, often neoclassical in design, were constructed on Broad Street. Gothic buildings began to spring up around the Patterson mansion, including churches and institutions like the College of Physicians, the Episcopal Academy, and an incarnation of the Library Company. Expansion continued along Broad Street, and in 1871 Penn Square was chosen as the site of the new City Hall of Philadelphia.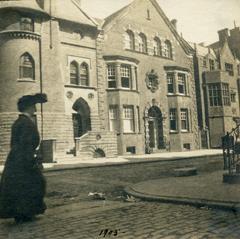 Above: NE Corner of Juniper and Locust, 1905 (the building on the left is still standing)
Below : SE Corner of Juniper and Locust, 1905 (the building one in from the corner is still standing)
As the century drew to a close, hotels and other high rises replaced residences on and around Broad Street. Many social clubs, including those run by women, opened in the neighborhod east of Broad. As families and individuals migrated to the suburbs, the property around the Historical Society of Pennsylvania became home to businesses, hotels, and apartment buildings. Then during the Depression Era, businesses withdrew to the west side of City Hall, and rougher sorts of trades moved in their stead.
Through the '60s and '70s, the neighborhood struggled with the "chaotic depravity" of prostitution, adult entertainment, and drugs, but things began to turn. The Library Company moved back to Locust Street and other nearby cultural sites, such as the Wilma Theatre and the Philadelphia College of the Arts (now the University of the Arts), strengthened the area. The neighborhood began to stabilize, and Broad Street reclaimed its title as an avenue of culture. The area surrounding the Society became home to gay and gay-friendly bars, social clubs, and shops. The district is now more commonly known as the "gayborhood" or Washington Square West.
While much has changed from when John Hare Powel originally purchased the land, it is clear that change is eminent and ever present, and this neighborhood will continue to evolve.