Join us for an exciting panel discussion on the art of political cartooning!
Political cartoons have played a vibrant role facilitating public dialogue throughout American history. From Benjamin Franklin's "Join, or Die" snake to the widely syndicated Brother Jonathan character, cartoonists have used caricature and symbolism to capture the political and social climate they inhabited. This election night, join a panel discussion at HSP to learn more about this vivid history while checking out cartoons pulled from the HSP archives.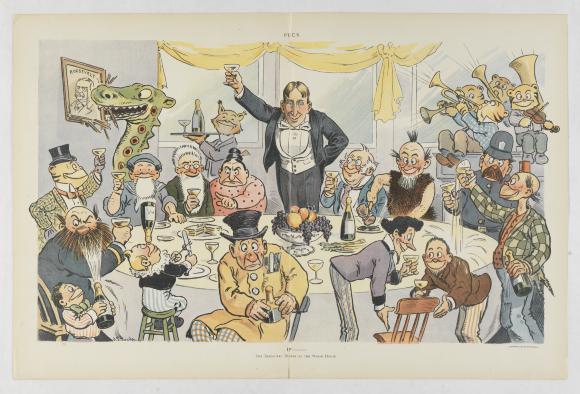 Moderator
Cherri Gregg
is the Community Affairs reporter for KYW Newsradio, the most listened to radio station in Philadelphia. She reports on a variety grass roots issues and events and you can hear her on KYW Radio, see her on CBS3-TV and read her work on KYWNewsradio.com.  Cherri is also  producer and host of Flashpoint, a public affairs show that airs on KYW Newsradio 1060AM every Sunday morning at 8:30.  At KYW, Cherri puts her law degree to work, providing legal analysis on decisions by the US Supreme Court, as well on critical civil rights issues like stop and frisk, immigration rights, and voting.  She also stays active in the community by moderating town halls and by providing coverage of everyday heroes who are changing lives of those in need.  An award winning journalist, Cherri is a graduate of Boston University, Howard University School of Law and Temple University School of Media and Communication.  She is the immediate past president of the Philadelphia Association of Black Journalists.  Follow Cherri on Twitter @CherriGregg.
Panelists include:
Bill Marimow
, a two-time Pulitzer Prize recipient, is vice president of strategic development for The Inquirer's parent company, Philadelphia Media Network. Born in Philadelphia, he grew up in Havertown and joined
The Inquirer
in July 1972 as a business reporter. As a reporter at
The Inquirer
, Marimow received the Pulitzer Prize for public service in 1978 for stories he wrote with a partner on criminal violence by Philadelphia police, and again in 1985, for his investigation of the police K-9 unit. His work on the bombing of the MOVE house on Osage Ave. formed the backbone of
The Inquirer's
Pulitzer Prize entry in 1986, which was a finalist in the general reporting category. In addition, Marimow received two Silver Gavel Awards from the American Bar Association and two Robert F. Kennedy awards -- the first, for his work as an Inquirer reporter and, the second, for his work as vice president of news at National Public Radio (NPR).
 
Marimow has also served as the editor of The Baltimore Sun and the vice president of news for National Public Radio. He was editor in chief of The Inquirer from 2006 until 2010 and, again, from May 2012 until spring 2017. He is a 1969 graduate of Trinity College, and he studied First Amendment law at Harvard Law School as a Nieman Fellow in 1982-83. 

His wife, Diane, teaches at the Philadelphia Museum of Art and also produces her own sculpture at The Clay Studio. He has two children – Ann, a reporter at The Washington Post, and Scott, who is a managing director of Providence Equity Partners.

 
Signe Wilkinson
started her career as a reporter. Back in the newsroom, she began drawing the people she was supposed to be reporting on. She realized cartooning combined her interests in art and politics without taxing her interest in spelling. After a year of remedial art school, including a stint at the Pennsylvania Academy of the Fine Arts, she began freelancing at several Philadelphia and New York publications, finally landing a full-time job at the San Jose Mercury News in 1982.

Wilkinson values her intensely unremarkable family life which is marked by her interest in growing outdoor lilies, killing indoor orchids, finding an easy way to match her husband's socks and trying to figure out the best way to answer the question, "Mom--exactly what's so funny about hiking the Appalachian Trail?"