The Ephrata Cloister, a religious community in Lancaster County, was known for its German printing press, calligraphy called Frakturschriften, and music composed by its founder Conrad Beissel. Join us for a lecture by Jeff Bach, director of the Young Center for Anabaptist and Pietist Studies at Elizabethtown College, as he explores the illustrations and religious symbolism in the Cloister's music books. Hymnals and other Cloister documents from HSP's collection will be on display. The lecture will be accompanied by a live performance by the Ephrata Cloister Chorus and followed by a reception.
Jeff Bach is director of the Young Center for Anabaptist and Pietist Studies at Elizabethtown College and teaches in the Department of Religious Studies. He taught at Bethany Theological Seminary in Richmond, Indiana, before coming to the Young Center in 2007. He holds a Ph.D. in religion from Duke University (1997). He has researched and written on topics related to Radical Pietist groups in Europe and America, including the Ephrata Cloister. He is the author of Voices of the Turtledoves: The Sacred World of Ephrata (2003) and co-author with Michael Birkel for Genius of the Transcendent: Mystical Writings of Jakob Boehme (2010). He published "The Unchristian Negro Slave Trade: Brethren and Slavery" in Brethren Life and Thought (Fall 2011).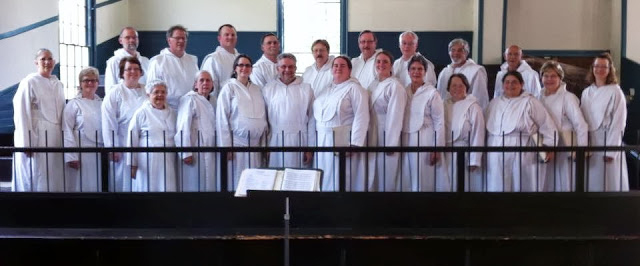 The Ephrata Cloister Chorus was started in 1959 to sing the music composed in Ephrata during the 18th century. The modern Ephrata Cloister Chorus is comprised of dedicated volunteers who serve as musical ambassadors for this national historic site. They wear white robes patterned after those of the original Brothers and Sisters. The Chorus is an educational program sponsored by the Ephrata Cloister Associates, a nonprofit organization dedicated to the preservation of the site. The Chorus has visited the Shaker communities in New York and Massachusetts. They have sung in Eberbach, Germany, sister city of Ephrata, Pennsylvania, and the home of Ephrata Cloister's founder, Conrad Beissel, as part of concert tours of southern Germany on five occasions.