The experience of war is unique to those that lived through it, whether the individual served in uniform or remained on the home-front. One hundred years ago, the First World War represented a departure from previous conflicts; the scale of carnage led many to earnestly believe it to be "the war to end all wars."
To commemorate the 100th anniversary of the U.S. entry into the war, join HSP and Warrior Writers for a workshop as local veterans share the words of their counterparts in "The Great War," as well as their own experiences. Attendees will then be divided into small groups, and will have a safe, comfortable environment to share reactions and thoughts in relation to what was read and said. They'll be encouraged to express themselves in various forms, such as poetry, spoken word, limericks, haikus, or drawing.
Original documents will be on display, and the program will be followed by light refreshments.
Image: Photograph of Marine veterans from the American Civil War greeting wounded soldiers returning from France ca. 1918. From the Philadelphia War Photograph Committee collection documenting First World War participation on the Philadelphia home front.
---
This program is part of World War I and America, a two-year national initiative of The Library of America presented in partnership with The Gilder Lehrman Institute of American History, the National World War I Museum and Memorial, and other organizations, with generous support from The National Endowment for the Humanities.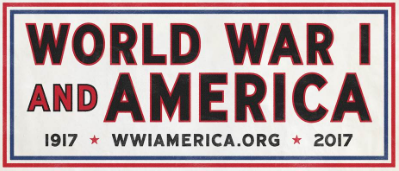 This program is presented in partnership with Warrior Writers.