150 years ago this month, the "Ringgold Regiment," also known as Bucks County's Own Regiment, was camped on Morris Island near Charleston, South Carolina. The high tides were rising steadily from when the regiment first landed on the island the previous summer, but the men moved their tents upshore to weather the winter. Using scavenged pieces of boards and parts of cracker boxes, many were able to raise their tents above the sand or dig wind-protected "basements" below. On April 20th, 1864, the soldiers would tear down these tents to move to Hilton Head.*
The Ringgold Regiment was mustered in 1861. In August of that year, Pennsylvania Governor Andrew Curtin authorized prominent Doylestown citizen W. W. H. Davis (pictured) to raise a regiment for the Union Army. The 104th Pennsylvania Infantry Volunteers was nicknamed "Ringgold Regiment" by Davis after an artillery officer killed at the battle of Resaca de la Palma in the Mexican American War. Because the troops were largley drawn from Doylestown and the surrounding community, it was also known as Bucks County's Own Regiment. They trained at Camp Lacey, established on the west side of Doylestown, and shipped out for Washington, D.C. that November. They served in the Peninsular Campaign of 1862, spanned the winter and spring of 1862/1863 near the seige of Charlestown, and fought in the crucial Valley Campaigns of 1864. Over the course of the Civil War, out of about 1,000 men, 46 were killed in action, 3 missing in action, 62 taken prisoner, and 104 died in service.**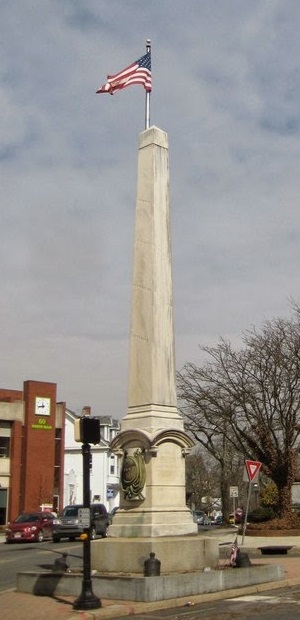 Doylestown's pride in the contributions of its citizens to the Union efforts in the Civil War runs deep and is long-abiding. One of the earliest Civil War memorials in the United States was constructed there, completed in 1868 to honor the 104th Regiment. It was designed by John Struthers, sculptor of the Washington sarcophagus at Mount Vernon, and was dedicated on the first official national Memorial Day. On the 125th anniversary of the monument, in 1993, the Bucks County Civil War Roundtable (BCCWRT) was founded to carry on the preservation and maintenance of the structure. A decade later, BCCWRT opened a museum and library in Doylestown.
The Bucks County Civil War Round Table Library and Museum mounts displays about Civil War history, but also maintains a small collection of archival materials dating from 1861 to the present (bulk 1861-1900). Various documents relating to the Civil War and Civil War commemoration include items from soldiers, officers, and veterans, sourced from across the country but with a focus on Bucks County, Pennsylvania.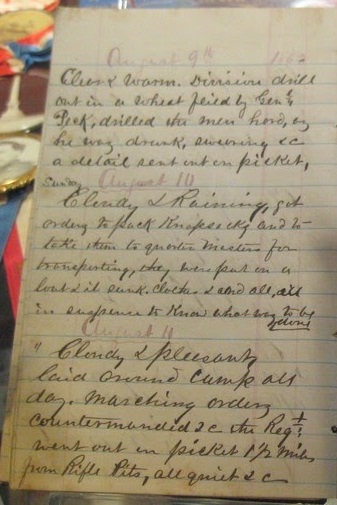 Diary of William Worthington, Company B, 104th Pennsylvania Infantry Volunteers Regiment, 1862. (On loan from Tom Bonynge)
So if you want to know what life was like for Bucks County soldiers 150 years ago, but you don't want to hunker down in a cracker box on a South Carolina beach, head to the Bucks County Civil War Round Table Library and Museum! Reading first-hand accounts and seeing original artifacts on display is the next best thing.
See all finding aids for Bucks County Civil War Round Table Library and Museum
Works Consulted
*Source: Davis, W. W. H. History of the 104th Pennsylvania Regiment, from August 22nd, 1861, to September 30th, 1864. James B. Rodgers: Philadelphia, 1866. Pages 305-308. Accessed March 27, 2014. http://www.civilwarmuseumdoylestown.org/library%20database/Historyof104th.pdf
**Source: Bucks County Civil War Round Table. "104th Regiment, Pennsylvania Volunteers Infantry." 1997. Document viewed in Museum, March 18, 2014.