Large numbers of Irish immigrants came to the United States in the second half of the 19th century seeking better opportunities. Many of them settled in the large cities they arrived in because they did not have enough money to travel very far. During the 1870s, several members of Michael Kelly and Mary (Loughnane) Kelly's family immigrated to Philadelphia, including their daughters Mary Ann, Margaret, and Sarah. Mary Ann soon met and married Dennis O'Brien.
Eventually Margaret met and married James J. Murphy (1860-1933), another Irish immigrant. They lived in West Philadelphia on Walnut Street for many years and had three children, James J. Murphy Jr. (1887-1941), Francis "Frank" J. Murphy (1891-1938), and John M. Murphy (1895-1924). John Murphy was a soldier during World War I, serving in France, and his cousin, James "Jim" Maurice O'Brien (b. 1893) did the same. Jim was the son of Maurice O'Brien (1869-1908), who was the brother of Margaret's sister's husband, Dennis. Jim's father died from injuries resulting from a tragic elevator accident when Jim was about 15, which may have been a reason that the O'Brien and Murphy families remained close with Jim into his adulthood.
A letter written to Margaret Kelly Murphy from her son, John, while he was in France during World War I, 1918.
After World War I ended, John Murphy and Jim O'Brien returned home to Philadelphia. John resumed to his job as a salesman for a lumber company, and Jim as a clerk for the Pennsylvania Railroad. Unfortunately, in 1924, just five years after returning from the war, John Murphy contracted tuberculosis and died. John's death began what would become a seventeen-year period of loss for his mother, Margaret Kelly Murphy, ultimately ending in her death. In 1933, Margaret's husband, James J. Murphy Sr. died, followed by her middle son, Francis J. Murphy, in 1938. Francis was survived by his wife, Margaret Sprague Murphy, and their two children, Inez and James Murphy, who lived in Northeast Philadelphia.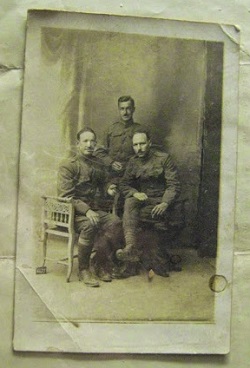 Photograph of WWI soldiers found with Murphy family materials, possibly featuing John Murphy or Jim O'Brien.
Margaret's eldest son, James J. Murphy Jr., worked for the United States government in the State Department. He served as Vice Consul for the U.S. Consulate Office in Genoa, Italy from 1917-1921; Consul in Lucerne, Switzerland in 1924; and Consul in Santo Domingo, Dominican Republic in 1926. Margaret, her husband James Sr., and cousin Jim O'Brien all traveled to Europe while James Jr. was working there to visit him in the 1920s. During the 1930s, James Jr. and his wife, Josephine, moved to Washington D.C. where he worked in the Consular Commercial Office under the Assistant Secretary of State to develop and protect the United States' trade and agricultural interests abroad. In 1940 the office was restructured into the Division of Commercial Affairs, with James Jr. serving as the head of the division. Later in 1940, James was assigned as the U.S. Consul in Hamburg, Germany.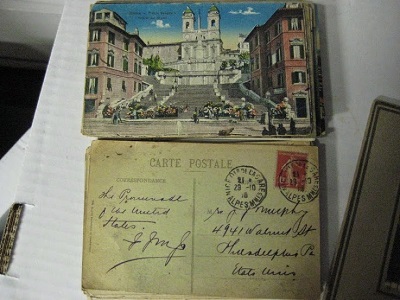 Top postcard: An image of the Spanish Steps in Rome, Italy. Bottom postcard: Written to Margaret Murphy, from her son, James Jr. mailed from Nice, France.
During his time in Germany, James contracted spinal meningitis and died there in early 1941. Twelve days later, his mother Margaret received the news of his death and suddenly passed away. Physicians stated that she died from shock brought on by finding out that her only surviving child had died. She and James Jr. were buried on the same day at Holy Cross Cemetery in Yeadon, Delaware County, Pennsylvania, the same place where her other sons and husband had been laid to rest.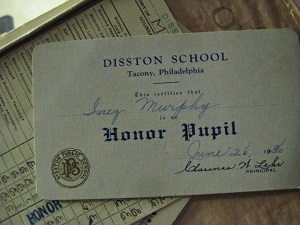 Honor student certificate (1936) from Disston School in Tacony (Philadelphia, PA) for Inez Murphy, daughter of Francis "Frank" Murphy.
Although Margaret and all of her sons have passed away, a small collection of materials from the Murphy family can be found in the Thornbury Historical Society local history collection, 1881-2014, at the Thornbury Historical Society in Delaware County, Pennsylvania. A large portion of the Murphy family papers is letters and postcards written to Margaret Kelly Murphy (Mrs. James J. Murphy) from her son John and her sister's nephew by marriage, Jim O'Brien, while they were serving in France during World War I, as well as postcards from Margaret's eldest son, James Jr. while he was working abroad at various U.S. consulate offices. Among the other Murphy papers is at least one photograph of three soldiers and some school materials relating to Inez Murphy, Margaret's granddaughter by her son Francis "Frank" Murphy.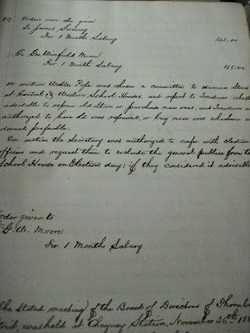 Record from the Thornbury School District Board of Directors, late 19th century.
In addition to the grouping of Murphy family materials, the Thornbury Historical Society's holdings contain records from the Thornbury School District Board of Directors (1881-1932); various other ledgers from different local organizations; a large amount of newspaper clippings, historic property research materials, ephemera, and narrative histories and personal memoirs relating to the people and places of Thornbury and its surrounding areas; a small accumulation of printed matter from Cheyney University of Pennsylvania; records from The Old Mill restaurant in Concordville, PA; and a collection documenting the making of a video history of Thornbury Township created by Richard C. Pyle and the Thornbury Historical Society.