One of the first churches in the United States founded by and for persons of African descent, the African Episcopal Church of St. Thomas is significant in the history of Philadelphia, the Episcopal Church, and civil rights. Its founder, the Reverend Absalom Jones (1746-1818), was the first person of African descent ordained in the Episcopal Church of the United States.
Absalom Jones, born into slavery in 1746, moved to Philadelphia where he purchased his freedom and befriended Richard Allen. Together, in 1787 Jones and Allen founded the Free African Society, a mutual aid organization that focused on strengthening Philadelphia's community of free blacks. Both men were members of St. George's Methodist Church, but in the face of increasing racial tension and insults, they led an historic walk-out from the congregation.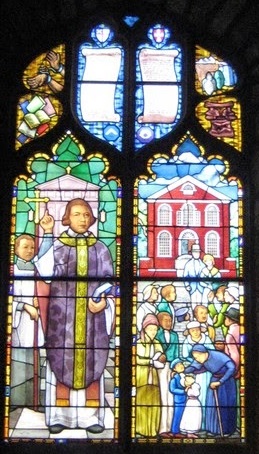 In 1792, Jones and Allen founded The African Church as an outgrowth of the Free African Society. Soon after, affiliation with the Episcopal Church was ratified and the congregation was christened St. Thomas' African Episcopal Church with Absalom Jones as its first rector. Jones was ordained by Bishop William White as the first African American Episcopal Priest in 1802.
Throughout its history, St. Thomas has maintained a strong commitment to social service and social justice. Soon after the church was founded, members of the congregation joined other African Americans, led by Absalom Jones and Richard Allen, in caring for those affilicted by the yellow fever epidemic of 1793. Absalom Jones, with other free Africans, submitted anti-slavery petitions to the federal government in the 1790s. St. Thomas' members and clergy continued to be active in abolitionist movements throughout the 1800s until the Civil War. In the 20th century, the church and its members have been active in civil rights efforts.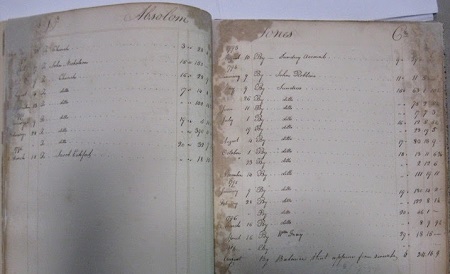 Account book entry for Absalom Jones, 1790s
Over 200 years of St. Thomas' history is documented in its archival collections. Early records of the church include pew rental records from 1791 to 1892, receipts and disbursements from 1790-1840, and canonical and parish registers from the 1790s into the 20th century. A highlight is a small amount of financial records of the Free African Society, perhaps the only extant records from this organization. Continuing into the 19th and 20th centuries, administrative and financial records, church building information, bulletins/programs and ephemera, research on church members and clergy, vital records, parish organizations records, printed materials, plaques, audiovisual materials, photographs, and memorabilia are all available.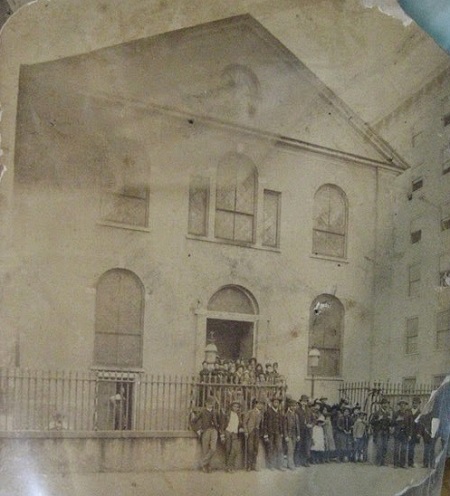 African Episcopal Church of St. Thomas building at 5th and Adelphi (now St. James) streets with church members gathered in front, circa 1880s
Additionally, the church's archives include collections of papers from several individuals associated with the church, including Elizabeth J. Forrester, the first African-American president of the Episcopal Church Women in the Diocese of Pennsylvania.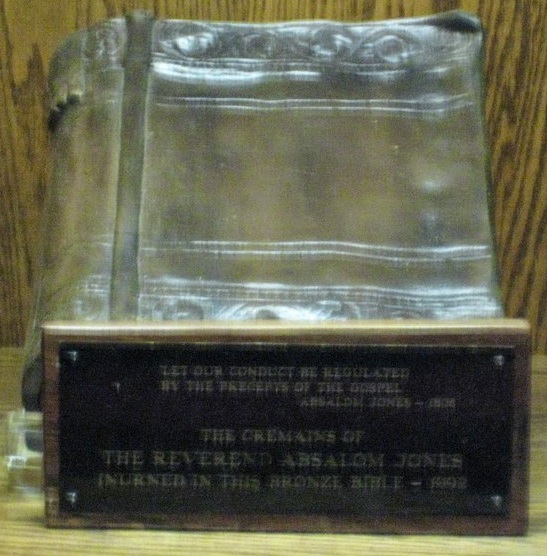 The church even has the cremains of its beloved founder, Reverend Absalom Jones - stored in this bronze Bible-shaped box, located in a chapel dedicated to his memory - for those wishing to pay their respects.