The Chichester area--encompassing the townships of Upper and Lower Chichester as well as the boroughs of Marcus Hook and Trainer--is located along the southeastern border of Pennsylvania, adjacent to the state of Delaware and the Delaware River. The riverfront location had an important influence on the area's development. The river provided fertile water meadows for farming and later made the location ideal for mercantile ventures and industrial development. Marcus Hook was originally inhabited by Lenni Lenape, and became an early trading post for the Dutch, Swedes, and Finns in the 1640s.
In the early 1700s Marcus Hook came to be known for shipbuilding, its fishing industry, and--pirates! According to legend, the infamous and much-feared "Blackbeard," aka Edward Teach (circa 1680-1718), frequently dropped anchor at Marcus Hook to visit his mistress Margaret. The heyday of pirates in the area was short-lived, but the legacy of Blackbeard and his mateys looms large in the public imagination. Some residents even hoped to find physical evidence of the pirates' presence. In his 1884 book History of Delaware County, Pennsylvania, Henry Graham Ashmead wrote that treasure-seekers continued to comb Marcus Hook's beaches into the 19th century at the peril of supernatural confrontations. 
"Sometimes the stories would relate to money buried along the shores of the Delaware and its tributary streams by pirates, who had slain a comrade or a captive that the murdered man should guard the blood-stained treasure ever from all save the hands of those who had sold themselves to perdition for the accursed gold."

*
While the presence of pirates tapered off, Marcus Hook's fishing (especially shad) and ship-building industries flourished in the 18th and early 19th centuries.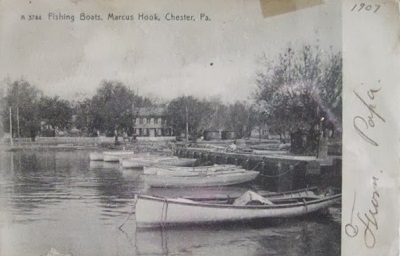 Postcard, "Fishing Boats, Marcus Hook, Chester, Pa." 1907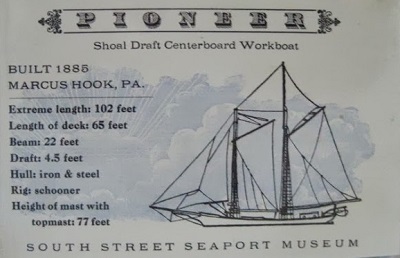 The Delaware River also generated the development of the successor for the borough's dominant industry: oil refineries. Because Marcus Hook's deep water harbor allows inexpensive delivery of crude oil by tanker and efficient export to overseas markets, it was identified as a convenient location for oil refineries. The first was built there in 1892; a decade later, Sun Oil Company (Sunoco) opened a facility that would remain a major presence in Marcus Hook for over 100 years.
I must be careful not to let Blackbeard's pirates steal this blog post, though. The Chichester Historical Society is dedicated to sharing and preserving all the history of Marcus Hook and Trainer boroughs, as well as the townships of Upper and Lower Chichester. This includes its maritime ventures, but also myriad other people, businesses, and events that texture the rich history of Chichester. To learn more, you'll have to visit for yourself.
Citation: