Tell all your friends! February is Black History Month, and one of the best places to study Black history in this city is at the African American Museum in Philadelphia (AAMP). One of the largest and most robust archival repositories we have visited thus far, AAMP's collections document African Americans active in the arts, medicine, politics, sports, and many other arenas. In this blog I will highlight just a few of my favorite AAMP collections.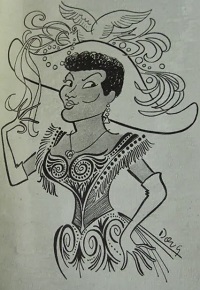 Performing Arts: Pearl Bailey papers, 1946-1990 (bulk 1970-1979)
From entertainer to ambassador, Pearl Bailey (1918-1990) was a vibrant personality who mingled with some of the world's most interesting people. She appeared on Broadway, in movies, and on her own television show. Bailey also authored several books. In 1975 she was appointed special ambassador to the United Nations by President Gerald Ford; she received the Presidential Medal of Freedom from President Ronald Reagan in 1988. The Pearl Bailey papers at the African American Museum include scrapbooks, recordings, correspondence, photographs, newspaper clippings, writings, financial records, and other materials relating to Pearl Bailey. Most document her public life in the 1970s, especially her career as a singer and actress, a cultural ambassador, and an author. A smaller quantity of materials relate to her personal life, including her finances, family, and college education at Georgetown University.
Joseph E. Coleman (1922-2000) was the first African-American president of Philadelphia City Council. Serving in this capacity for 12 years from 1980 to 1992, Coleman turned the council into a more independent legislative body with greater authority that almost equaled that of the mayor. Among other proposals on which Coleman focused, he championed an urban homesteading program. The Joseph E. Coleman papers, 1951-1994 (bulk 1968-1994), consist of various materials, including drafts for speeches, articles, testimonies, photographs, correspondence, campaign ephemera, and scrapbooks that document Coleman's time as a Philadelphia politician, including his time as a councilman and council president. Also included are corrected typescript drafts of novels authored by Coleman, and reprints of his scientific publications and patents.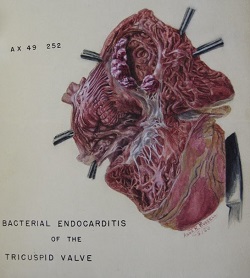 Anna Rae Russell Jones (born 1902) was the  first person of color from Philadelphia to join the Armed Forces for World War II. Trained at Moore Institute of Art, Science and Industry, she studied medical and technical illustration and worked as an artist in the Women's Army Corps and then in the civil service for many years. The Anna Rae Russell Jones papers, 1880-1974, primarily document her time in the military and as a civil service illustrator through scrapbooks, photographs, illustrations, sketches, and related correspondence and personnel records. There are also materials relating to her art education and some family papers, as well as correspondence, artworks, and documents from later in Jones' life.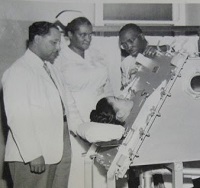 Dr. DeHaven Hinkson (1891-1975) and Dr. Russell F. Minton (born around 1900) were prominent African American physicians in Philadelphia. Hinkson served in both World War I and World War II and was active in veterans' rights. He was the one of the first African American doctors put on staff at Philadelphia General Hospital, and the first African American to be head of an army hospital. Minton was involved with the merging of Mercy and Frederick Douglass Memorial hospitals and held high-ranking positions at Mercy-Douglass Hospital. The Dr. DeHaven Hinkson papers at AAMP contain correspondence, news clippings, photographs, notebooks, pamphlets, military and medical artifacts, and numerous other materials documenting his life and career.  The Dr. Russell F. Minton papers at AAMP contain correspondence, medical notes and reports, hospital records, newspaper clippings, speeches and articles, numerous photographs, Minton family genealogical items, and other materials.
Until Jackie Robinson broke the color line in professional baseball in the 1950s, African American baseball players played in what was known as the "Negro Baseball League," and the Hilldale Club of Darby, Pennsylvania was one of the best teams. During the Club's existence from about 1910 to 1932, it played in the Negro World Series twice, was one of the only Black ball clubs to own its own ballpark, and was also noted for some of the finest ballplayers of the day. The Lloyd Thompson and William Cash papers on Negro baseball leagues include correspondence, season bookings and scorebooks, player statistics, Hilldale Club financial records, Delaware County Athletic Association and Jersey City Colored Athletes materials, clippings, and photographs.
More Sources
See all finding aids for African American Museum in Philadelphia
Looking for more sources for African American history? Check out the Small Repositories Subject Guide section on Race, Class, and Gender.