This past winter and spring HCI-PSAR facilitated an internship program that paired emerging archivists in need of hands-on experience with small repositories in need of processing assistance and large repositories willing to train and supervise the intern. We matched intern Daniel DelViscio with the Old York Road Historical Society and Drexel University College of Medicine Archives & Special Collections. Daniel reflected on Isabel Smith Stein collection on Elizabeth Cisney Smith, the Kiwanis Club of Jenkintown records, and his other experiences in the blog below.
---
By Daniel DelViscio
Over the course of this past winter I participated as an intern for the HCI-PSAR program hosted by the Historical Society of Pennsylvania's Hidden Collections Initiative for Pennsylvania Small Archival Repositories (HCI-PSAR). I had processed a few collections before this for HSP, but as I think most archivists would agree each collection is its own animal, which is why we follow guidelines and not strict rules that allow for flexibility when processing. The two collections I worked on for this project were great examples of how collections can be totally different and in response you have to tailor your process in making sense of them for researchers. The Isabel Smith Stein collection on Elizabeth Cisney Smith was a collection of personal papers while the Kiwanis Club of Jenkintown was a collection on a local chapter of a global philanthropic organization.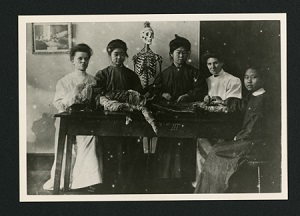 Elizabeth Cisney Smith in class
The first of these collections I worked on was at the Drexel College of Medicine Legacy Center: Archives and Special Collections. The Elizabeth Cisney Smith collection was compiled by Dr. Smith's children and detailed her life as a female doctor in the early 1900s. As you may imagine this collection was rich in content and I often found myself struggling with trying to adhere to MPLP (More Product Less Process) standards and not delve headfirst into each folder for the entire time I was working on it. The collection came in four well-maintained boxes and was already arranged into a semblance of order by Isabel Smith Stein, Dr. Smith's daughter. The contents served as an account both biographically and autobiographically, of Dr. Smith's life, and there was a definite narrative to the collection before I ever started working on it. Having this narrative colored my processing of the collection and I wanted researchers to be aware of the reason why the records were arranged that way while still being very usable.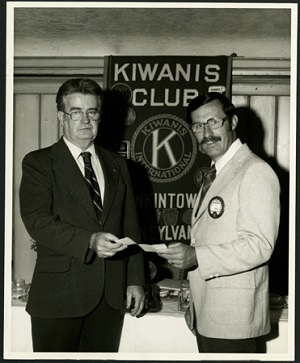 Kiwanis Club charter night
The second collection was the Kiwanis Club of Jenkintown, a collection housed at the Old York Road Historical Society. The Kiwanis Club is a global organization started in 1915 with volunteer labor and community improvement in mind. This collection contained materials for the Jenkintown chapter, which was chartered in 1949. The kinds of records that came with the collection were completely different than the Elizabeth Cisney Smith collection. In it I found an assortment of administrative records, financial records, and even a few plaques and loose photographs. The collection came to me with sparse labeling as to their contents aside from the folders housing the documents. In situations like these the processor needs to discern an order from the collection. This differed from The Elizabeth Cisney Smith collection in that right off the bat there was an attempt by Dr. Smith's children, primarily Isabel Stein Smith, to arrange the collection in a certain order. This was not the case for the Kiwanis Club of Jenkintown collection. When the collection came to me it was an assortment of records in no particular order, but as I delved into each box I found that an order naturally presented itself in the types of records I was finding. This discovery dictated how I was to order the collection, a task which was difficult, but ultimately very satisfying when I was able to step back and look at the complete set of boxes arranged nicely with their appropriate labels.
Kiwanis Club of Jenkintown records unprocessed
In all I found the process of making sense of both the collections to be a wonderfully rewarding experience. Seeing the progression of loose materials in various formats find their way into an order that someone else can use is pretty gratifying. It strikes a similar chord if you've ever built something from Legos by looking at a picture of what you're building.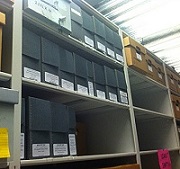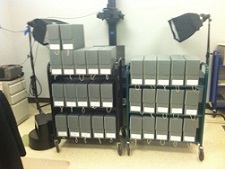 Elizabeth Cisney Smith finished (left), Kiwanis Club of Jenkintown records finished (right)