This past winter, HCI-PSAR facilitated an internship program that paired emerging archivists in need of hands-on experience with small repositories in need of processing assistance and large repositories willing to train and supervise the intern. We matched intern Leigh Clark with the Historical Society of Frankford and the American Philosophical Society. Leigh reflected on the Ernst Krakowizer papers, the Tomlinson, Foehr, and Peters families papers, and her other experiences in the blog below.
---
This past winter, I was an intern for the Historical Society of Pennsylvania's Hidden Collections Initiative for Pennsylvania Small Archival Repositories (HCI-PSAR). The goal of the internship was to provide better access to and awareness of the archival collections found in Philadelphia-area small repositories, while gaining hand-on experience describing and arranging archival collections. As part of my internship, I processed two archival collections, the first was located at a large repository, the American Philosophical Society (APS), and the second was located at a small repository, the Historical Society of Frankford (HSF).
At APS, I worked under the guidance and supervision of the Head of the Manuscripts Department to process the Ernst Krakowizer Papers. Krackowizer was father-in-law to the anthropologist Franz Boas, whose papers are a significant part of APS's manuscript collections. Krackowizer was an Austrian-born doctor who immigrated to the United States in 1850 to avoid arrest from the Austrian government for his part in the Revolutions of 1848 in Vienna.
E. Krackowizer. Taken from In Memory of Ernst Krackowizer. 1875.
While part of the collection documents Krackowizer's career as a doctor in Vienna and New York City, much of the collection is comprised of Krackowizer's personal diaries and correspondence to his fiancée, and later wife, Emilie, in which he describes, rather passionately, his experiences in the Revolution and his subsequent flight from Austria. Luckily for me, and others not fluent in German, the collection also includes translations of these documents. However, not all of the items in the collection were translated, and the multiple languages (German, Italian, and Latin) proved to be a challenge for me while processing the collection. On the other hand, I was fortunate that this collection was initially well organized and that the donor had provided an inventory of the items in the collection.
At the Historical Society of Frankford, I processed the Tomlinson, Foehr, and Peters Families Papers. The bulk of this collection, which is comprised of the papers of more than fifteen family members, centers on Ritner W. Tomlinson, his wife Caroline, and their four children. Ritner was a farmer from the Bustleton section of Northeast Philadelphia during the first half of the twentieth century. A smaller portion of the collection is comprised of materials from members of the Foehr and Peters families, who are related to the Tomlinsons through marriage. This collection contains a little bit of everything, but mostly consists of photographs, legal and financial documents, correspondence, and ephemera. Additionally, there are vital records for a number of family members, as well as other genealogical information, that would benefit users researching the Tomlinson, Foehr, or Peters families.
Ritner W. Tomlinson (right). Circa 1900.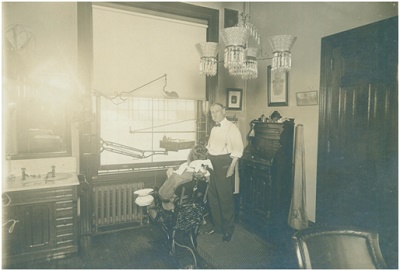 Dr. Jonas D. Peters, practicing dentistry in his office in Norristown, PA. Undated.
This collection was donated over the course of several years and was roughly organized in plastic sleeves each labeled with a family member's name. Portions of some family member's papers were donated at different times, and so were initially located in different boxes. Finding a semblance of original order was challenging with this collection, particularly because many of the items had been passed down over four generations of Tomlinsons. Ultimately, the collection was organized by family member name, with individuals who had a large amount of overlapping material, such as twins Isabel and Esther Tomlinson, grouped together in the same subseries.
Tomlinson, Foehr, and Peters Families Papers. Unprocessed.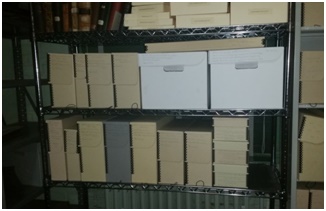 Tomlinson, Foehr, and Peters Families Papers. Processed.
I feel the greatest benefit of this internship has been the opportunity to experience both a large and small repository. On top of learning how to process an archival collection, I also learned that every archival repository is different and that the processing of each collection is unique. My time at APS and HSF has shown me that an archivist must find a balance between working within financial, time, and spatial limits of a repository and providing users with the best access to its collections.
I am very grateful to the Historical Society of Pennsylvania and the HCI-PSAR staff for giving me this opportunity. I would also like to thank the staff at APS and HSF for all of their guidance, support, and time.