If you read my blog post about Old York Road Historical Society, you already know that the "small" in "Small Repositories Project" is somewhat variable. The Historical Society of Montgomery County, Pennsylvania is even bigger than Old York Road! Usually in these blog posts I focus on one particular collection or story, but there are so many extraordinary collections at MontCo, I was loath to choose just one. Here is a small sampling of a few of my favorites: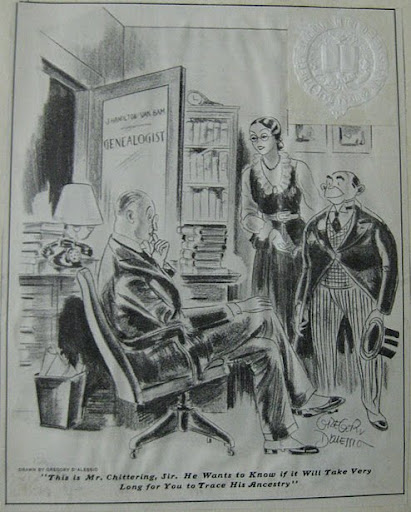 Charles Reed Barker (1875-1961) was an extremely active genealogist and historian in the Philadelphia area. The Charles R. Barker papers consist of diaries, scrapbooks, historic document abstracts/transcriptions, and a small amount of loose documents and ephemera. At the heart of the collection are Barker's diaries, which provide a comprehensive and intimate view of his daily activities over nearly three-quarters of a century, 1889-1961. ►Celia's favorite item: ►A scrapbook on genealogy, genealogists, and genealogy research methods from the 1930s to 1950s. It features light-hearted cartoons like the one at left, as well as newspaper clippings reporting on the genealogy boom in Germany during the Third Reich (a chilling trend, in hindsight).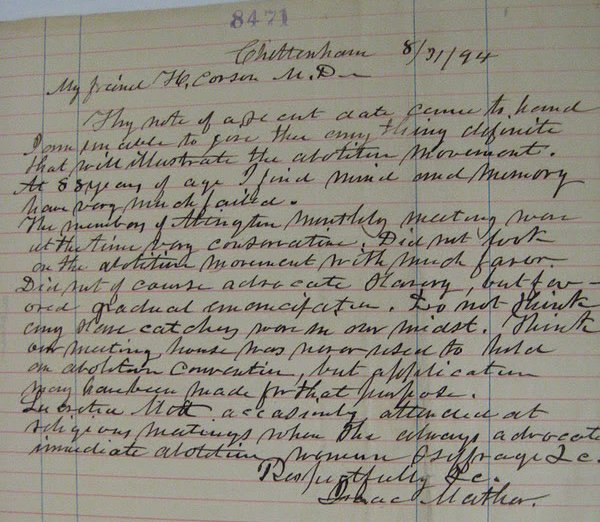 Dr. Hiram Corson (1804-1896) was a practicing physician, and an advocate for abolitionism and for women in medicine. He lived in Plymouth Meeting, Montgomery County, Pennsylvania. The Dr. Hiram Corson family papers, 1827-1896, consist primarily of the papers of Dr. Hiram Corson, with a small amount of materials by other family members. The highlight of the collection is the diaries of Dr. Corson, which date from 1848 to 1896. ►Celia's favorite section: ►In the 1890s, Corson sent letters to various local individuals who had been involved in anti-slavery movements, soliciting tales of their experiences. A number of responses are in this collection, and they reveal how abolitionists were not one united bloc, but a loose coalition of many differing perspectives and opinions.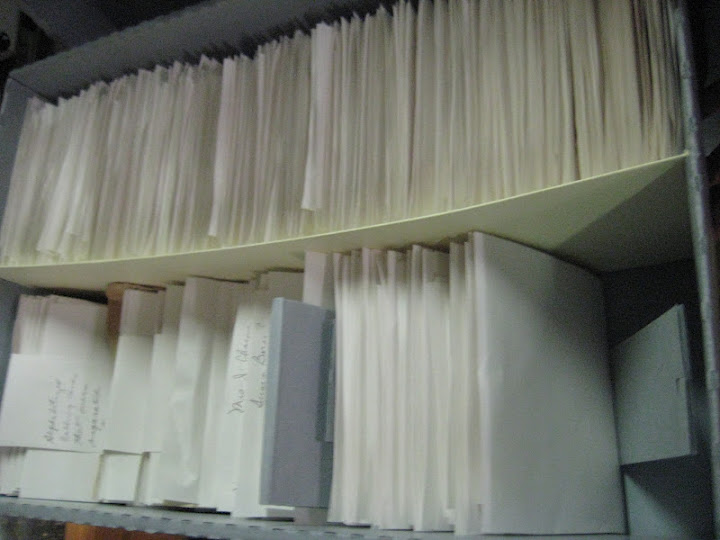 Joseph Fornance (1804-1852) was a Democratic member of the U.S. House of Representatives from Norristown, Pennsylvania. Like himself, his son Joseph Fornance (1841-1923) and grandson Joseph Knox Fornance were lawyers involved with politics. The Fornance family papers, 1815-1976, is an extensive collection of correspondence, ledgers, diaries, photograph albums, scrapbooks, and documents covering several generations of one family. Family members were involved with numerous topics over more than one-and-a-half century, so among other subjects, there is rich documentation of military service during the Civil War and World War I, the election of Woodrow Wilson, and early efforts at historic preservation (the Fornance family home is considered the oldest in Norristown). ►Celia's archival processing shout-out: ►The collection includes a box with hundreds of calling cards, alphabetized and individually interleaved. It may look a bit over-processed in this "More Product, Less Process" world, but imagine how convenient this must be for genealogists seeking artifacts of their ancestors!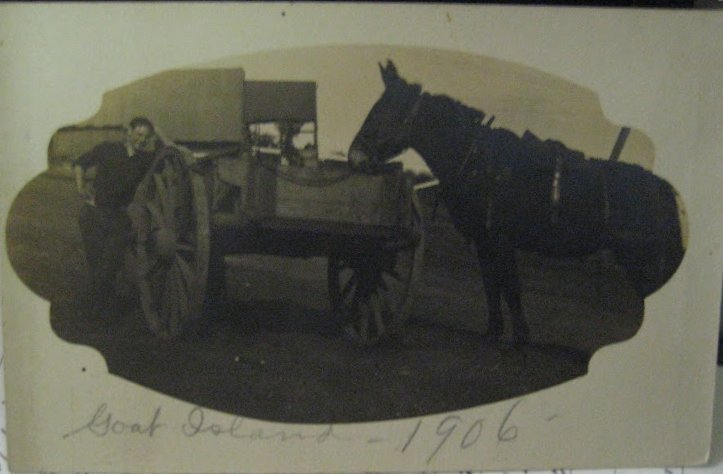 Frank Zissa (1878-1957) was born in Germany, but emigrated in 1889 and settled in Stowe, Pennsylvania. Zissa fought in the Spanish-American War, then joined the Marine Corps and served on campaigns in Nicaragua, Haiti, Mexico, Panama, China, Japan, and many other countries. The Frank Zissa letters, 1901-1987, consist primarily of letters from Frank to his wife, with additional correspondence with other family members, 1901-1919. ►Celia's favorite aspect: ►Some of Frank's letters are written on postcards, which depict the exotic locations where Zissa was stationed! The letters comment on his daily life as a soldier/marine, and sometimes relate stories about the locales where he was stationed or the fighting he experienced.
Fraktur are outside the focus of the HCI-PSAR project, but the Historical Society of Montgomery County has so many beautiful examples, I wanted to share one with you anyway.
In this post I have highlighted four of my favorite collections, but I should emphasize that there are many, many more valuable and important resources at the Historical Society of Montgomery County. We surveyed more than 50 collections over one linear foot for the HCI-PSAR project, but you'll have to wait until our online finding aid database is up and running to read about the rest of them.
Update! You can now see all finding aids for Historical Society of Montgomery County here.