For decades, Stinson Markley's land in Charlestown Township, Chester County, Pennsylvania was used to cultivate fruits, vegetables, and even wild turkeys. The Markley farm is now owned by the Charlestown Historical Society, which is sown with carefully tended archival documents, the information contained therein ripe for reaping by historians and other researchers!
Stinson Markley (1898-1995) hoped to inherit his family's farm in Kimberton (Chester County, Pennsylvania), but lost it in a family dispute when he was 30 years old. He spent the next eight years working as a busboy and as a state game warden until he had saved enough money to purchase a 54 acre farm on Union Hill Road in nearby Charlestown Township in 1938. Soon after, he married Kathryn Donahue (1903-1981), a local school teacher and, later, a principal.
Stinson planted a fruit orchard and became known for his peaches. He planted many other fruits and vegetables, and raised livestock varying from cows to wild turkeys and even bees. He kept meticulous records of his farm accounts, circa 1920-1980 (bulk 1920-1945), which shed light on the economy and strategy of agricultural management in the mid 20th century.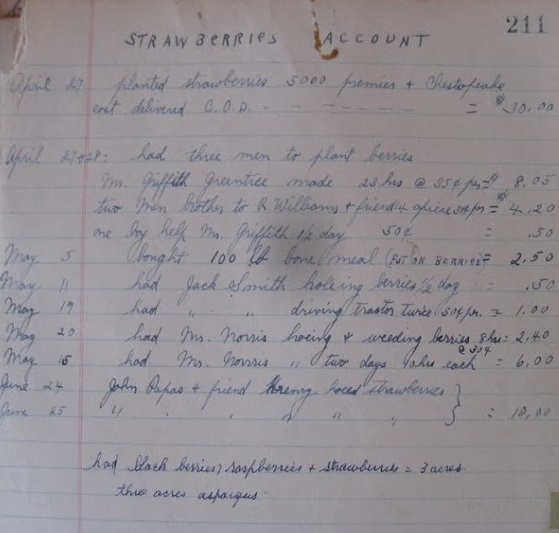 Markley's "Strawberries Account," circa 1940, shows the costs of supplies and labor over the season to cultivate 5,000 strawberry seeds. That year he had three acres of blackberries, raspberries, and strawberries.
Markley also collected numerous pamphlets and publications about farming technology and practices, which track the evolution of the industry over the early to mid 20th century.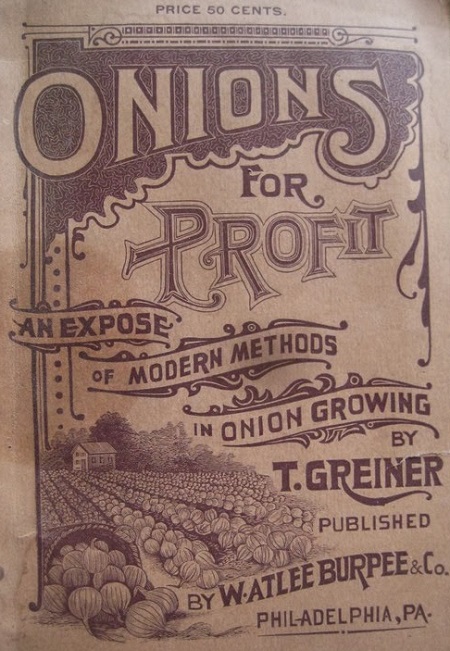 Onions for Profit: An Exposé of Modern Methods in Onion Growing, by T. Greiner (Philadelphia: W. A. Burpee, 1893.) Read it online.
Stinson and his wife were also very involved in the local Charlestown community. He helped establish the Charlestown Historical Society and the Charlestown Nature Center, which is now the Great Valley Nature Center. He was also a member of the Green Valleys Association, the National Audubon Society, the National Trust for Historic Preservation, and various other historical, conservation, and preservation organizations in the area. His wife was a well known educator and elementary school principal; a school was even named in her honor, the Kathryn D. Markley Elementary School in the Great Valley School District. In addition to the previously mentioned farming records, the Stinson Markley family papers, circa 1850-1995, contain material relating to these other aspects of the couple's life. The collection includes numerous photographs and slides, personal papers, farming business records, scrapbooks, and printed materials.
When Stinson Markley passed away in 1995, he donated about half of his farmland to the Charlestown Historical Society. This land supports the Society's operations, although technically the Markley ground is not the site of the Society's archival collections. These are located on a different tract nearby, in the historic Wisner-Rapp House.