Ever wonder you could use those piles of vellum and parchment indentures/deeds that you have lying around for? What, you don't have piles of those in your home? 
When the Horsham Preservation and Historical Association took over the Penrose-Strawbridge house, located in Graeme Park, they found a stack of them dating from the 17th century to the 19th. These deeds all refer to property transactions by the Strawbridge family who resided in the house and raised thoroughbred horses. (These Strawbridge's were not related to the merchant family.)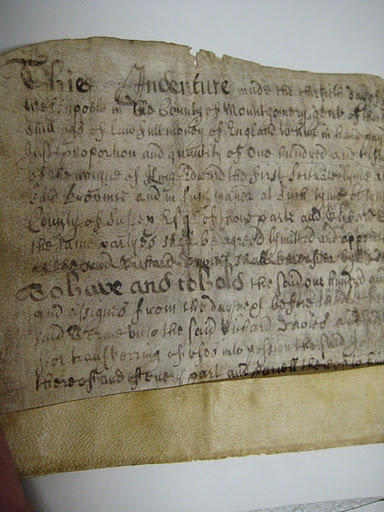 You may be wondering what these deeds can be used for besides looking beautiful in a frame. Well, originally they were written in duplicate on a piece of vellum or parchment, one on each half of the page, so that each person on the document could retain a copy. The copies were then separated by cutting the document in a jagged line like teeth, hence the name indenture. This was done so that the two pieces could be matched up later to ensure their authenticity.
Today there is not a demand for a document to be created in this way, but the ones that exist contain a lot of useful information. If you are conducting genealogical research or reconstructing the ownership of a property (known as a chain of title), the information the deeds hold can be invaluable. The documents held by the Horsham Preservation and Historical Association, for instance, can be used to trace the property ownership of the Strawbridge family, trace which family members were living where, and reveal connections between individuals that may have been unknown before. You can find the descriptions of their collections on the PACSCL finding aid website.
So if you happen to be wondering what to do with your pile of indentures, don't just toss them away! There is a wealth of information held there that could aid you in multiple lines of research.
[images of deeds courtesy of The Lower Merion Historical Society and The Millbrook Society]