Settled by Europeans in the early 18th century, the Borough of Downingtown (Chester County) was once located on the western frontier of Pennsylvania. In fact, the original name of Downingtown was Milltown because it was the last place you would see mills on your way West. Despite its initial remote location, Downingtown quickly became a hub of activity. Located on East Branch Brandywine Creek, mills prospered there in the 18th century.
In the 19th century, stagecoach service from Philadelphia to Pittsburgh went right through Downingtown, and later railroads replaced the stagecoach. Due to its access to railroads and its convenient location half way between Philadelphia and Lancaster, a variety of businesses were drawn to Downingtown. Mills, taverns, and manufacturing industries opened in the area, increasing job availability and expanding the borough's population.
One of the industries that flourished in Downingtown was paper milling. Frank P. Miller (1859-1923) started a paper mill just south of Downingtown 1881. A few years later, Miller bought land in Downingtown so that he could be closer to the railroad, making his shipping more efficient, and built a new, steam-powered mill that increased his production to four tons per day! In 1924, One year after Miller passed away, the name of the paper company changed from the Frank P. Miller Paper Company to the Downingtown Paper Company, or "Dopaco" for short. From the 1920s through the 1960s, Dopaco was wildly successful, increasing its sales yearly and producing 325 tons of product per day on its 60-acre plant by the late 1960s. In 1968, Dopaco was sold as a subsidiary to Sonoco Products Company (Hartsville, S.C.) and remained open until 2005 when a large fire that caused approximately half a million dollars in damages forced Sonoco to permanently close the Downingtown paperboard mill.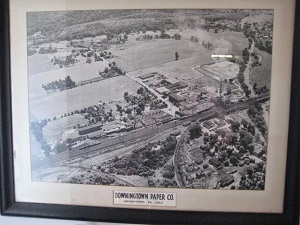 Aerial image of the Dopaco plant in Downingtown, 1950
The Downingtown Area Historical Society has records from both Dopaco and the Frank P. Miller Paper Company in its collections. The Downingtown Paper Company collection, 1839-1980 (bulk 1880-1924), consists primarily of financial records from the Frank P. Miller Paper Company era, but there are also some later records of Downingtown Paper Company (Dopaco). Several Dopaco materials in the collection relate to longtime employee Thomas Brookover, who became the chief chemist for Dopaco in 1938 and remained with the company until he retired in 1980. Brookover's father, Andrew, had also worked for the company starting at the Frank P. Miller Paper Company in 1906 as a mill superintendent and advancing to general manager of the mills and vice president of Dopaco by the time he retired in 1939.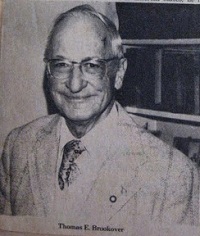 Dopaco chief chemist from 1938 to 1980, Thomas Brookover
The Downingtown Area Historical Society also has some records of another company that found a home in Downingtown, Chemical Leaman Tank Lines, Inc. Chemical Leaman Tank Lines, Inc. (CLTL) was at one time the largest tank truck carrier in the nation, transporting chemicals, coal tar derivatives, petroleum, petrochemicals, cement, and other liquid, dry, and gas products throughout most of the United States and Canada. While CLTL was based in Downingtown, its parent company, Chemical Leaman, Corp., was based in nearby Lionville. Quality Distribution, Inc. was born out of a merger between Chemical Leaman, Corp. and Montgomery Tank Lines in the late 1990s and is still active today, although none of its offices are located in Downingtown presently. The Society's Chemical Leaman Tank Lines Inc. collection, 1942-1998, consists mainly of promotional materials such as printed annual reports, pamphlets, and press releases, as well as internal memos, press shots, financial documents, and a few other administrative records, mostly relating to the creation of the promotional materials.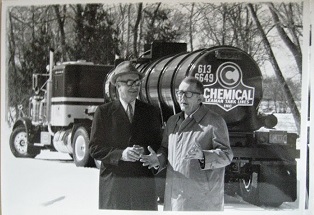 Chemical Leaman Tank Lines, Inc. publicity photo
In addition to the collections mentioned above, the Society has a number of records from various Downingtown Area clubs and organizations including the Downingtown Woman's Club, the Rotary Club of Downingtown (Charter No. 2199), the Patriotic Order Sons of America Downingtown chapter (Camp No. 338), and the Independent Order of Odd Fellows of Downingtown (Brandywine Lodge No. 388).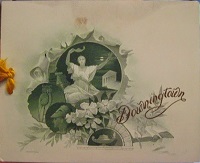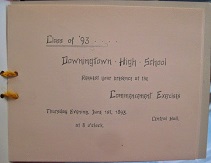 Graduation program from Downingtown High School, Class of 1893
Moreover, the Society also has a large newspaper clippings file, which is updated regularly; a collection of materials from the Downingtown Area School District including a graduation program from Downingtown High School in 1893 (see above); the Donald Greenleaf family papers, which contain materials from Greenleaf, a former borough manager, and his father, who owned Greenleaf's Pharmacy, a prominent business in the borough for more than 30 years; records from the Northwood Cemetery Company; a photograph collection; a large collection of general archives with materials relating to the families, churches, businesses, organizations, and other aspects of Downingtown and nearby areas; and more! If you plan on doing local history research at the Downingtown Area Historical Society make sure you allow for plenty of time to see the wealth of materials they have stored in the Ashbridge House.