For LGBT Pride Month this June, we are celebrating the John J. Wilcox Jr. GLBT Archives of Philadelphia at the William Way Center. Their recently awarded $330,000 grant from the William Penn Foundation will help turn the Center's Archives into one of the top facilities for LGBT history in the region and the country! One of my favorite collections in their holdings is the papers of Kiyoshi Kuromiya, a case study in intersectional activism: he was involved in 1960s Civil Rights, anti-Vietnam War agitation, gay liberation, and HIV/AIDS advocacy. Faith Charlton and I processed his papers last year and published a finding aid to the collection online.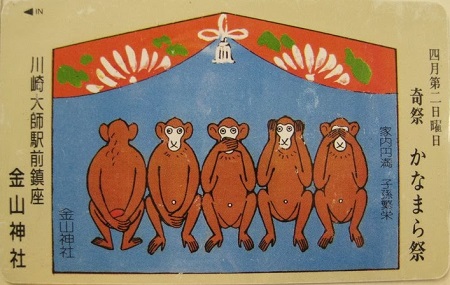 We are not usually able to perform hands-on processing of collections through the HCI-PSAR project, but we have had the opportunity to make exceptions in a few cases, including Kuromiya's papers. Kiyoshi Kuromiya (1943-2000) was a Philadelphia-based activist who worked to better the lives of people living with HIV/AIDS. He is best known for creating the Critical Path AIDS Project, which provided free internet access and information on HIV/AIDS treatment.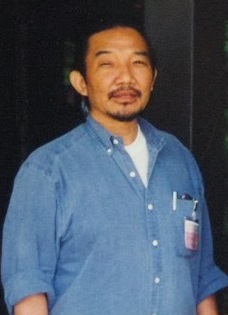 Kuromiya's lifelong struggle for human rights and equality did not begin with the AIDS epidemic, however. While a student at the University of Pennsylvania, he became involved with the African American civil rights movement. He traveled to the American South, where he worked with civil rights leader Martin Luther King, Jr. and was hospitalized in 1965 with head injuries sustained  while leading a voter registration demonstration. He was also active in protesting the Vietnam  War, for which activities he was arrested on multiple occasions. Kuromiya was an early  participant in the burgeoning LGBT rights movement of the late 1960s, participating in one of the first national homosexual rights demonstrations (Reminder Day, held at Independence Hall, Philadelphia, in 1965), helping to found of the Gay Liberation Front, and speaking on homosexual rights at the Black Panther Party's Revolutionary People's Constitutional Convention in 1970.
Most of the Kiyoshi Kuromiya papers at the John J. Wilcox Jr. GLBT Archives of Philadelphia, however, pertain to his HIV/AIDS advocacy. After being diagnosed with acquired immunodeficiency syndrome (AIDS) in the late 1980s, Kuromiya became an expert on the human immunodeficiency virus, its treatment, and associated human services. He dedicated the rest of his life to advancing scientific understanding of and treatments for HIV, disseminating that knowledge into the community of Persons With AIDS (PWAs), and improving the lives of PWAs, especially minority PWAs, in any way possible.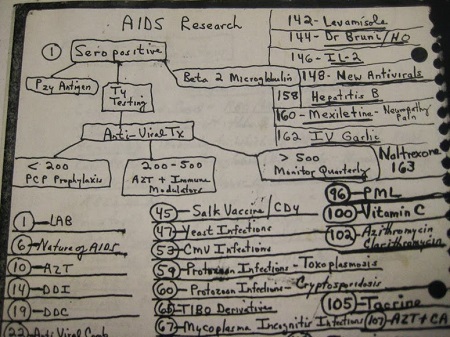 Photocopy of a page from one of Kuromiya's notebooks
In 1988/1989 Kuromiya founded the Critical Path AIDS Project, which applied ideas and strategies from Buckminster Fuller to the AIDS crisis. (Fuller (1895-1983), the American author, designer, inventor, futurist, systems theorist, and architect known for popularizing the geodesic dome structure, was Kuromiya's mentor. In the last years of Fuller's life, Kuromiya worked with him and is credited as "adjuvant" on four of Fuller's books.) The Critical Path AIDS Project began as a newsletter about AIDS treatment that Kuromiya researched, wrote, edited, and distributed himself; it grew to offer a 24-hour AIDS treatment hotline, a web hosting service for AIDS-related websites and listservs, and computer access for individuals in the Philadelphia area.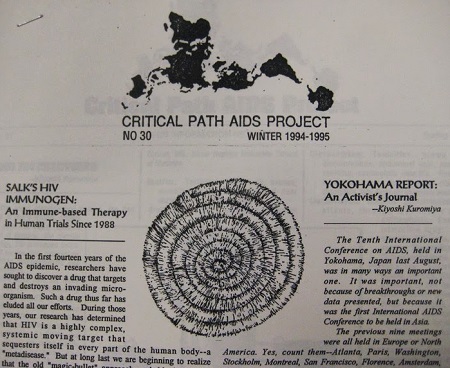 Critical Path AIDS Project newsletter no. 30 (Winter 1994-1995)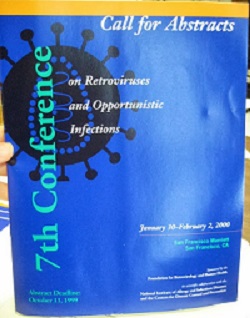 Kuromiya was a founding member of the group ACT UP/Philadelphia (AIDS Coalition to Unleash Power) and the first paid employee of We The People, a large, minority-run coalition  organization for Persons With AIDS (PWAs). He served on many community and scientific advisory boards for HIV/AIDS research and programs, including the national AIDS Clinical  Trials Group (ACTG), Levine Panel of the Office of AIDS Research, the National Minority  AIDS Council, and the RAND Corporation. He presented at numerous conferences and taught numerous programs about HIV/AIDS.
Kuromiya passed away in 2000 from complications of AIDS, but his Critical Path Project still exists as of 2014 as a program of Philadelphia FIGHT (Field Initiating Group for HIV Trials). Since 2002, it has operated as a digital inclusion training and advocacy program that provides free internet access and computer training at public computer centers in low-income neighborhoods across Philadelphia.
The Kuromiya papers at the William Way Center date from 1990 to 2002 and span about 58 linear feet. It consists of information gathered by him about topics and organizations relating to HIV/AIDS, records of his Critical Path AIDS Project, and some personal papers. Because Kuromiya both participated in numerous HIV/AIDS organizations and was active in gathering treatment information for his educational project, Critical Path, this collection provides an excellent overview of the landscape of HIV/AIDS research and activism in the 1990s. It has a focus on the epidemic's impact on Philadelphia and on minority communities that would make it particularly important for researchers specialized in those topics. To view the full finding aid, click here.