In the twenty-first century, perhaps the only thing more anachronistic than an organization with a 15-word name is a vigilante group dedicated to stamping out horse thieves. In many ways, finding archival records from 1819 of "The Newtown Reliance Company for the Detecting and Apprehending of Horse Thieves and Other Villains" at the Newtown Historic Association was less surprising than learning that the group is still active in the year 2013.
In the 19th century, when horses were critical for transportation and livelihood but police forces were not as organized (especially in rural communities), horse-thieving was a significant problem. Horse protective associations, as they were commonly called, formed throughout the United States. They generally functioned as mutual aid societies, where subscribers worked together whenever a horse was reported missing to apprehend the thief, turn him over to the authorities, and return the horse to its rightful owner.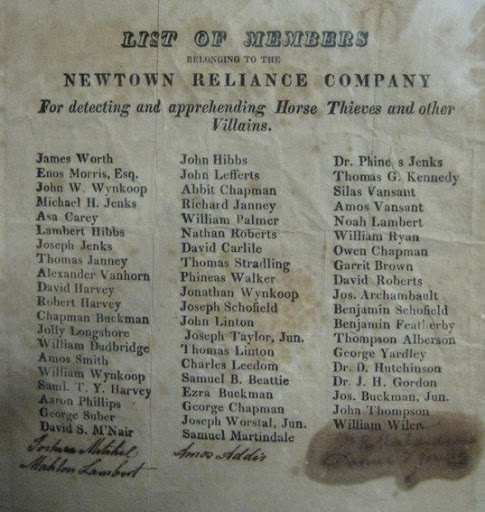 The Newtown Reliance Company, organized in 1819, is one of the oldest horse protective associations in Bucks County, Pennsylvania.
I've surveyed almost 60 small archival repositories over the past year and this is not the first time I have come across records of a horse protective association, nor even the first instance of an active group. At the Worcester Historical Society I learned about the Farmer's Union Horse Company for the Recovery of Stolen Horses and Detecting Thieves (1834-active); at the Lower Merion Historical Society, the Lower Merion Society for the Detection and Prosecution of Horse Thieves and Recovery of Stolen Horses (1818-active); and at the Historical Society of Fort Washington, (1828-active). The Historical Society of Montgomery County has diverse and sundry records from about a half-dozen local horse protective associations.
Two things make Newtown Historic Association's horse company collection unique. One is the substantial size (2 linear feet) and scope of the collection. It features many original records of the Newtown Reliance Company (including minute books, 1899-1992), as well as research, publications, and ephemera on Newtown Reliance Company and other horse protection societies (mostly compiled by historian Edward R. Barnsley), and a small amount of original records of other horse protection societies. I was particularly interested to see minute books from the Grand Consolidated Vigilant Society of New Jersey and Pennsylvania for the Recovery of Stolen Property and the Detection of Thieves (a parent organization with member-societies in the two states, organized in 1891).
The second unique attribute of this collection is the substantial size of the still-active Newtown Reliance Company! With approximately 300 members, it is surely one of the largest extant horse protection companies in the nation. If you'd like to join their ranks, visit http://newtownreliance.org. If you'd like to steal a horse...steer clear of Newtown.
See all finding aids for Newtown Historic Association.