Mushroom farming is widely carried on in Kennett Township (Chester County, Pa.), but this area is more than just the cultivator of delicious fungus. A stronghold of radical Quakers and free blacks in the 19th century, Kennett Township is a community with a rich and vibrant history. In addition to preserving historical buildings in the area, the Kennett Township Historical Commission collects documents relating to the township's history.
The area that is now Kennett Township in Chester County, Pennsylvania was inhabited by the Lenni-Lenape people when the land was acquired by William Penn in 1681. The first recorded mention of the name "Kennett Township" was in 1705. The Borough of Kennett Square, which is surrounded on all sides by Kennett Township, but has its own separate governing body, was incorporated in 1855.
The Kennett Township Historical Commission holds a collection of Board of Supervisors records, 1848-1974, consisting of documents produced by the governing body and various administrative departments of Kennett Township including minute books, correspondence, and tax and other financial records. While perusing these records, I was amused to note this entry from 1853 about a dog tax of 75¢ each levied on the 78 canines in the township. No free ride for Fido!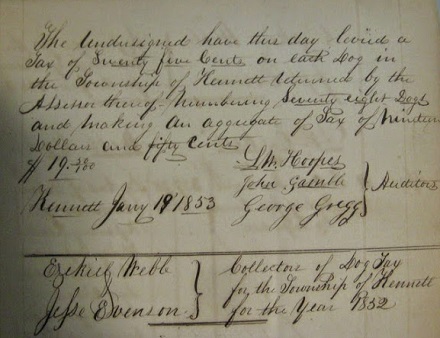 The undersigned have this day levied a Tax of Seventy five Cents on each Dog in the Township of Kennett returned by the Assessor thereof. Numbering Seventy eight Dogs and making an aggregate of Tax of Nineteen Dollars and fifty cents. Kennett, January 19, 1853. L.W. Hoopes, John Gainble, George Gregg, Auditors. Ezekiel Webb & Jesse Evenson, Collectors of Dog Tax for the Township of Kennett for the Year 1852.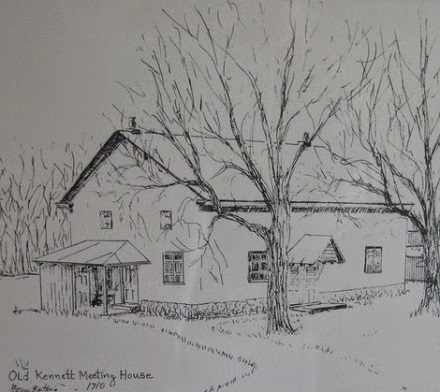 Around the same time this tax was collected -- but completely unrelated, of course -- the Pennsylvania Yearly Meeting of Progressive Friends, an activist Quaker off-shoot dedicated to progressive issues including abolition, women's rights, and temperance, was formed in the township. The Quaker influence in the township was strong, as many early settlers were members of the Religious Society of Friends (Quakers). Old Kennett Meeting House (pictured), where the Pennsylvania Yearly Meeting of Progressive Friends would meet in 1853, was built in 1710. The area was a popular stop along the "Underground Railroad" for freedom-seekers escaping slavery prior to the Civil War, due to the presence of abolitionist Quakers such as John and Hannah Cox, Dinah and Isaac Mendenhall, and Dr. Bartholomew Fussell, as well as a community of free African Americans that was established as early as 1830.
Although separate from Kennett Township, the Borough of Kennett Square is the birthplace of Bayard Taylor (1825-1878), the well-known American poet, literary critic, translator, and travel author known for writing Views Afoot, or Europe seen with Knapsack and Staff (1846), Joseph and His Friend: A Story of Pennsylvania (1870), Poetical Works (1888), and other pieces. He was much beloved in his hometown, as is evident in this ode by local admirer Dr. T. A. Cloud:
Twas many and many a year ago,
And Kennett Square was white with Snow,
When from the star which gave him birth,
A spirit winged his way to earth.
Amidst the winter and the storm,
He clad himself in mortal form,
And so took up the tangled skein,
Of Life and Love, and Joy and Pain.
Lofty praise indeed!
The Kennett Township Historical Commission holds historic site surveys, oral histories, subject files, local families' papers (especially from the Hannum, Cloud, and Darlington family), and many other materials relating to the history of Kennett for those eager to learn more. In a visit, it will quickly become apparent to you that Kennett is much more than mushrooms!