Hold onto your yarmulkes and brush up on your Hebrew! In this week's blog post, we'll delve deep into the archives of Mikveh Israel of Philadelphia, one of the oldest Jewish congregations in the United States. Its congregants have included many luminaries who were influential in religious and secular contexts, locally and often nationally. Of course, not all of Mikveh Israel's members are famous. Mikveh Israel's extensive archives also document the lives of ordinary Jews and the Jewish community in Philadelphia, covering more than 250 years. 
Mikveh Israel traces its origins to 1740, when Nathan Levy applied to Thomas Penn (Royal Proprietor of Pennsylvania) for a plot to bury his child. Philadelphia's first Jewish communal burial ground, known as Mikveh Israel Cemetery, was established at that time. 
For decades, congregants met in private homes and rented space until the first synagogue building was constructed in 1782. (Benjamin Franklin was a subscriber to the building construction costs!) Today, Mikveh Israel is an active Jewish congregation in the Sephardic tradition with a synagogue located near Independence Mall. (Image, right: Constitution of Kahal Kadosh [Congregation] Mikveh Israel)
We've surveyed a number of church archives recently, and the Mikveh Israel archives contain many similar document types: meeting minutes, property and financial records, membership and vital records, and so on. Of course, there are a few differences. This circumcision register, dating from the 1850s, is a perfect example. It includes circumcision date in the Jewish and Gregorian calendars, child's name in English and Hebrew, parents' names and residence, and the name of the mohel who performed the circumcision.
The number of significant Philadelphia Jews represented in Mikveh Israel's rolls is astonishing, and entire blog posts - in fact, entire books - could be written about many of them. Probably the most well-known congregants are the
Gratz family, especially Rebecca Gratz (1781-1869). Rebecca Gratz was a prominent philanthropist who established, among other organizations, the Philadelphia Orphan Asylum and the Female Association for the Relief of Women and Children in Reduced Circumstances. It is widely believed that Rebecca Gratz was the model for the heroine of Sir Walter Scott's Ivanhoe. 
Mikveh Israel's religious leaders have had a tremendous impact not only on Jewish life in Philadelphia, but on the development of Jewish faith and practice throughout America. The congregation's first hazan (minister), Gershom Mendes Seixas (1745-1816, Mikveh Israel hazan 1780-1784), is considered the first native-born Jewish minister in the United States. Isaac Leeser (1806-1868, hazan 1829-1850) trailblazed publication of Jewish books in America by translating the first English version of the Hebrew Bible and founding the Jewish Publication Society of America; he was also one of the first to institutionalize sermons in English as part of American Jewish religious services. Leeser's successor, Sabato Morais (1823-1897, hazan 1851-1897), established the first Conservative rabbinical school, the Jewish Theological Seminary in New York City. 
Morais was succeeded by Leon Haim Elmaleh (1873-1972), who is, by far, the best documented hazan in terms of materials in the Mikveh Israel archives. Elmaleh was a reverend of Mikveh Israel from 1898 to 1929 and Reverend Emeritus until his death. He was a founder of Philadelphia Board of Rabbis and of the Levantine Jews Society of Philadelphia (which looked after immigrants from the Ottoman Empire), was involved with the Jewish Welfare Board during World War I, and was an avid book collector. His papers, dating from roughly 1895 to 1930, include sermon drafts, religious research, correspondence with a wide variety of Jewish organizations, and records from his book collecting hobby - including correspondence with another well-known Philadelphia book collector and Mikveh Israel member, A.S. Rosenbach!
Aside from these towering figures, the Mikveh Israel archives contain traces of many thousands of lives, documenting individual experiences as well as Jewish communal life. One of my favorite finds in the Mikveh Israel archives is this early 20th century photograph of children masquerading as part of their Purim celebrations.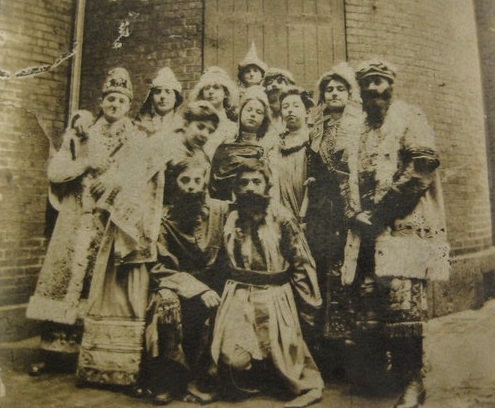 In all, the archives at Congregation Mikveh Israel span well over 100 linear feet of materials that date from the mid 18th century to the 21st century. Included are a large quantity of membership and vital records, extensive papers from several former religious leaders (rabbis/reverends/hazanim) and synagogue executives (presidents/parnassim), administrative and financial records, property-related materials, photographs, publications and ephemera, and documentation of various congregational committees and activities. There are some materials from several people and organizations associated with Mikveh Israel, including congregation Beth El Emeth (a related congregation that spun off from Mikveh Israel in the 1850s but folded before the end of the century) and Gratz College (established in 1895 through a trust vested in Mikveh Israel).
Here I am, kvelling and going on about the amazing collections at Mikveh Israel, and you're thinking, "Dayenu, enough already!" So I'll stop here. You can learn more about Mikveh Israel's history and archives on their website.