Imagine a private home bigger than the White House. Now imagine it outfitted with machine guns trained on proletariat-uprisers, and now trained on Nazi art thieves. Now imagine it transformed into laboratories... If you're having trouble picturing all that, visit the Springfield Township Historical Society to see their extensive collection on Whitemarsh Hall!
Whitemarsh Hall in Springfield Township, Montgomery County, Pennsylvania was at one time known as the "Versailles of America." It was commissioned by Edward T. Stotesbury, an investment banker among the richest men in America, and his socialite wife Eva. The architect was Horace Trumbauer. When construction was complete in 1921, the product was a palatial six-story mansion with 147 rooms, totaling 100,000 square feet of space. Of course, the furnishings and artwork were as decadent as the architecture. When millionaire automobile manufacturer Henry Ford visited Whitemarsh Hall, he declared, "It's a great experience to see how the rich live."
Such a large estate is expensive to maintain, it goes without saying, and after the stock market crash of 1929 the Stotesburys became more protective of their money. In the early 1930s they began to spend less time in Whitemarsh Hall. They also--in a move that now seems absurdly paranoid--installed four machine guns on the mansion's roof from fear of a potential class uprising.
After Edward died in 1938, Eva left Whitemarsh Hall but had difficulty selling the estate right away. During World War II the Metropolitan Museum of Art stored some of its most priceless works in the mansion under armed guard, where it was deemed the pieces would be safe in the event that New York City was attacked.
After the war, Whitemarsh Hall underwent a major overhaul. It had been purchased in 1943 by the Pennsylvania Salt Manufacturing Company ("Pennsalt"), and they turned it into a research and development center fully equipped with modern laboratories. But when Pennsalt moved out of Whitemarsh twenty years later, no one could seem to find a use for the enormous house. A series of real estate investors bought, neglected, and re-sold the property in the years that followed, leaving the mansion empty and vulnerable to vandals. Finally, in 1980, the great mansion was demolished.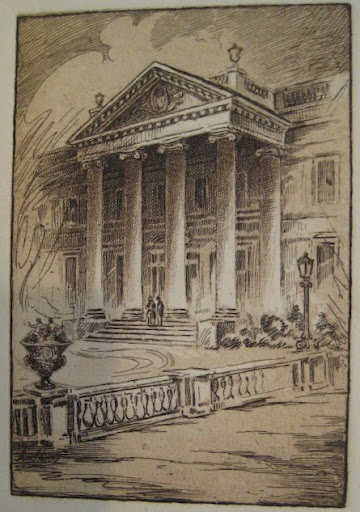 Of course, there is far more to this fascinating story than I have space to relate here, so you'll have to go to the Springfield Township Historical Society for the rest. Their extensive collection includes photographs, research notes, scholarly articles, newspaper clippings, Stotesbury Christmas cards, auction catalogs, blueprints, and more relating to Whitemarsh Hall and the Stotesbury family. Of special interest are four photograph albums of Whitemarsh Hall construction, 1916-1919, and three photograph albums, circa 1921-1930, of Whitemarsh Hall interiors with some exteriors and shots of El Mirasol (the Stotesbury's house in Palm Beach, FL).
If you're greedy for more information on the decadent Stotesbury estate, the Springfield Township Historical Society has an opulence of resources to satisfy your desires!
Works Consulted
Free Library of Philadelphia. "Residential Designs by the Horace Trumbauer Architectural Firm: Whitemarsh." Accessed July 23, 2012. http://libwww.freelibrary.org/75th/whitemarsh.htm.
Charles G. and Edward C. Zwicker with the Springfield Township Historical Society. Whitemarsh Hall: The Estate of Edward T. Stotesbury. Images of America series. Charleston, S.C.: Arcadia, 2004.
See all finding aids from Springfield Township Historical Society.