William Edgar Geil (1865-1925) was an evangelical missionary and international explorer from Doylestown, Bucks County, Pennsylvania who was most likely the first individual--Chinese included-- to travel the entire Great Wall of China (in 1908).
Geil achieved international fame as a brilliant preacher, and his travel exploits earned him comparisons with earlier explorers Henry Stanley and David Livingstone. He was a sought-after lecturer and orator, fascinating audiences with tales about his exotic travels. He authored 10 books-- including his best-selling travelogue The Great Wall of China (Sturgis & Walton Company, 1909) -- that chronicled the peoples and cultures of the places he traveled, including China, equatorial Africa, Palestine, Australia, and the South Seas. Geil was also an accomplished and avid photographer whose work documented vanishing cultures.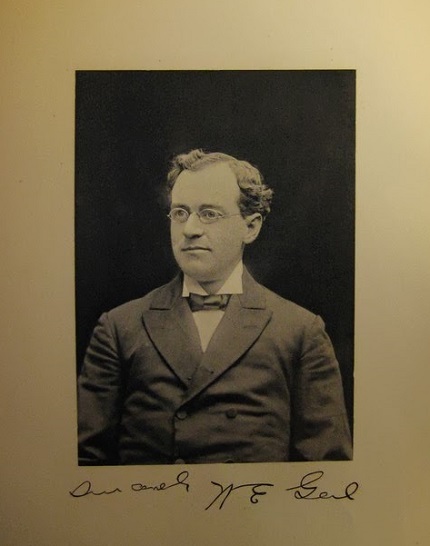 Caption reads: "Pygmies, Africa, 1903/04"
The fame that Geil achieved, however, was fleeting. Often referred to as "America's Forgotten Explorer" he left no lasting legacy. "His wife, devastated by his death [at the age of 60], never recovered enough to promote his memory. Geil had no children. [Geil's wife Lucy adopted Constance Emerson Kew Geil (1917-2007) -- likely her cousin's daughter-- shortly after her husband's death.] His personal effects were scattered and sealed under lock and key at private residences. He was virtually forgotten, his name left out of textbooks, museums and even the lore of his native Doylestown..." ("A Yankee in China")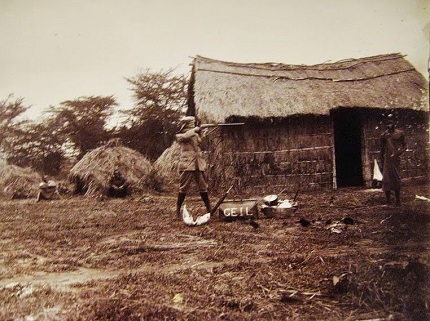 Caption reads: "Geil shooting, Africa, 1903/04"
William E. Geil was born on a farm in New Britain Township, Bucks County to Samuel Geil (1825-1903), a farmer, and Elizabeth Seese Geil (1831-1897). Geil enrolled in Lafayette College (Easton, Pa.), but did not graduate due to poor health and lack of money. He was licensed to preach by the First Baptist Church of Doylestown, but was never ordained a minister. In 1912, Geil married Lucy Constance Emerson (1873-1959) from Titusville, Pa., the daughter of an oil millionaire. The couple built a 30-room mansion just south of Doylestown, and named it "The Barrens."
     
Motivated by religion and a strong sense of adventure, Geil set out to explore the world. Many of his trips were to foreign missions, but much of his travels went beyond mission work. His most significant journey is arguably his trek across the Great Wall of China. Documenting his four-month, 1,800-mile trip with photographs and detailed field notes, Geil wrote the first book on the wall upon his return. He wanted the book to be "'so complete that the future historian of the Wall would find little to write about unless he pirated our notes...'" William Lindesay, a British authority on the Great Wall who followed Geil's trail almost 100 years later, has called Geil the "father of Great Wall studies." (Lin)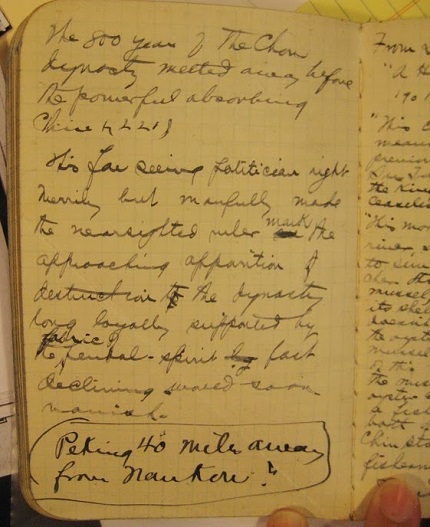 Diary entries from China travels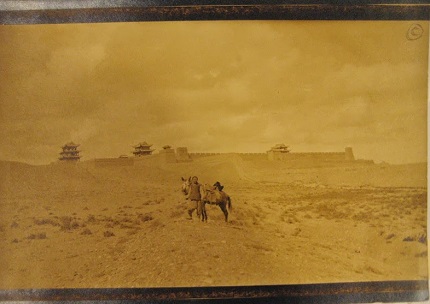 China, circa 1908(?)
Besides traversing the Great Wall, Geil traveled to China several times to visit its provinces' 18 capitals, and to climb the country's five sacred mountains. He also visited Palestine, Myanmar (Burma), equatorial Africa, Australia, and various Oceania islands. He sailed the Yangtze and Congo Rivers, and was one of the few white men to live with headhunters in Borneo and with pygmies in Africa. On one trip that lasted four years, he covered 100,000 miles, going from  Samoa to Fiji, up into Japan and Korea, along China's Yangtze River, through the Malay Peninsula and Borneo, west to India and across Africa. Geil fastidiously chronicled all of his travels through diaries, field notes, and thousands of photographs.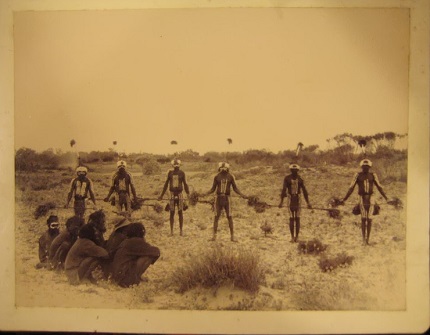 "South Australia," circa 1901/02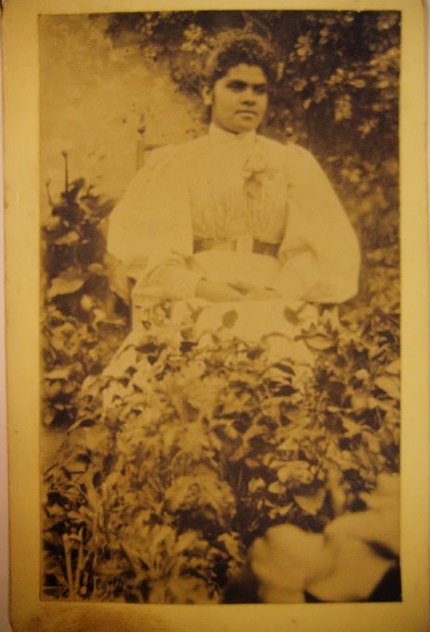 Caption reads: "Effie Summer, born 1887. Point MacLeay Mission Station, Lake Alexandrina, Murray River, South Australia, Adelaide," June 21, 1902
William Geil died of influenza in Venice, Italy in 1925, after returning from what he called his "last trip" to Palestine. His wife Lucy continued to live in "The Barrens" until her death in 1959. Besides giving her consent to the publication of a biography on Geil by Philip Whitwell Wilson (a British politician, writer, and journalist), An Explorer of Changing Horizons: William Edgar Geil, F.R.G.S. 1865-1925 (George H. Doran Co., 1927), she rarely spoke about her husband and kept Geil's exploration memorabilia "secreted away in his library." (Ludwig)
Researchers can now rediscover the exotic exploits of this lost explorer at the Doylestown Historical Society. The William Edgar Geil papers, 1886-2013 (bulk 1900-1910), include nearly 2,000 photographs (many are glass plate negatives); book preparation materials covering all phases of the editorial process; diaries and field notes; personal correspondence; newspaper clippings; and artwork. The collection documents William E. Geil's extensive travels, his work as an evangelist and missionary, and his family, particularly letters to and from Geil's wife, Lucy Constance Emerson Geil.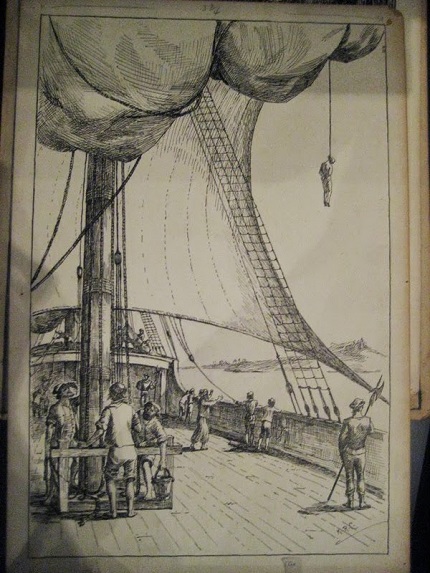 Artwork from Geil's publications
See all finding aids for Doylestown Historical Society
References:
"A Yankee in China." Smithsonian.com, August 01, 2008. Accessed July 23, 2013. http://www.smithsonianmag.com/people-places/yankee-in-china.html 
Lin, Jennifer. "Great Wall's Forgotten Man; Doylestown Explorer's Century-old Photos Are Back from Oblivion." The Philadelphia Inquirer. June 29, 2009. Accessed July 23, 2013. http://articles.philly.com/2009-06-29/news/25284779_1_william-lindesay-doylestown-exhibit-china-s-great-wall
Ludwig, Ed and Fletcher Walls. "William Edgar Geil (1865-1925): Doylestown's Evangelical World Explorer." Prominent Doylestonians of Yesteryear. Doylestown Historical Society, 2012.